T-Shirts For Theatre Lovers
Want to announce your love of theatre to the world?
Introducing TheatreTops.com: the newest online destination for theatre-lovers everywhere! TheatreTops is an online print-on-demand t-shirt store, offering unique and stylish t-shirts that appeal to theatre artists, their friends, their families, and their fans.
TheatreTops.com offers a wide variety of t-shirts, from simple designs featuring time honored theatrical tropes to custom designs featuring quotes from your favorite acting coaches and performers. The store offers a variety of sizes and colors, so you can find the perfect t-shirt to express your love of theatre.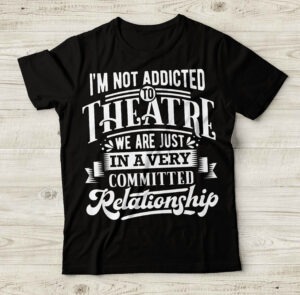 Theatrical t-shirts make great gifts for friends and family to give to loved ones who are involved in the theatre world. Whether actors, directors, tech crew, or just fans, they will appreciate the thoughtfulness of a t-shirt that expresses their passion.
TheatreTops.com tees can also be a great way for theater students in high schools, colleges, and drama schools to stand out in the rehearsal room. The same goes for working professionals. In fact there's an entire section of the store devoted to Equity and SAG-AFTRA members.
By wearing a TheatreTops.com t-shirt, you can show your pride in your chosen profession. Friends and family can signal their commitment to the performers they support.
TheatreTops was created by theatre nerds for theatre nerds. Their t-shirts can be funny, ironic, controversial, even a bit naughty, but each and every one is informed by a deep and abiding love for the art.
So, what are you waiting for? With a wide variety of sizes, colors, and designs, you are sure to find the perfect t-shirt to show your passion for theatre. A portion of the profits from every sale is donated to the Actors Fund.