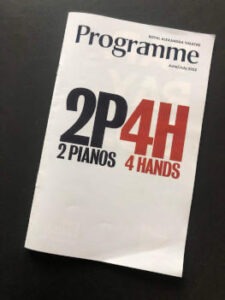 2 Pianos, 4 Hands (2P4H) At The Royal Alexandra
2 Pianos, 4 Hands (hereinafter known as 2P4H, as the cover of the programme has it) at Mirvish's Royal Alexandra Theatre in Toronto is, along with The Drawer Boy, one of those Canadian theatrical treasures you keep hearing about but somehow never get the chance to see. So when Canadian theatre maven Keith Tomasek suggested I check out this revival, I didn't waste any time booking a ticket. I'm so glad I did. It is altogether delightful.
Ted Dykstra and Richard Goldblatt created 2P4H some 25 years ago and have been performing it on and off in Canada and around the world ever since. They face each other across two highly polished grand pianos on a spare but stylish set. Over the course of two hours or so they tell the tale of their musical educations from a tender age until their late teens, at the hands of a series of teachers and under the watchful, at times too watchful, eyes of their parents. I assume it's all true, but in the final analysis who cares if they've embellished a bit?
My musical talent is nil and my knowledge of the classical repertoire vestigial. Yet, even though the piece contains snatches of Chopin, Mozart, Beethoven, and Grieg, and spends a fair amount of time discussing and illustrating the finer points of minor chords and the technical aspects of piano playing, my ignorance proved no bar to my enjoyment of 2P4H.
The presentation may seem glib and it is undeniably funny in many places, but the script and the performances contain some telling psychological truths. In their recreation, the two lads emerge as sometimes dense and frequently indifferent students who seem to enjoy the instrument but have a hard time grasping the finer points and balk at the demands of regular practice. Yet each harbors a fantasy of becoming a professional musician. Ah, youth!
When they are about seventeen those dreams are permanently dashed by gatekeepers to advanced musical education who tell them bluntly, even brutally, that they simply don't have what it takes.
We don't hear much about what came next. We learn that Greenblatt logged some time in a piano bar and that Dykstra tried his hand at teaching uninspired amateurs. They don't mention that both went on to distinguished careers as actors and more particularly as directors in the theatre, experiences that have no doubt honed and enriched 2P4H over the years. (It is clear from some topical references that the script has been updated from time to time.)
The great joy of 2P4H – and it is considerable – is the way in which Greenblatt and Dykstra play against each other as they bring to life their younger selves and the characters they met during the course of their musical educations. They are both gifted actors, but I would have to give top honors to Dykstra. While Greenblatt will expertly impersonate a character, Dykstra becomes the character.
Dykstra is blessed with a rubbery face which I can only imagine has grown more expressive as he has aged. He also has a wicked gift for comedy. The alternating waves of embarrassment and titillation that wash across his fifteen-year-old face when a teacher compares playing the piano to making love to a woman are priceless. He is hysterical as the Kiwanis Club functionary who seems almost suicidal as he introduces for the umpty-umpth year a teenage piano duet event in which 67 pairs will compete, each playing exactly the same piece. And his turn as an obnoxious drunk in a piano bar is downright scary.
Greenblatt is best when he is the antithesis of funny. The scene in which, as the entrance examiner of the music conservatory, he puts Dykstra through his paces and then dispassionately eviscerates him made me cringe.
So there is bitter with the sweet in 2P4H. The play begins with the two struggling with Bach's Concerto in D Minor. It ends with them playing the entire piece con brio (if that's the correct term). They console themselves with the thought that while they might not be the two best piano players in the world, the country, or even the city, they are no doubt the two best in the neighborhood.
2P4H is frequently mounted with other actors; indeed, alternates take the stage on Tuesday performances during this run. But this may be the last time these two performers revive their work. Greenblatt is 69, Dykstra 65. Their lifelong friendship and the warmth between them is palpable and adds immeasurably to the pleasure of watching 2P4H.
So even if you're not in the neighborhood, make an effort to see this production. It runs until July 17, 2022. More information here.
Don't miss another review. Follow OntarioStage on Twitter.