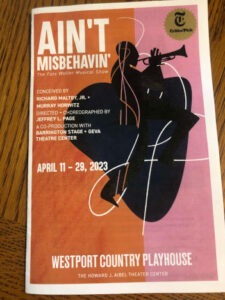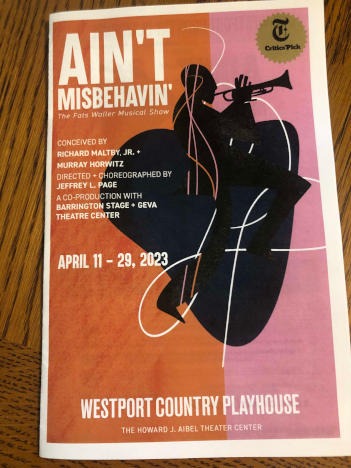 Ain't Misbehavin' at Westport Country Playhouse
The Westport Country Playhouse is presenting a middling revival of Ain't Misbehavin': The Fats Waller Musical Show. Conceived by Richard Maltby, Jr. and Murray Horwitz, it wowed Broadway (and me) back in 1978.
For this outing, a co-production with Barrington Stage and Geva Theatre Center, director Jeffrey L. Page has assembled a competent cast and guided them to try too hard to "sell" songs that are perfectly capable of selling themselves.
The Westport Country Playhouse website informs us that for this revival of Ain't Misbehavin', Page "reimagines this vibrant celebration of jazz pioneer Fats Waller's extraordinary career, while exploring the metaphorical masks Waller and his musicians assumed while performing for white audiences."
That may be why he had the cast use repeated "jazz hands" poses with uncomfortable echoes of minstrelsy and encouraged costume designer Oana Botez to create overstated, cartoonish costumes for the opening of the second act to replace the uptown exuberance of the original. Whatever the intent, it didn't work for me.
Neither did Page's choreography, which tended to be repetitive when it wasn't being self-consciously raunchy.
Page's too much is never enough approach occasionally pays off, as in Jay Copeland's very funny take on "The Viper's Drag." More often than not, the added schtick blunts the material.
A choral rendition of "Black and Blue" showcasing the entire cast is nicely done, with lovely harmonies, but I couldn't help thinking that a solo with subdued lighting would have been much more effective.
In the current fashion that seems to equate volume with excitement, the show has been aggressively over-amplified by sound designer Leon Rothenberg. The Playhouse is a smallish house with good acoustics and the entire cast is blessed with commanding voices. I yearned for the more intimate connection that could have been produced by the sound of the naked human voice.
The women, Miya Bass, Paris Bennett, and Judith Franklin, take home the laurels in the vocal department, even while the sound design tends to make them sound screechy in their more exuberant moments.
Raul Abrego has contributed an elegant set that pays homage to the original, while the musical direction by Terry Bogart, who plays piano with an all-Black jazz ensemble, is everything it should be.
I contented myself with enjoying the opportunity to revisit Waller's music, but I couldn't help wondering whether, had this been a pre-Broadway tryout, Page's Ain't Misbehavin' would have made it to the Great White Way.
One never knows, does one?
Ain't Misbehavin' continues at the Westport Country Playhouse through April 29, 2023.
For more information, visit the Playhouse website.
Don't miss another review. Follow OntarioStage on Twitter.
For a complete Index of Reviews, CLICK HERE