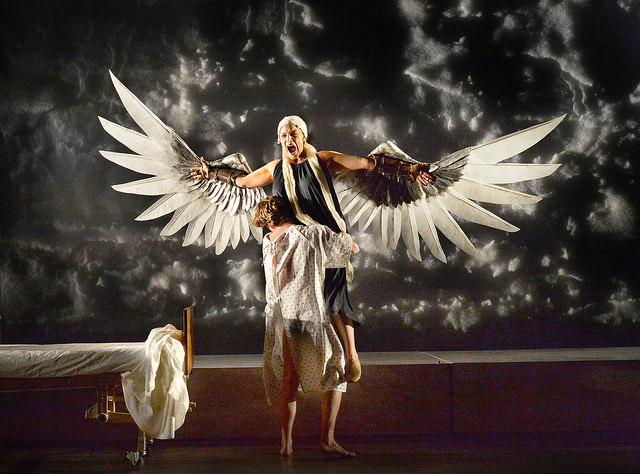 Angels in America at KC Rep
Tony Kushner's two-part Angels in America is receiving a sturdy revival at the Kansas City Repertory Theatre's downtown Copaken Stage.
This sprawling two-part epic, subtitled A Gay Fantasia on National Themes, is at turns surreal, whimsical, hallucinatory, bitchily funny, poetic, brutally blunt, and ultimately quite moving. 
Set in the darkest days of the AIDS crisis of the mid-80s, the two plays (Millennium Approaches from 1993 and Perestroika from 1994) weave together such seemingly disparate themes as Bolshevik ideology, the rise of right wing Reaganite politics, Mormon theology, and the all-too-human tragedy of gay men facing a seemingly exterminating plague while struggling for basic human rights.
It's a heady brew and if Kushner sometimes loses himself in allegorical flights, the rootedness of the central characters always brings the play down to earth.
Angels in America interweaves the lives of a trio of gay New Yorkers (Prior, Louis, and Belize); a closeted, Republican, and married Mormon (Joe Pitt); Joe's wife and mother; and the aging, AIDS-infected Roy Cohn, he of the McCarthy hearings fame.
When Prior receives his AIDS diagnosis, his left-wing lover Louis abandons him and begins a relationship with Joe, whose homosexual urges have drawn him to New York's demimonde. Joe then abandons his wife to move in with Louis who, in some of the play's most entertaining scenes, is hashing out his relationship with Prior with Belize, their mutual friend who is a nurse caring for Cohn.
It may sound like the plot of a soap opera but in Kushner's hands it becomes the backdrop for a metaphorical exploration of the state of the American psyche circa 1986 and a meditation on what the AIDS crisis portends.
For Kushner, it seems, the heralds and angels who visit Prior's hallucinatory dreams, echoing Mormon theology, are signs that something momentous is about to occur, that the history of the world is about to move into a new phase.
Seeing the plays 20 years after their debut makes us realize how prophetic Kushner was. AIDS has not been vanquished, gays do not yet have all the rights heterosexuals take for granted, and latter-day Roy Cohns still stalk the corridors of power, but the cultural and political landscape has changed immensely and for the better. Thirty-seven states now allow gay marriage. Full civil rights for all God's children seems to be within reach.
David Cromer, whose stunning revival of Our Town took New York by storm a few seasons back, has molded an impressive cast into a solid ensemble that serves Kushner's vision well.
The limitations of the performance space, which I was told was designed for corporate presentations rather than theatrical productions, forced some uncomfortable compromises in the staging. The angels, for example, are trundled onstage atop rolling steel stairways such as might be used in a parts warehouse. Yet despite such infelicities, and thanks to a terrific cast, Cromer has given us a compelling rendition of Kushner's text.
Seamus Mulcahy, Nik Kourtis, and Paul Oakley Stovall as, respectively, Prior, Louis, and Belize are all note-perfect and alternatively funny, fearsome, and heart-rending.
Perhaps the juiciest role in the plays is the monstrous Roy Cohn of Kushner's imagination and Mark Robbins makes the most of the opportunities afforded him, without ever lapsing into the scenery chewing the part can invite. It's truly a tour de force.
Most of the actors play multiple parts, none more notably that Peggy Friesen, who inhabits a stolid, old-school rabbi; the specter of Ethel Rosenberg; a no-nonsense doctor who reads the riot act to Cohn; the sweetly sensible Mormon mother Hannah; and "the world's oldest Bolshevik" in yet another of Kushner's hallucinatory episodes. This is an actress of impressive range and impeccable technique.
It seems safe to say, twenty years on, that Angels in America will have a permanent and prominent place in the history of twentieth century American theater. That alone makes it worth seeing.
It is, however, not for everyone. Leaving the homophobic bigots aside, there is nudity – frontal, rectal, and dorsal – and depictions of sex acts that some might find offensive. If it's any consolation, the guys who are called on to disrobe have the kind of bods that make walking around naked seem like a perfectly logical fashion choice.
*****
Angels in America: Millennium Approaches and Perestroika runs through March 29, 2015
Parts 1 & 2 rotate during the week; both are performed on Saturday and Sunday
Tickets are from $20 to $59 for each of the two parts.
For more information: http://www.kcrep.org/
More Reviews
To access the complete archive of reviews listed alphabetically CLICK HERE.