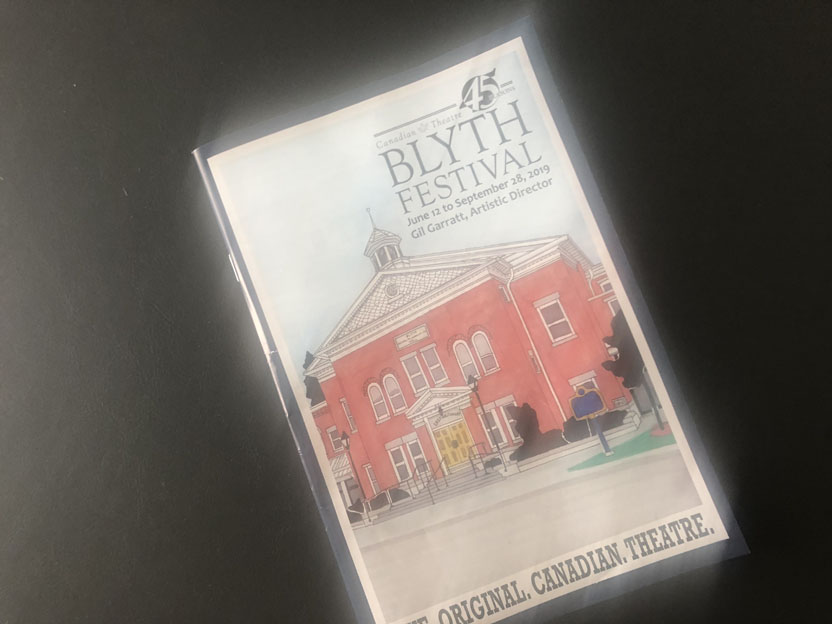 Bed and Breakfast at The Blyth Festival
Bed and Breakfast by Mark Crawford, a plea for tolerance wrapped in a deceptively simple (and quite funny) comedy, is packing them in at the Blyth Festival prior to a whirlwind tour of British Columbia.
Brett (Crawford himself) and Drew (Paul Dunn), two Torontonians in a committed relationship that has yet to blossom into marriage, are struggling to move from their small condo into a house. The real estate market conspires against them, however, adding to the stress of their unsatisfactory jobs as a designer (Brett) and an assistant manager in a hotel (Drew). Then Brett's favorite aunt Maggie dies in the small touristy lakeside town where Brett spent his summers while growing up and bequeaths her large house to Brett. At the same time Drew loses out on an expected promotion. So the two decide to leave Toronto, fix the place up, and flip it to finance their Toronto dream home. When they realize how much they loathed their Toronto jobs, they decide to transform the house into a B&B.
That premise might suggest the play is about the humorous adventures of rehab with colorful local workmen and the foibles of oddball B&B guests — a sort of A Year in Provence meets Fawlty Towers. There's all that, of course, but the play turns into much more. Brett and Drew are at first apprehensive about being the only gay people in town, but matters take an ominous turn when they experience some homophobic slurs and major anti-gay vandalism during the Christmas season. As it happens, the majority of the townspeople are quite supportive and Brett and Drew are not the only gay people in town. As the play progresses, we learn that while Brett and Drew may be "out," there are a lot of things hidden away in both their family closets.
The "mystery" at the heart of the play may not be entirely new — indeed, it's a plot device that goes back to Shakespeare and the ancients — but Crawford handles it beautifully as both playwright and actor and when the truth was revealed a tear came to my eye. The play also offers a subtle commentary on generational changes within the gay community. Brett and Drew seem to pride themselves on being "just-like-you-but-gay;" some of their Toronto friends seem to revel in their more flamboyant, old-school gayness; while the younger generation, on the other hand, seems to reject easy labels in favor of a more fluid definition of sexuality.
Bed and Breakfast has twenty-two characters, all of them performed by two actors. Crawford positions the play as a story being told to us by Brett and Drew, which makes that concept work quite well and seem considerably less arch. A great part of the enjoyment of the piece is watching Crawford and Dunn switch effortlessly from character to character, often with a little jump and a spin. I especially enjoyed Crawford's renditions of both Alison, a lesbian who runs the town's hippest coffee shop, and Dustin, a shy teenager who loves to bake and is gay but doesn't know it. Dunn's portrait of Brett's teenage nephew, who answers every question with "I dunno," is equally adept.
One thing that makes the conceit work so well is Ashlie Corcoran's deft direction. Crawford and Dunn mime all the props and wear clothes in a muted palette of greys, which they change unobtrusively and only occasionally. Designer Dana Osborne, in addition to doing the costumes, has provided a malleable set, also in muted tones, that borders on the abstract but becomes quite believable as bedrooms and store counters. John Gzowski's uncannily pinpoint sound design and Rebecca Picherack's equally spot-on lighting add immeasurably to the illusion. All of this focuses the audience's attention on the acting, which is quite wonderful.
As I noted, Bed and Breakfast is, on one level, a plea for tolerance. It seems to ask the question, "Can gay people be accepted as members of the community in small towns that are, sort of by definition, far less tolerant than big cities like Toronto?" Well, Blyth is a small rural town and if the standing ovation accorded the show by the mostly middle-aged and elderly audience with whom I saw the play is anything to go by, the answer would seem to be a resounding "Yes!" Even so, Bed and Breakfast, under all the laughter, has a message well worth hearing. I fear it will be quite some time before audiences come away from this play thinking, "How dated!"
Bed and Breakfast runs through September 28, 2019.
Blyth Festival
423 Queen Street
Blyth, ON N0M 1H0
(877) 862-5984
blythfestival.com/
More Reviews
To access the complete archive of reviews listed alphabetically CLICK HERE.