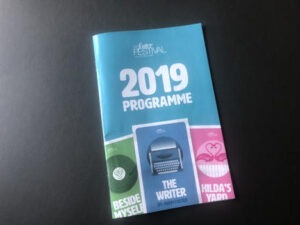 Beside Myself at The Foster Festival
These days it seems the most "transgressive" thing a musical could possibly do is tell a tale of heterosexual love. And yet, in Beside Myself, Norm Foster and his musical collaborator, Steve Thomas, have boldly gone where few have dared to tread recently. Foster provided the book, Thomas the music, and they shared lyric writing duties.
The world premiere Beside Myself is a vest-pocket musical with a cast of four, an orchestra of three, and a bare-bones, but surprisingly effective, unit set designed by Peter Hartwell. This is the fifth Foster-Thomas musical and the first I have seen, so I have little to which to compare it. It struck me as less a musical comedy than a Norm Foster comedy with music, which is by no means a bad thing.
As the show opens Paula and Sam are splitting up after 35 years of marriage. Not only do they loathe each other, they don't have much good to say about their now-grown kids.  They are sorting through two boxes ("one and a half" Sam corrects) of marital "keepsakes" to see if either of them wants any of them. One item that emerges from the boxes is a "wishing stick," a wedding gift from friends who are "cheap as bad wine." While holding it, Sam idly wishes they could go back in time to warn their younger selves against getting together.
As they take the boxes to the curb for recycling they notice the bizarre number of "vintage" cars in the neighborhood. Then Paula realizes that the hideous drapes in their windows were those of the people from whom they bought their house. They have indeed gone back in time, to the early eighties. There's nothing to be done but to rush to the nearby university in hopes of saving their younger selves from one another.
It's a fun premise and Foster, with a few nods to Star Trek and Back To The Future, makes the most of it. When they accost their 19-year-old selves, the kids are puzzled that they know so much about them. After a brief moment of panic they explain it all away by announcing that they are the youngsters' "campus liaisons" whose mission it is to advise them on their first days at school. It becomes a running gag that never seems to grow old.
Foster has great fun with the time travel aspects of the play. At one point the kids ask why their liaisons haven't changed clothes in several days. Paula solves the problem by heading to the theatre arts building ("It's the one shaped like a pipe dream") because not only do they have costumes there, they have lousy security.
After succeeding remarkably well in their mission to prevent the kids getting together, Sam and Paula begin to have second thoughts. No spoilers here but I don't think most folks will have trouble guessing where the show is headed.
Director Patricia Vanstone, the Foster Festival's artistic director, has solved the biggest challenge of the piece — finding performers who actually look as if they could be younger and older versions of the same people. It's an added bonus that they are all terrific actors and singers. Gabrielle Jones and Jonathan Whittaker are very funny as the disillusioned elders, while Breton Lalama and Griffin Hewitt score as the kids.
Another challenge Vanstone faced was what to do with the band. Ingeniously, she and Hartwell have placed them upstage center on a slightly raised platform. Thanks to Chris Malkowski's lighting and the great performances, they are barely noticeable.
Vanstone called in choreographer Jane Johanson to add dance moves to the number "I Used To Rock" in which the two Paulas declare their rock bona fides (and in which Jones amusingly shows the ravages of time). I would have liked to see more movement during the songs that punctuate the action. As it is, the songs seem rather static. They recapitulate or extend what has just been said rather than move the plot forward; only rarely do they deepen our understanding of the characters.
Beside Myself — the title takes on several punny meanings as the show progresses — is light, frothy and filled with laughs; it offers everything a late summer trip to the theatre should.
Beside Myself continues at The Foster Festival through August 17, 2019
The Foster Festival
FirstOntario Performing Arts Centre
250 St. Paul Street
St. Catherines, ON L2R 3M2
(855) 515-0722
(905) 688-0722
www.fosterfestival.com/
More Reviews
To access the complete archive of reviews listed alphabetically CLICK HERE.