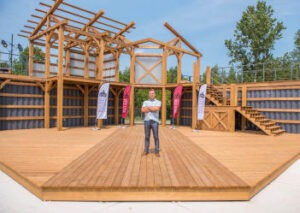 Blyth and Foster Festivals Announce Their 2023 Seasons
The Blyth Festival and the Foster Festival have both announced their 2023 seasons and the auguries are all positive.
Blyth will be producing a grand total of seven plays next year. On its outdoor Harvest Stage will unfold a trilogy about the infamous Black Donnellys, a colorful and sometimes violent clan of Irish immigrants. 2023 will also see the return of indoor performances at the Festival's Memorial Community Hall. Four plays are scheduled, including The Waltz, which was cancelled during the 2022 season due to illness.
The complete announcement can be read here.
Meanwhile, the Foster Festival, dedicated to the works of the prolific Norm Foster, has announced a three play season that will include a site-specific production of Outlaws, billed as a Western thriller.
The Foster Festival's announcement can be read here.