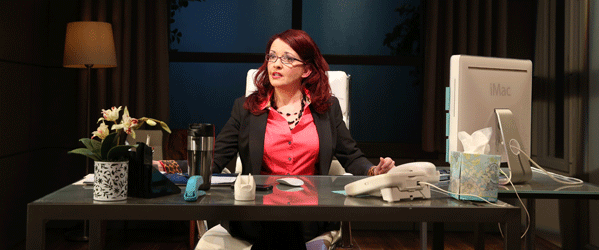 Craving For Travel Off Broadway
There are plenty of laughs for everyone in Craving For Travel, the delightful comedy at the Peter Jay Sharp Theater on New York's Theater Row, but travel agents will take special delight in the savvy inside jokes that lay bare the hidden aspects of the profession.
Co-writers Greg Edwards and Andy Sandberg (Sandberg also directed) have no apparent background in the travel industry, but they've done their homework well. They present us with Joanne and Gary, two high-powered luxury travel agents, formerly married, who are engaged in a bitter struggle to be named Travel Agent of the Year. Both are blessed (or perhaps cursed) with rosters of vastly wealthy clients who are insanely demanding as only the one percent can be.
The jokes in Craving For Travel are virtually non-stop and if one leaves you cold another will be along in seconds. The authors poke fun at every conceivable folly and foible that afflicts agents.
One especially delicious running gag involves a client who has "strayed" by booking a trip with Travelocity and now, stranded and desperate in China, is begging for forgiveness ("The gnome means nothing to me!").
The script does a clever job of finding ways in which the agents manage to satisfy seemingly impossible demands ("I want you to take the eem out of eem-possible!" one client roars) by trading favors with their powerful clients so that by play's end everyone is a happy (luxury) camper.
What makes this 80-minute, intermissionless breeze of a play especially fun (not to mention produce-able) is that both Joanne and Greg and their 30-odd clients and industry colleagues are played by just two actors.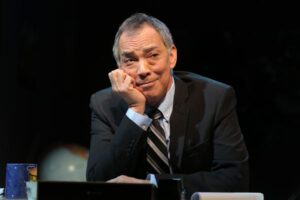 If you thought that just about anyone can be an actor, Thom Sesma and Michele Ragusa will quickly disabuse you of that notion, as they switch characters and accents with dizzying speed and create fully rounded people each time they do. Both are superb, but I have to give a special shout out to Ms. Ragusa, whose Jamaican tourism rep had me in stitches each time he (yes "he") appeared.
I should mention that the play has not been treated kindly by many mainstream New York critics who seemed particularly offended that travel agents are being depicted on the stage in a favorable light and that – this really ticked them off – the play was produced by a luxury travel agent! Jim Strong of Strong Travel Services in Dallas gets the sole producing credit (when was the last time you saw that in New York?) and has given the project a first-class production.
Charlie Corcoran has created two beautifully appointed side-by-side offices that fill the Sharp's broad stage, all lit luxuriantly by Jeff Croiter. Michael McDonald provided the bang-on costumes and Bart Fasbender the witty sound design.
Maybe the critics, who like to think that "travel agents are dead," were distressed by clear evidence that successful travel agents like Mr. Strong make far more money than they do.
The play runs only through February 9, 2014, and I was told that an extension is not possible. So book passage to the Peter Jay Sharp as soon as possible. If you use the code CFTREFER at TicketCentral.com you can get $39 tickets (plus the inevitable and infuriating "service fees" no doubt).
More Reviews
To access the complete archive of reviews listed alphabetically CLICK HERE.