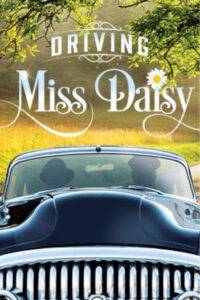 Driving Miss Daisy at St Jacobs Country Playhouse
I wonder if Alfred Uhry's Driving Miss Daisy, a minor classic of late twentieth century American theatre, is weathering the test of time, or like its title character becoming progressively weaker. The play is receiving a respectful, low key revival at Drayton Entertainment's comfy St Jacobs Country Playhouse in Waterloo, which allowed me to ponder that question.
It seems unlikely that, if Driving Miss Daisy debuted today, it would receive the rapturous reception it got when it premiered Off Broadway in 1987. Then, it won the Pulitzer and ran for nearly 1,200 performances. Today, I fear, its gentle tale of the growing friendship between an irascible elderly southern Jewish woman and her Black chauffeur would find a chilly reception from critics more attuned to our current and more confrontational racial sensitivities.
One thing hasn't changed though. Driving Miss Daisy is a sure-fire tear jerker if you have even the least susceptibility to sentimentality. Then, too, it offers plum roles to mature actors who can navigate the vicissitudes of a relationship spanning some twenty-five years.
The plays tells the story of Atlanta widow Daisy Werthan (Donna Belleville), whose poor driving skills (she has destroyed a new car in the moments preceding the first scene) prompt her son, Boolie (Randy Hughson), to decree that she relinquish the keys and agree to being driven by a chauffeur of his own choosing. Enter Hoke Coleburn (Cassel Miles), a courtly Black man about ten years Daisy's junior.
Hoke, we learn during his employment interview, prefers driving for Jews, whom he finds less patronizing and stingy than your run-of-the-mill southern matron. One of the more fortuitous aspects of Driving Miss Daisy (the play is based on events in the playwright's family) is that it pairs the Black Hoke with the Jewish Werthans, since racism rears its ugly head more than once."They steal!" snaps Daisy at one point. Later, when Daisy has softened and plans to attend a dinner in honour of Martin Luther King, Boolie begs off. He explains rather shamefacedly that, as a Jew and therefore a perennial outsider in the Atlanta business community, he feels a need to mirror the racist attitudes of those with whom he does business.
Jews, of course, face their own history of discrimination and persecution. When the temple Daisy attends is firebombed, the horrified Daisy asks, "Who would do that?" Hoke responds, "You know who, Miss Daisy." The moment prompts Hoke to recall his childhood encounter with the lynching of a friend's father. While Daisy is appalled, even offended. But there is some sense of sharing common ground and an avenue of communication is opened.
While these more unsettling elements are present, they are not the meat of the play. Driving Miss Daisy is a fairly standard reworking of the age-old story of two people who meet as antagonists and grow toward an intimate friendship. It's the kind of feel-good story that today is relegated to the Hallmark Channel or Disney rather than the gritty confines of the modern stage.
The always reliable Marti Maraden has directed with a light and steady hand. She pays attention to the way Jennifer Wonnacott's costumes tell the tale, whether it is Hoke's gentlemanly pride in dressing as well as his circumstances allow or Boolie's constant attention to keeping up with the sartorial styles of the Christian Joneses. She also uses music to telling effect. A soft piano rendition of Dylan's "The Time's They Are A-Changin'" used during a later scene change prompts the inevitable question, "Are they really?" (No credit was given for music or sound design.)
As I have come to expect in a Maraden production, the performances are exemplary. Donna Belleville is the perfect portrait of propriety, a woman who is proud of her hardscrabble beginnings and somehow oblivious to the fact that she is now wealthy. She manages to keep our respect even though she is, as Boolie says, "a doodle" and an annoying one at that. Cassel Miles lets us see the sturdy character of a man who navigates the multiple indignities of the segregated south while maintaining a sense of dignity. He is also the most successful of the three characters in creating the illusion of aging twenty-five years demanded by the script. Randy Hughson, who was so devastating in The Drawer Boy earlier this year, gives us a fulsome portrait of the flawed but basically decent Boolie. His growing admiration for and friendship with Hoke, albeit across indissoluble racial lines, is nicely limned.
This Driving Miss Daisy, it must be said, will not erase any fond memories you might have of the film version — Jessica Tandy and Morgan Freeman are a tough act to follow — but if you have a hankering for the kind of comfortable, uplifting play that playwrights don't seem to write anymore, Driving Miss Daisy might just fill the bill.
Driving Miss Daisy continues at the St Jacobs Playhouse through October 22, 2022.
Don't miss another review. Follow OntarioStage on Twitter.
For a complete Index of Reviews, CLICK HERE