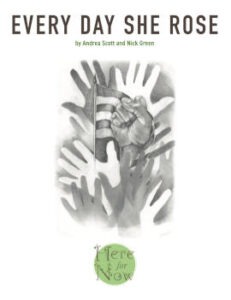 (Image: Here For Now Theatre)
Every Day She Rose At Here For Now Theatre
If you can't decrypt the acronym 2SLGBTQIAA+ then Every Day She Rose may not be the play for you. If, however, you have even a passing interest in the kaleidoscopic changes in sexual and identity politics that are sweeping not just the world of theatre but society at large then catching the revival of this 2019 play by Andrea Scott and Nick Green will be 60 or so minutes well spent.
Every Day She Rose is getting a spirited production at Here For Now Theatre's vest pocket home at Stratford's Falstaff Family Centre under the crisp direction of Monique Lund, assisted by Tiffany Deriveau. Somehow Lund also found time to design the set and costumes.
The writers use an intriguing premise for Every Day She Rose. Two long-time friends – Cathy-Ann (Jenni Burke), a straight Black woman, and Mark (Robbie Towns), a White gay man – enjoy a seemingly happy platonic menage in Mark's two-bedroom condo in a tony part of Toronto. The two actors also play the playwrights, Andrea and Nick who are also Black and straight and White and gay respectively. Fueled by a $1,000 grant, they are struggling to write a play about the deteriorating friendship of Cathy-Ann and Mark who may or may not be thinly fictionalized versions of themselves. Got it?
The story begins happily enough as Cathy-Ann and Mark head off for a Pride parade. Mark's unrequited love affair with Justin Trudeau is a comic highlight of this scene. The mood changes when a Black Lives Matter demonstration interrupts the parade. In the aftermath Cathy-Ann and Mark find themselves re-examining their relationship and their attitudes. Words become heated and home truths get spoken. The denouement is, shall we say, downbeat.
The action of Every Day She Rose alternates between the play and the playwrights' often fraught and confrontational discussions of how the plot should unfold and how each of the characters should be depicted, with crucial moments in the play receiving several different versions. The conceit comes perilously close to those stories in high school literary magazines in which the writer tells of his or her struggles to write a story for the high school literary magazine.
Does it work? Well, for me, the fact that until the programme set me straight I assumed that the two actors were also the two playwrights suggests that it worked pretty darn well. Burke and Townes are both terrific in both of their roles. As Mark, Townes has the flashier part and he plays it to the hilt, but Burke is equally effective as the more grounded Cathy-Ann.
At the end of Every Day She Rose, many of the issues raised seemed unresolved to me, but perhaps that's the point. In a programme note the playwrights say "This show is just a snapshot of a much larger, much harder discussion. Our greatest hope is that it adds something to the conversations you're already having, whether it opens up a different way of thinking, or adds fuel to your fire." That strikes me as fair enough.
Footnote: Every Day She Rose has received a fair amount of attention through social media and the local press, largely because of a scheduled "Black Out Night," which is described as a "performance of the play exclusively for a Black-identifying audience" on a "pay what you can" basis.
Given all that publicity, I found it a bit distressing that there were just twelve people in the audience at the performance I saw. These actors and this play don't deserve to be that lonely.
Every Day She Rose plays at Here For Now through August 14, 2022. For more information, visit the Here For Now Theatre website.
Don't miss another review. Follow OntarioStage on Twitter.