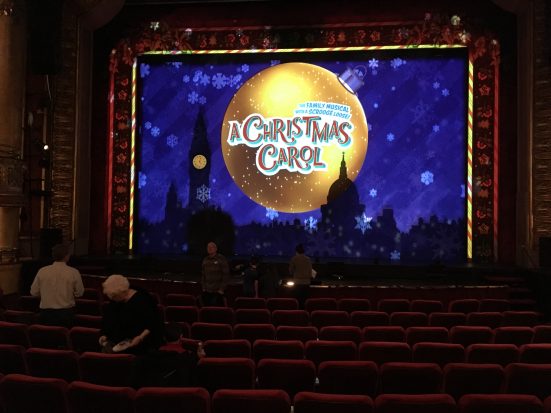 Four Christmas Carols
How do two Americans keep themselves occupied when visiting Canada during the deepening cold of early December? Why take in four very different versions of Charles Dickens' A Christmas Carol of course. The initial plan was to see just one, but…well, you know how these things go.
First up was our original choice, a decorous and heartfelt reading of Dickens' text at the Stratford Festival, presented as a benefit for the nascent Stratford-Perth Rotary Hospice. Using a version of the novella abridged by Dickens himself for just such recitals, six readers took turns telling the timeless tale of misery and redemption on the Festival Theater's poinsettia-bedecked stage. The "staves" of Dickens' story were punctuated with musical interludes ranging from madrigals to pop-folk.
The evening was elegant in its simplicity but nonetheless moving. All the readers were excellent, including Festival regulars Seana McKenna (resplendent in a red satin gown), Martha Henry, and Geraint Wyn-Davies, but author/playwright Alison Wearing and Cedric Smith, who works primarily in film and television, seemed to garner the lion's share of audience applause.
It was altogether charming and ever so Canadian.
Light years away in tone and content was the "panto" version, A Christmas Carol: The Family Musical with a Scrooge Loose, mounted by Ross Petty Productions at Toronto's "historic Elgin Theater" (as one character repeatedly reminded us).
Pantomime is a British art form (and I use the term advisedly) that has bypassed the United States, but if this show is anything to go by, it is alive and well, if somewhat changed, in Toronto.
In this through-the-looking-glass version by Matt Murray and Jeremy Diamond, Scrooge (Cyrus Lane taking a break from the classics at the Stratford Festival) is an avaricious monster who profits enormously by cornering the Christmas market. His latest evil scheme is to launch an app called "Christmas Crush" that will enslave and impoverish millions of children. As Scrooge aptly notes, they never read the terms and conditions on anything they download.
Marley (David Lopez) is more Bob than Jacob and the three ghosts are replaced by the traditional "pantomime dame" in the form of Plumbum, a deliciously campy harridan played to the hilt by Dan Chameroy. The ample musical score is borrowed from a grab bag of popular songs, often with lyrics adapted to suit the action.
Among the departures from the traditional pantomime recipe is the use of entr'acte TV-style commercials for the corporations who contributed to the production costs. Projected on a proscenium-filling screen they used characters and themes from the show and were hilarious.
In addition to Lane, Lopez, and Chameroy, Eddie Glen was a genial Bob Cratchit, while AJ Bridel and Kyle Golemba were charming as young lovers. Chameroy, by the way, will be lending his cross-dressing chops to the Stratford Festival's production of The Rocky Horror Show in 2018.
Ross Petty's pantomimes are an annual event (although each show draws on a different fairy tale inspiration) and Plumbum is a regular feature. We'll be back.
At this point we were all in and made the trip to Niagara-on-the-Lake where the Shaw Festival has wisely decided to use the usually dark winter season to make a few extra bucks.
In what promises to be an annual tradition, Shaw artistic director Tim Carroll is presenting a short (90-minute) telling of the tale that uses a small cast of ten actors, abetted by puppets both small and enormous, and includes audience singalongs of familiar carols. The adaptation is Carroll's own, I think, although the playbill was vague on that score and some debt may be owed to Dominic Gerrard and Alexis Milligan. Whoever is responsible, the result is pure delight.
Here Scrooge is a largely comic figure played by able farceur Michael Therriault, who seems to be channeling the great Canadian character actor Brian Tree. Very funny, too, is the Spirit of Christmas Present (Jeff Meadows), who has a short-term memory problem straight out of an Oliver Sacks case study. Leavening the humour are some truly spooky moments provided by Alexis Milligan's towering puppets. The explosive entrance of the Spirit of Christmas Future sent chills down my spine.
Carroll's direction is endlessly inventive and the indefatigable cast, which doubles, trebles, and quadruples in myriad roles never fails to enchant. After the show, members of the cast, including Scrooge at the performance we saw, invite members of the audience onstage for photo ops, making this a perfect family outing.
Finally, we made our way to London, Ontario, some 40 miles south of Stratford to the aptly named Grand Theatre, where we saw the most traditional of the four Christmas Carols. Here was a full-length, two-act play, with a top-notch cast of 22, mounted with all the panache that a crackerjack creative team working with a Broadway-sized stage can supply. Many regional theaters in the United States make this kind of lavish spectacle an annual tradition, as a holiday present to their patrons and perhaps to help members of the company qualify for their Equity health benefits, which is why I think of it as "traditional."
The Grand's new artistic director, Dennis Garnhum, uses his own adaptation of Dickens' novella, retaining a great deal of the original and adding some interpolations of his own devising, like the funeral of Marley that opens the play and a fun fantasy scene of derring-do inspired by the lonely young Scrooge's escapist reading.
Garnhum announced this would be a stellar production, "the largest production in the history of the company, the largest Christmas Carol this city has ever seen." And, boy, has he delivered, starting with his casting of some of Canada's best actors. In many productions, Scrooge goes from miserable miser to generous man of good cheer in a moment. Benedict Campbell's masterful Scrooge lets us chart every painful step of the character's transformation with precision. Sean Arbuckle (Cratchit), Alexis Gordon (Belle), Blyth Wilson (Spirit of Christmas Present), and Patrick Monaghan (no relation) as Marley are equally impressive.
Allan Stichbury, Kelly Wolf, and Bonnie Beecher (sets/costumes/lights) use the Grand's immense stage and their own gifted imaginations to create Victorian London in all its bustle and seediness. Garnhum fills that world with wit and whimsy. Fezziwig's Christmas party turns into a show-stopping production number of "The Twelve Days of Christmas." Marley visits Scrooge accompanied by a posse of fellow ghostly wanderers. One particularly happy – and quintessentially Canadian – inspiration is to reimagine nephew Fred's parlour game as taking place during an ice skating outing.
There was no word on whether The Grand will make this production an annual tradition, but it wouldn't be a bad idea.
Seeing four Christmas Carols within a week started out as just a crazy idea, but it turned out to be a rewarding and instructive experience.
For starters, I was impressed, yet again, by the depth and breadth of theatrical talent with which Canada, or at least Ontario, is blessed. To see four shows in a row and like all of them is, in my experience, a rarity in the United States. It happens to us all the time in Canada.
I mused on the phenomenon of artistic directors doing their own adaptations. Carroll and Garnhum are hardly alone in this. Is it to spread their artistic wings a bit? Or is it a ploy to save a little money on royalties, while creating a potential royalty stream for themselves? Perhaps a bit of all three.
I was struck, too, by the way in which A Christmas Carol has become a sort of secular gospel, retold again and again as an object lesson for the young and not so young. Religion, per se, plays little part in the story. The ghosts and spirits who populate the tale owe more to ancient pagan beliefs than to orthodox Christianity. Christ may be alluded to, but His name is only heard in the word Christmas. For Dickens, Christmas is best observed not with a church service or prayer, but in the conviviality of a family dinner, quaffs of ale, and the sharing of wealth with the less fortunate.
Yet despite the way it mutes established religion A Christmas Carol does an impressive job of teaching some of the bedrock tenets of Christianity . . . and quite a few other religions I might add: Love one another. Feed the hungry. Clothe the naked. Give shelter to the homeless. As I watched these four renditions of this timeless tale, I couldn't help reflecting that my government is celebrating this Christmas season by ramming through a "tax reform" measure that will result in the premature death of many children and elderly people, thus reducing the surplus population, while further enriching the Scrooges of this world.
Of course, gloomy thoughts like that were more than offset by the positive messages of good will and good cheer sent forth by these four productions. I left the theater each time resolved to become a better person, to love my neighbor and keep the Christmas spirit with family and friends. It is a resolution that I am sure will follow me throughout the New Year.
Now where did I put that remote?
---
A Christmas Carol at the Stratford Festival was presented for one night on December 6, 2017.
A Christmas Carol: The Family Musical with a Scrooge Loose plays through December 31, 2007 at the Elgin Theatre in Toronto.
A Christmas Carol at the Shaw Festival plays through December 23, 2017 in Niagara-on-the-Lake, Ontario.
A Christmas Carol at the Grand Theatre plays through December 31, 2017,in London, Ontario.
More Reviews
To access the complete archive of reviews listed alphabetically CLICK HERE.