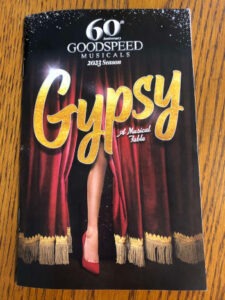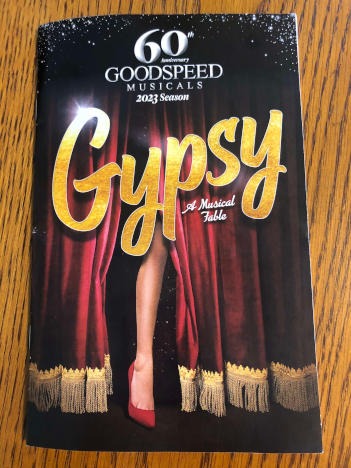 Gypsy at Goodspeed Musicals
Goodspeed Musicals in East Haddam, Connecticut, known to us old-timers as the Goodspeed Opera House, is mounting a workmanlike production of the Arthur Laurents/Jule Styne/Stephen Sondheim classic, Gypsy, directed by Jenn Thompson.
The production tries mightily to do justice to what many critics and historians of the genre consider the greatest "book musical" ever written. It comes close but ultimately falls short of that goal.
Gypsy is based on the autobiography of Gypsy Rose Lee, by all accounts a stunning striptease artist – or ecdysiast in H. L. Mencken's wonderful coinage – who cut quite a swath in mid-twentieth century America.
Gypsy, neé Louise in 1911, had a hardscrabble upbringing. She and her more talented sister June were under the oppressive thumb of their mother, Rose, or "Mama," who sublimated her unrequited dream of showbiz glory by hounding her daughters onto the vaudeville stage.
The ghastly, amateurish acts their mother concocted for them won the family a precarious and unremunerative perch on the vaudeville circuits that spanned the continent in the 1920s. Baby June, as the star of the act was billed, given a chance to become a real actor, bolted from the act and is known to showbiz history as June Havoc.
Mama turns to the untalented and hitherto neglected Louise, who longs for nothing more than stability and a home, as her next creation. She proves a poor successor to June. As vaudeville wanes in the face of talking pictures in the 1930s, Mama's latest and perhaps most pathetic act finds itself booked into a burlesque house.
Mama is horrified. But when the ever-loyal Louise accepts a chance to become a stripper and proves modestly (you should excuse the term) successful, Mama seizes the opportunity to ride the rising star that the newly christened Gypsy Rose Lee is fast becoming.
Gypsy has been called, with considerable justification, the King Lear of musical theatre. Rose, the mother, not the Gypsy Rose Lee of the title, is the central figure and she is not an easy person to like.
Mama has been described as a monster, a gorgon, and the classic depiction of the narcissistic stage mother, who projects her own desire onto her children destroying their lives in the process. That's pretty much true, although to give the creators of Gypsy their due the real Mama Rose was a lot worse.
When Gypsy debuted in 1959 it caused a sensation, at least in the critical establishment. Here was a musical "comedy" that ventured into sordid dramatic territory more familiar to operagoers. The critics were smitten. Others were not quite so sure.
I find it telling that the original Broadway production of Gypsy garnered ten Tony Award nominations and won none of them. That disconnect may explain the muted reception the show received from the Goodspeed audience.
Even so, Gypsy enjoys a place of pride in the American musical theatre canon and is revived with some frequency. It has been a sought-after star vehicle ever since Ethel Merman created the role. Over the years stars like Angela Lansbury, Bernadette Peters (who was in the ensemble of the original), Tyne Daly, and Patti LuPone have achieved critical success in the role. No wonder Goodspeed wanted a crack at it.
At Goodspeed, Judy McLane is Mama. She brings a solid list of musical credits, considerable vocal chops and a formidable dramatic presence to the role. Unfortunately, she and her director have not found the key to showing us the veneer of self-delusion that would allow us to empathize with a woman who visits such abuse on those near and dear to her.
This rendition of Mama is pure nastiness and as a result her moment of epiphany in "Rose's Turn," well-staged as it is, doesn't quite work.
There is much to appreciate about this Gypsy, starting with the score that receives a warm interpretation from music director Adam Souza, who conducts a pared down seven-member orchestra. Songs like "Let Me Entertain You," "Small World," "Everything's Coming Up Roses," and "You Gotta Get A Gimmick" have become standards and belie the grim tale they flesh out.
Director Thompson and set designer Alexander Dodge have made the decision to underline the tawdriness of the milieu in which Gypsy unfolds by setting most of the scenes against the backdrop of a down-market vaudeville stage, its drop curtain plastered with ads for various products and restaurants. It works quite well and Thompson's production resists any temptation to glamorize the rough and tumble life of traveling performers.
Gypsy boasts some solid performances as well. I was particularly taken by Talia Suskauer as Louise and Philip Hernandez, as Herbie the long-suffering booking agent and Mama's long-time fiancé. Emily Jewel Hoder as Baby June is an accomplished little trouper who has obviously spent a lot of time in dance class. Let's hope her mom is no Mama!
Michael Starr as Tulsa, with whom June runs off, contributes a nice dance number as Louise looks on longingly. If you didn't know the history, you'd think this scene marked the beginning of a love affair; it's a lovely moment.
Speaking of dancing, choreographer Patricia Wilcox faced a real challenge. How to make the gawdawful dance routines Mama cooks up look entertaining? She succeeds admirably.
A round of applause for sound designer Jay Hilton. The show is mic'ed, but so subtly that, until I was set straight by a staffer, I thought I was hearing the unaided human voice.
Some aspects of the production bemused me. There has been an increasing emphasis in the theatre of late on protecting the physical integrity of female performers. Hence the introduction of "intimacy consultants" (Kelsey Rainwater is credited for this production) to ensure that sexual encounters, however fleeting, are simulated rather than actual and the use of clever costuming – body stockings and the like – to give the impression of deshabille without actually showing any flesh.
As a result the costumes of the strippers at the "burly-que" are far more modest than the outfits teenage girls sport on the street these days. How times change!
And speaking of changing times, I couldn't help wondering why Gypsy is being revived in this era of heightened sensitivities. After all, here is a show that depicts what is now recognized as child abuse, the objectification of women, not to mention offering a sympathetic portrayal of a woman who takes off her clothes to satisfy the lust of men. Surely that should be enough to consign this 60-something show to the dustbin of history, no?
On the other hand, Mama is an incredibly meaty role and, as the recent plague … excuse me, I meant to say phenomenon … of female actors stepping into major male roles in the Shakespearean canon attests, women are hungry for such opportunities.
Perhaps it's another example of what Chris Rock recently referred to as "selective outrage."
Footnote: One of the ads on the vaudeville theater backdrop touts "New York's Best Szechuan Restaurant." The native New Yorker in me can't help pointing out that Szechuan (now spelled Sichuan) restaurants weren't introduced in New York until the 1960s, before they spread like kudzu across Manhattan in the 70s. Picky. Picky. Picky.
Gypsy plays at Goodspeed Musicals through June 25, 2023. For more information and to purchase tickets visit the Goodspeed website.
Don't miss another review. Follow OntarioStage on Twitter.
For a complete Index of Reviews, CLICK HERE