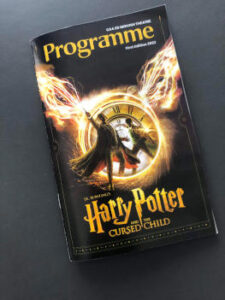 Harry Potter and the Cursed Child At Mirvish, Toronto
As my mind wandered during the longueurs of Harry Potter and the Cursed Child, currently packing them in at the CAA Ed Mirvish Theatre in Toronto, I found myself contemplating theatre history.
There was a time, more than a hundred years ago, when folks got their special effects thrills in the theatre and not from huge screens at the multiplex. In the nineteenth century, audiences could thrill to a simulated steamboat trip from New York City to Niagara Falls, and actual chariot races took place on stage. Some of those effects might seem laughably unrealistic today, but some, I bet, would still make us gasp. As the silver screen usurped the role of providing that sort of visceral thrill, playwrights pretty much restricted themselves to writing comedies and dramas that could be played on relatively straightforward sets and a great deal of theatrical inventiveness fell by the wayside.
Fortunately for us, that tradition of theatrical razzle-dazzle was not entirely lost in England. It is on fulsome display in Harry Potter and the Cursed Child. The effects alone are worth the price of admission.
As for the rest of it, your enjoyment will depend a great deal on your sentimental attachment to the Harry Potter canon. Harry Potter and the Cursed Child is a new play by Jack Thorne, based on a story cobbled together by Thorne, John Tiffany (the play's director), and Harry Potter's creator, J. K. Rowling herself.
Thorne has set his play in the approximate present, when Harry Potter is 37 years old and married to Ginny Weasley, while his Hogwarts chum Ron Weasley is married to Hermione Granger, and Harry's Hogwarts nemesis, Draco Malfoy, is widowed and just as angry and nasty as ever. The main focus of the action, though, is on the sons of Harry and Draco, both of whom are setting off to their fathers' alma mater as the play begins.
Albus Severus Potter is a troubled teen whose relationship with his dad is, shall we say, fraught. Scorpius Hyperion Malfoy is an awkward youth who is clearly "on the spectrum" or, to use a more politically correct term, "neurodivergent."
The convoluted plot – it is after all a Harry Potter tale – takes the two boys on an ill-advised trip into the past using a stolen Time-Turner to undo the untimely death of Cedric Diggory, for which Albus blames his old man.
Thorne has cleverly designed his plot to bring back old faves from the seven novels that form the canon. Albus Dumbledore, Professor McGonagall, Severus Snape, Moaning Myrtle, and even He Who Must Not Be Named are all here, much to the delight of fans.
I will admit that Harry Potter and the Cursed Child is not precisely my flask of potion. In what now seems like a previous lifetime, I spent too many years writing a guidebook that covered the two "Wizarding Worlds of Harry Potter" at the Universal Orlando theme parks. When I put down that heavy burden I shouted "Obliviate!" to summon the Forgetfulness Charm, so some of the finer points of the plot eluded me. Most of the audience didn't suffer from that handicap and responded to obscurities that went right over my head with knowing murmurs, chuckles, and gasps.
For the Potter-deprived, the producers of Harry Potter and the Cursed Child, have thoughtfully provided a crib sheet.
 There's also a brief summary of the novels in the programme. But you know what? It really doesn't matter. Just as with any decent production of a Shakespeare play, you will pick up enough to follow the story.
What impressed me far more than the intricacies of the story was Thorne's treatment of the father-son relationships and the growing bond between the two sons, who have been taught from birth that they should be enemies. You don't have to know a Horcrux from a Hippogriff to understand and appreciate this element of the play, which is quite well handled.
By play's end it seems pretty obvious that the growing bromance between Albus and Scorpius is on the verge of becoming romantic. However, this possibility is mooted tentatively enough to provide grounds for plausible deniability, a fact that has apparently generated some annoyance among the chattering classes. Since I'm not in Florida, I can say "gay."
Harry Potter and the Cursed Child is also blessed with some wonderful performances from its all-Canadian cast. (The only imports from Broadway are both Canadians.) The star turn comes from Thomas Mitchell Barnet, who was a terrific Jim Hawkins in The Stratford Festival's production of Treasure Island in 2017. He brings tremendous energy to his role as Scorpius Malfoy, making the lad's social awkwardness and inappropriate outbursts amusingly endearing without once making a caricature of Scorpius' autism. Luke Kimball is solid as the troubled Albus.
The now-grown-up kids from the original novels – Sarah Afful as Hermione, Brad Hodder as Draco, Trish Lindstrom as Ginny, Gregory Prest as Ron, and Trevor White as Harry – also fare well, with Hodder and Lindstrom perhaps first among equals. A scene in which the young time-traveling meddlers transform themselves into simulacra of their elders offers the adult actors a great opportunity to have fun.
Steven Sutcliffe is a triple threat as Albus Dumbledore, Severus Snape, and the father of Cedric Diggory. Fiona Reid does double duty as Professor McGonagall and Dolores Umbridge. And the virtually unrecognizable Sara Farb is absolutely smashing as Delphi Diggory, a role in which she spends a great deal of time soaring into the ether. These three actors, by the way, are alumni of the Shaw and Stratford Schools of Theatrical Magic and their experience shows.
Director John Tiffany, who blew me away with his production of Black Watch for the National Theatre of Scotland, has once again demonstrated his supreme gift for creating arresting stage pictures, even if the ones in Harry Potter and the Cursed Child never hold still long enough to be admired at leisure.
With the collaboration of movement director Steven Hoggett, set designer Christine Jones, costume designer Katrina Lindsay, lighting designer Neil Austin, composer and arranger Imogen Heap, and the bone-rattling sound design of Gareth Fry, Tiffany keeps his cast in almost constant motion, pulled hither and thither by magical suitcases or dancing flights of stairs. Characters are sucked into book shelves and phone booths, tumble out of fireplaces, and pop up soaking wet from unseen pools. Supernumeraries dash about with much swooping of capes and some transitions between scenes hover on the verge of becoming full-blown musical dance numbers.
Then there are those special effects. (Jamie Harrison is credited for illusions and magic and Finn Ross and Ash J. Woodward provided video design.) Objects and people fly through the air, chairs levitate, enormous Dementors descend from on high and fly over the orchestra, pyrotechnic battles are waged between the forces of good and evil, characters change costume instantly before your eyes and actors metamorphose into other actors in the same costume, and at moments the entire set seems to liquify briefly. Some of these illusions are as old as Japanese Bunraku puppetry, but others will leave you gaping in awe. Like I said, the special effects alone are worth the price of admission.
One note of caution. If you are thinking of bringing a child under ten you might want to reconsider unless they are a confirmed Pottermaniac, steeped in the minutiae of Harry's wizarding world. The play is very long (three and a half hours with one intermission), some of the plot will be hard to follow for the uninitiated, and some bits are quite scary, even for adults.
Don't miss another review. Follow OntarioStage on Twitter.