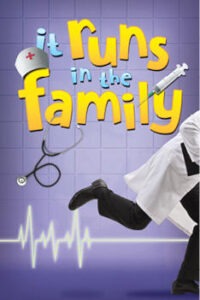 (Image: Drayton Entertainment)
It Runs In The Family At Drayton
Tired of all that high-brow nonsense at Stratford and Shaw? Then fire up the family car, point it west, and head for the Huron Country Playhouse outside Grand Bend, the largest of Drayton Entertainment's venues. Check your critical faculties at the door and immerse yourself in the non-stop, if wafer-thin, inanities of Ray Cooney's English farce, It Runs in the Family.
Ray Cooney churned out a seemingly endless stream of farces in a career that lasted almost 50 years. Filled with double entendres, mistaken identities, cross-dressing, improbable coincidences, and endless inventiveness, they crop up with pleasing regularity in Drayton's summer seasons. They are the very definition of light entertainment and one of the true pleasures of southwestern Ontario's theatre scene.
As It Runs in the Family opens, Dr. David Mortimore (Rob McClure), chief neurologist at St. Clare's Hospital, is 90 minutes away from delivering the Ponsonby Lecture, which if successful will pave the way to a knighthood. But wait! Jane Tate (Amanda Leigh), a former nurse at the hospital, shows up to announce that Mortimore is the father of her illegitimate child, Leslie (Ben Skipper), product of a dalliance in the sluice room with the happily married Mortimer some 19 years ago.
Needless to say, this is intelligence that must be kept from Mortimore's wife Rosemary (Patricia Vanstone) and his boss, the formidable Sir Willoughby Drake (Patrick R. Brown).
Enlisting his colleague Dr. Bonney (the gifted farceur Eddie Glen) and young Dr. Connolly (Teddy Moynihan), who is constantly rehearsing for the upcoming hospital panto, Mortimore's obfuscatory endeavors grow ever more frantic.
Add a demented patient (Keith Savage), a police sergeant intent on figuring out what the hell is going on (Aaron Walpole), and a head nurse (Mary Kelly) who has been shot full of enough drugs to tranquilize a horse and the action rises to an insane level of improbability. But who cares? It's all great fun and, amazingly enough, Cooney manages to pull off a happy ending.
Director (and Drayton Artistic Director) Alex Mustakas has a gift for orchestrating this kind of insanity and he has assembled a superb cast.
Rob McClure, who has the energy and stamina of a man half his age, is terrific as Dr. Mortimore. Eddie Glen, perhaps Drayton's most gifted physical comedian, is priceless as the hapless Dr. Bonney who is forced into ever more impossible situations as Mortimore improvises maniacally to protect his dreadful secret.
Ben Skipper, ably abetted by costume designer Jessica Pembleton, is brilliantly cast as the nightmare illegitimate son that every man dreads meeting. Nice work, too, from Keith Savage as the looney patient and Aaron Walpole as the put upon police sergeant. But then, there's not a false note in this company.
This kind of low-brow farce is not everybody's cup of English Breakfast tea, but if you're susceptible you will not be disappointed. If you've never seen an English farce, by all means treat yourself. You just might become a devotee.
It Runs in the Family runs at the Huron Country Playhouse through August 6, 2022. It then moves to the Hamilton Family Theatre in Cambridge, Ontario, where it will run from August 11 to August 28, 2022.
For more information, visit the Drayton Entertainment website.
Don't miss another review. Follow OntarioStage on Twitter.