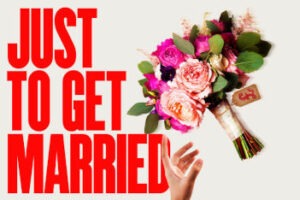 (Image: Shaw Festival)
Just To Get Married at the Shaw Festival
One of the hallmarks of Jackie Maxwell's tenure as Artistic Director of the Shaw Festival was the revival of forgotten comedies from the "mandate period" (Shaw's lengthy lifespan), and they proved to be some of the most enjoyable plays the Festival produced. The mandate period is a thing of the past under Artistic Director Tim Carroll but, at least for now, he has brought back Maxwell's innovation with the production of British playwright Cicely Hamilton's prescient 1911 dramedy Just To Get Married at the Royal George Theatre.
In an era when stages are awash with the work of female playwrights taking great delight in sticking it to the patriarchy, it is surprising to discover that Hamilton beat them to the punch over a century ago — and did it with a lot more style and wit than some of her contemporary sisters can muster. It's also astonishing to realize that Just To Get Married has been totally forgotten for as long. Except for a 2017 revival in England, the Shaw's production is the first airing this splendid play has received since 1918.
The current production, under the direction of Severn Thompson and blessed with two terrific performances in the central roles, should put an end to all that nonsense. Just To Get Married deserves frequent revivals at major theatres in the English speaking world. Not only is it an important historical and cultural document, it is also wonderfully entertaining.
The impecunious Georgiana "Georgie" Vicary (Kristi Frank) is living on the charity of her aunt and uncle, the well-heeled Grayles (Claire Jullien and David Alan Anderson). She is hovering on the brink of thirty and fears she will be condemned to spinsterhood. Everyone in the family is eager that she get married and married well, none more so than Georgie herself. The only dissenting voice is her friend Frances Melliship (Sophia Walker), an artist who lives in bohemian squalor in London and advocates for a woman's independence. Georgie is half-minded to go bunk with her.
In hopes that lightning will at long last strike, handsome he-man Adam Lankester (Kristopher Bowman), back in England after doing manly things in the far northwest of Canada, has been invited for a visit. Alas, he is painfully shy, almost entirely tongue-tied in the presence of women. Georgie tries her best to be alluring but seemingly to no avail. Hello, spinsterhood!
If you've read any Trollope this will be familiar territory. For the rest of you, a few words of explanation. In Just To Get Married, Hamilton "interrogates" (to use a hideous contemporary term) the mandates of Victorian and Edwardian society, which severely circumscribed the options for well-born women. Having what we would call a career was a non-starter. All but a few of the professions were closed to them as was most of higher education. Marriage was seemingly the only alternative. Ironically, among the few careers open to women were writing or acting (Hamilton did both), neither of which were considered quite comme il faut in polite society. These were the harsh realities driving Georgie to get hitched before her sell-by date.
When, at literally the last minute, Adam finds the courage to confess his love and propose, Georgie is utterly flabbergasted and for the first time in her life is forced to examine the inevitable consequences of the role into which society has forced her. She has agreed to give herself in perpetuity to a man she doesn't love. She will be living a lie.
This realization becomes unbearable and (spoiler alert) on the eve of the nuptials Georgie calls off the marriage, announces that she will go live with the London artist, and flees the house in the midst of a rainstorm, only to arrive at the train station looking a bit like a drowned cat.
Hamilton manages all this with considerable aplomb. By play's end Georgie has emerged as a "new woman." Indeed the play is quite Shavian in that opposing viewpoints are articulated cogently by those who espouse them. Nor does Hamilton erect any straw men or cardboard villains. She even manages to provide a "happy ending" that, while it might not please every contemporary observer, is earned rather than tacked on. Again, it's rather astonishing that Just To Get Married has languished in obscurity for so long.
Could this production of Just To Get Married have been better? Well, yes, truth be told. I had any number of nits to pick. The fussy dumb shows that opened each act to the loud accompaniment of Thomas Ryder Payne's original music and sound design; some pointless busywork blocking; English accents that ranged from spot on to close but no cigar; an odd drawing room set by designer Michael Gianfrancesco; acting styles that varied from Masterpiece Theatre to 1970s sitcom. On the plus side of the ledger, Ming Wong's costumes were delightful.
But where it really mattered, director and cast pulled together to create some highly effective theatre and allow Hamilton's play to shine through. The Act Two scenes with Georgie and Adam are right on the money.
As Georgie, Kristi Frank was totally adorable, so adorable in fact that it was hard for me to believe that she had reached the brink of thirty without dozens of men throwing themselves at her feet. Thank goodness for the willful suspension of disbelief. Georgie has to carry the show and Frank, an able comedienne, proved more than equal to the task.
Kristopher Bowman has the less flashy role, but he acquitted himself admirably and once freed from his shyness created a man worthy of any new woman.
My curmudgeonly quibbles aside, Cicely Hamilton's Just To Get Married is one of the highlights of the 2022 Shaw season. I hope some awareness of how exceptional both playwright and play are manages to pierce the Poutine Curtain. Cecily Hamilton deserves to be rediscovered.
Footnote: For a while, the Shaw Festival has replaced the usual cast bios with chatty little essays about the artists' personal lives. Enough!
Don't miss another review. Follow OntarioStage on Twitter.
For a complete Index of Reviews, CLICK HERE.