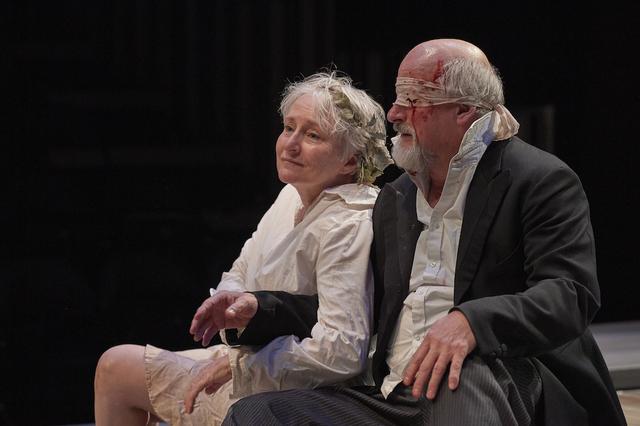 Lear at Harbourfront Centre in Toronto
Director Graham Abbey and his Groundling Theatre Company continue their gender bending ways with Lear, starring Seana McKenna, which drops the King from William Shakespeare's title and presents the tragic monarch as a woman. The results are mixed.
Once again, Abbey proves himself a masterful interpreter of Shakespeare. The minimalist sets and period-agnostic costumes, both by Peter Hartwell, work beautifully and Abbey bends the rather awkward space at the Harbourfront Centre to his will.
Shakespeare's text is the main attraction here and the company renders it with crystal clarity, while Abbey highlights elements that sometimes get muddled in other productions. The parallels between Lear's relationship with her daughters and Gloucester's with his sons are particularly poignant. The ways in which these aged parents misread and mismanage their relationships with their children hold lessons for us all.
Goneril and Regan rise to truly gothic heights of cruelty. (I couldn't help wondering if the actresses found it easier to hate their mothers.) In contrast, Edgar's tenderness for the father who has so ill-used him is especially heartbreaking.
As usual, Abbey has attracted some of Canada's best actors. Jim Mezon, a stalwart of the Shaw Festival, is terrific as Gloucester and what a treat to see him matched with the doyenne of the Stratford Festival! The scene in which the now-blinded Gloucester meets the mad Lear on the heath is perhaps the most effective I've ever seen.
Kevin Hanchard, new to me but familiar to Canadian audiences from his TV work, is a masterful Kent. Antoine Yared, who starred as Romeo last season in Stratford, is a touching Edgar, and Deborah Hay (Goneril) and Diana Donnelly (Regan) are both sharper than a serpent's tooth.
Less successful is improv great Colin Mochrie, making his Shakespearean debut, who delivers the Fool's lines as if he were playing a comedian who knows his jokes aren't very funny. Alex McCooeye gives an intelligent reading as Edmund but lacks the sexual chemistry the role calls for. He is also sabotaged by his extreme height; when Goneril says "decline your head" so they can kiss it gets a laugh. Mercedes Morris' Cordelia is sweet but rather wan.
Of course, the main attraction here and the one that has drawn the most press is Seana McKenna, one of Canada's greatest actors, assaying one of Shakespeare's greatest roles, one traditionally played by a man.
Much has been made of the way in which the gender swap adds deeper meaning to the text. "I gave you all!" we are told has more resonance when spoken by the mother who gave birth. Well, maybe. There are still lines like "you have that in your countenance which I would fain call master" and constant references to Lear's "kingdom" that remind you that Shakespeare had something else in mind.
To my way of thinking, Lear should bring some hint of his incipient madness on stage in the very first scene. When McKenna enters in her stylishly mannish outfit in Act One she evokes nothing so much as a high-powered banker at the top of her game. It's hard to believe that this buttoned down queen would surround herself with scores of rowdy, drunken knights, let alone descend into madness in a scene or two.
John Geilgud quipped that the secret to playing Lear is finding a light Cordelia. Indeed, one thing that made Colm Feore's Lear at Stratford a few seasons back so shattering was the way he not only carried Cordelia on stage but sank to the ground with her in his arms. Unfortunately, McKenna must resort to dragging her corpse on a sheet, and up two steps to boot.
All these nits being picked, McKenna plays the part beautifully and thanks to Abbey's strong hand on the helm you quickly forget all about gender and attend to the play. There are tears to be wrung in McKenna's performance and she comes by each drop honestly.
So does this production prove that more women should be playing more lead male roles in Shakespeare? My guess is that there will be as many answers to that question as there are genders. But if this Lear proves anything it's that a great actor is a great actor is a great actor. Ms. McKenna reciting the Toronto phone book would be worth the price of admission.
[This production has closed.]
More Reviews
To access the complete archive of reviews listed alphabetically CLICK HERE.