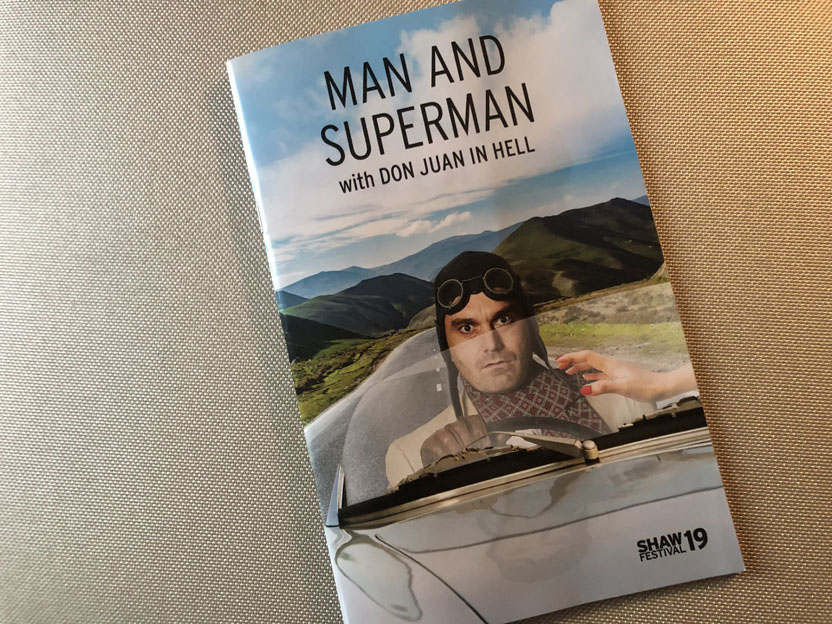 Man and Superman at The Shaw Festival
The Shaw Festival has entrusted the staging of George Bernard Shaw's monumental Man and Superman on the expansive Festival Theatre stage to the relative tyro director Kimberley Rampersad, whose only previous directorial credit at Shaw was the one-act O'Flaherty, VC last season. It was a risk and I am pleased to report that by and large it paid off.
Man and Superman is a sprawling monster of play. Presented here with the often-omitted dream sequence, Don Juan in Hell, it clocks in at some six-and-a-half hours, including a 70-minute lunch break. It is one part light drawing room comedy of manners, one part philosophical discourse, one part political harangue, and 100% Shaw. As such, it is a challenge for director, cast, and audience, even when whittled down to size by an ardent editor.
The play revolves around the trials, tribulations, and tirades of Jack Tanner (Gray Powell), a self-proclaimed "revolutionist" but every inch the idly rich English gentleman, who rails against the antediluvian mores of the age, which insist that he must marry. He's having none of it. His ward Ann Whitefield (Sara Topham), however, wants it all. Add to the mix Violet Robinson (Courtney Ch'ng Lancaster), who has committed the unpardonable sin. No, she's not pregnant out of wedlock. It's far worse. She's secretly married to one who must remain nameless. Toss in Henry Straker (Sanjay Talwar), the cockney auto mechanic who chauffeurs Tanner's newfangled motor car (it's 1905, remember) and knows his Beaumarchais from his Voltaire; Hector Malone (Jeff Irving), a visiting American chap who has his own speedy motor car and who has taken a fancy to Violet; and crusty old Roebuck Ramsden (David Adams) to whom Tanner's bohemian pretenses are anathema and you have plenty of room for comedic complications.
When the group takes off on a sort of road rally to the Mediterranean, they are waylaid by a bunch of anarchists and social democrats in Spain's Sierra Nevada under the leadership of one Mendoza (Martha Burns), a former waiter at the Savoy Hotel in London. Between bouts of political disputation they rob travelers. Mendoza and Tanner hit it off. "I am a brigand; I steal from the rich," says she. "I am a gentleman; I steal from the poor," replies Tanner.
It is during this sojourn that the famous dream sequence occurs, when Tanner beds down for the night. Shaw was canny enough to make sure it could easily be excised without ruining the play that surrounds it and, truth be told, when performed it is a bit like Dicken's undigested piece of beef, so different is it in tone and content. In the morning, the group winds up in Granada, where Hector's father (Tom McCamus) appears and all is set to rights.
While the bones of the main plot seem lifted from Wilde the dialog is vintage Shaw, most of it devoted to Shaw's ideas about the parlous relationship between men and women. For Shaw, women represent "the Life Force" whose role in the grand scheme of things is to perpetuate the race, which they do by entrapping men into marriage all the while allowing men, the poor saps, to believe that they are the pursuers not the prey. It is a point of view that, I dare say, many men in the audience will find familiar. Women, on the other hand . . . well, far be it from me to speak for what used to be called the gentler sex.
Shaw assigns most of the heavy didactic lifting to his logorrheic protagonist (and stand-in), Jack Tanner. And my but he do go on! Tanner is apparently the longest role in the English-speaking theatre and it is to Gray Powell's credit that he pulls it off with aplomb. Shaw is wise enough to sprinkle the play with snide references to Tanner's prolixity. At one point, his chauffeur, Straker, says, "If my motorcar went as fast as your mouth . . ." It's a ploy that nips one of the most obvious complaints about the play in the bud.
In the Don Juan sequence (it has been established, but not really explained, that Tanner is a descendant of the Spanish rake) Shaw shifts from comedy of manners to metaphysical disquisition in which he, through Tanner, expounds on his theory, borrowed from Nietzsche, that human evolution is inexorably producing the "superman," with women choosing just the right mates to bring this apotheosis to fruition. He borrows from Mozart's opera, Don Giovanni to stage a debate among Don Juan, Doña Ana, Satan, and Il Commendatore (Doña Ana's father, killed in a duel by Don Juan, whose funereal statue comes to life in the opera).
Traditionally, these parts are played by the actors who portray Tanner, Ann Whitefield, Roebuck Ramsden, and Mendoza respectively, and therein lies one of the hiccups in this production — casting Martha Burns as Mendoza. Mendoza tells of a passionate, but unrequited, love affair with a woman who happens to be Straker's sister. Introducing a lesbian love affair in a play that is all about the essence of heterosexual politics makes little sense. On the other hand, given the nefarious role played by women in the eternal battle of the sexes (Shaw's view, not mine!) depicting Satan as a woman seems apt, and Burns is terrific in the role. Plus, it should be noted that, as Shaw presents it, Hell is where the cool kinds hang out; Heaven is unspeakably dull.
Rampersad made some other odd choices. She begins the play rather pointlessly by bringing all the characters on stage in a sort of line up where they present their cards to Ramsden's butler. Then when the first scene begins, it is sung for a minute or so in recitative, an apparent nod to the operatic inspiration of the Don Juan sequence and an unfortunate example of a director calling attention to herself. After that, thank God, she settles down to business.
A major theatrical event like this deserves a sumptuous physical production. I have fond memories of the Shaw's 1977 production, which featured a magnificent Rolls Royce (along with Ian Richardson and Carole Shelley). Camellia Koo's set, however, looks chintzy, a series of flat walls depicting a vast library, which slowly deconstructs as the play progresses. I struggled to fathom the symbolism ­— the sheer volume of Tanner's dialog? ­— and ultimately failed. Perhaps this was exactly what the director wanted; or perhaps, given that there are only 17 performances, it was felt that they couldn't afford a lavish set; or perhaps the incredible set for The Ladykillers used up the last loonie in the set budget. Whatever the reason, it was a missed opportunity. Koo redeems herself with some smashing costumes, and Kevin Lamotte's lighting is effective, too.
But ultimately, the production's many virtues far outweigh any minor carps. The play places tremendous demands on the cast and they all rise to the challenge. Shaw's speechifying can be deadly in the wrong hands, but Gray Powell, as noted, tackles a veritable mountain of dialog and makes it fresh and compelling and a joy to listen to. A fair amount of the credit for that belongs to the director. Sara Topham is delightful as "the Life Force." The moment when she has finally conquered Tanner and falls into his arms is positively delicious. Few actors can depict the ecstasies of pure love better than Ms. Topham. Kyle Blair is nigh-on perfect as Octavius Robinson, the hopelessly dopey romantic smitten with Ann. Courtney Ch'ng Lancaster and Jeff Irving work well as the secondary love interests, and Tom McCamus, as the elder Malone, illustrates the benefit of casting a major actor in a minor role.
Given the infrequent productions of the full monty version of Man and Superman, I was surprised and more than a little upset to note that there were a fair number of empty seats at the performance I saw. Let's hope that changes in the few remaining performances.
Man and Superman continues in repertory at the Festival Theatre through October 5, 2019
The Shaw Festival
www.shawfest.com
(800) 511-7429
(905) 468-2172
More Reviews
To access the complete archive of reviews listed alphabetically CLICK HERE.