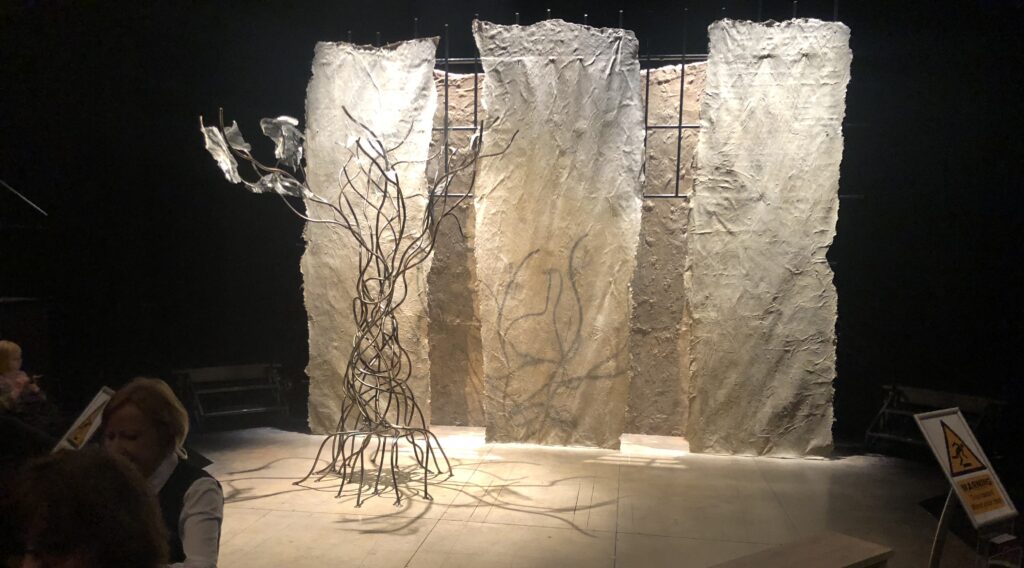 Nathan The Wise at The Stratford Festival
Gotthold Ephraim Lessing's 1779 play Nathan The Wise (translated and adapted by Edward Kemp), now playing in the Festival's Studio Theatre, is one of the literary gems of the early Enlightenment. Lessing applied humanist logic, as opposed to blind superstition, to the problem (still with us today) of religious tolerance and the lack thereof. The effect was illuminating and for many of Lessing's contemporaries devastating. It still packs a wallop despite a lackluster production.
Set in twelfth century Jerusalem during the Third Crusade and the reign of the relatively tolerant Sultan Saladin, the play centers around the relationships among Saladin, a captured Knight Templar whom he has pardoned because of his uncanny resemblance to the sultan's dead elder brother, and Nathan, a wealthy Jewish merchant who is respected by the entire city for his moral rectitude and perspicacity, not to mention the kind of wealth that can help a sultan out of a financial crunch.
Nathan returns from a successful business trip to be informed by Daya, the Christian woman who manages his household, that his daughter, Rachel, has been rescued from a fire by the freed Templar. A romance ensues, posing the first of a number of ethical and moral crises Nathan must face.
The crucial moment in the play occurs when the sultan summons Nathan and challenges him to say which of the three great monotheistic religions is the true one. Nathan responds with an ingenious parable that, in essence, says "Who can tell?" We must all live our lives to the highest standards of the religion that has been bequeathed to us.
The Templar, disquieted by his love for a Jewish girl, learns from Daya that in fact Nathan's daughter is actually the child of a Christian who entrusted her to Nathan's care when he faced certain death. When the Templar seeks the advice of the Christian patriarch of Jerusalem, the response is horrific: The Jew must die.
The play's action moves on to something of a happy ending, one that has echoed down the ages in dramatic literature, even in tales chronicling events in a galaxy far, far away. But behind, and overarching, the plot is the theme of ambivalence in the face of religious dogma and the truth so eloquently expressed by Rodney King in the waning days of the twentieth century – Can't we all just get along?
Birgit Schreyer Duarte has mounted an intelligent if somewhat misguided production. Teresa Przybylski's abstract set stands in for ancient Jerusalem while the costumes evoke a more modern Middle East; the omnipresence of armed soldiers reminds us that even in this period of relative tolerance, tensions remain and danger lurks.
My major quibble with the production is the miscasting of the very talented Diane Flacks in the central role of Nathan. Ms. Schreyer Duarte says in her Director's Notes that "we hope to inspire curiosity about how wisdom relates to our ideas of gender: what do we expect from women versus men as leaders? What do we consider 'wise' in women versus in men …?" That's a subject worth exploring, certainly, as playwright Kate Hennig is doing to great effect in Mother's Daughter, also playing at the Studio.
But Ms. Flacks is asked to play Nathan as a man, complete with a scruffy beard that makes her look more like a Yeshiva boy than a venerable greybeard who has sired and lost seven sons in a Crusader attack that left him penniless; when we meet him in the play, he has rebuilt his business and is once again wealthy. The curiosity inspired in me was how could this part be more effectively cast.
That being said, Ms. Flacks delivers an intelligent and persuasive reading of the role that is true to the text and that serves the text, which has nothing to do with gender roles. Once I summoned my willful suspension of disbelief and put aside my reservations I was able to become absorbed in the production and enjoy its considerable virtues.
Ms. Schreyer Duarte is working with a predominantly young cast, many of whom are making their Festival debuts. They all give good account of themselves, even when they are not quite right, mostly too young, for their parts. Perhaps Ms. Schreyer Duarte had her hands tied when it came to casting. But I couldn't help thinking that this season's Festival company contains a number of artists of considerable stature who could have made this powerful play, under the direction of this director, one of the Festival's major achievements of the last several years.
More Reviews
To access the complete archive of reviews listed alphabetically CLICK HERE.