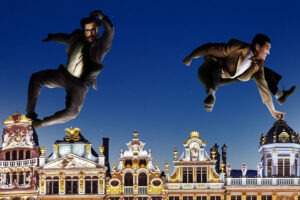 On The Razzle At The Shaw Festival
If you are one of those people who subscribe to the mistaken notion that Tom Stoppard plays are dense, philosophically abstruse, and difficult to follow, you can check your apprehensions at the entrance to the Royal George Theatre in Niagara-on-the-Lake and simply enjoy the Feydeau-esque farce that is On The Razzle.
On The Razzle may be Stoppard in a minor key but that doesn't mean that it lacks any of his trademark wit, wordplay, and devilishly clever plotting. Of course, he had help.
On The Razzle is based on Einen Jux will er sich machen (He'll Have A Jolly Good Time), an 1842 play by Johann Nestroy of Vienna. It's the same source material that Thornton Wilder turned to when writing, first, The Merchant of Yonkers and, after some revision, The Matchmaker. That play, in turn, became the basis for the musical Hello, Dolly!
So if the plot of On The Razzle seems vaguely familiar, that's why, although there is no Dolly Levi character in this version.
Herr Zangler (Ric Reid) owns a prosperous grocery emporium in small town Austria, but his fortunes are about to improve markedly when he marries Madame Knorr (Claire Jullien), owner of a chic women's boutique in glamorous Vienna.
In preparation for the nuptials, Zangler stuffs himself into a resplendent new uniform signifying his rank in the grocers' guild and hires a fast-talking servant, Melchior (Jonathan Tan), but not before taking steps to spirit his young ward Marie (Lindsay Wu) off to stay with Fraulein Blumenblatt (Tara Rosling) in Vienna to protect her from the utterly welcome advances of the penniless Sonders (Drew Plummer).
Zangler leaves his thriving enterprise in the hands of his head clerk, Weinberl (Mike Nadajewski) and the gormless apprentice, Christopher (Kristi Frank). The somewhat pompous Weinberl sees himself as a vital cog in the Austrian empire's great mercantile machine while Christopher is the picture of wide-eyed innocence.
Before leaving, Zangler appoints Weinberl to a partnership in the firm and Christopher is promoted to Weinberl's old job. It must have gone to their heads because, rather than hold down the fort, the two seize the opportunity presented by their boss's absence to "go on the razzle." The term is a not altogether disapproving Britishism that describes the antics (usually fueled by copious amounts of alcohol) of young men stepping out on the town.
They head to the fleshpots of Vienna believing the chances of crossing paths with their master are slim to non-existent. But since On The Razzle is a farce, they bump into Zangler almost immediately, forcing them into a series of disguises and subterfuges that grow increasingly complex.
Just for the hell of it, Stoppard throws into the mix a randy coachman (a hilarious Patrick Galligan) whose days spent watching the steaming buttocks of his horses send him into fits of sexual passion. Fortunately for him, Stoppard has also provided a French maid who is "a goer," which is a Britishism for . . . oh, never mind.
It's all high-spirited fun and by play's end the mistaken identities have been unraveled, love triumphs, and Weinberl and Christopher make it back to the shop unscathed and undetected.
High farce of this sort demands a heightened playing style that can elude less competent ensembles than the one director Craig Hall has put together. Under his shrewd guidance, the action is non-stop, the delivery fast-paced, and the acting deliciously over the top without descending into mere buffoonery. The characters in On The Razzle always remain recognizably human, even the coachman at his randiest.
Ric Reid is splendidly orotund as the continually flummoxed Zangler. Mike Nadajewski is a gifted physical comedian and it is a joy to watch him fling himself about the stage as Weinberl escapes from one scrape after another. He continues to establish himself a one of Shaw's major stars.
The gender politics of the day insist that repertory companies like Shaw maintain a roughly 50-50 roster of male and female actors. That in turn means that women have to take on men's roles in the male-heavy plays of yesteryear, even if they might not necessarily wish to play them; after all, what is the alternative?
So it's not too surprising to see Christopher played as an innocent and somewhat clueless young boy by a woman. However, Kristi Frank and director Hall have made the role much more than just another bit of pro-forma "gender blind" casting.
Frank's thoroughly delightful performance struck me as a sort of time-honoured theatrical tradition, much like the "trouser roles" in opera or the young women disguised as boys in Shakespeare plays. Frank brought what I can only describe as a "certain something" to the role that could not have been produced by a teenage boy playing the part, no matter how good he was.
Indeed, there is precedent for the device in On The Razzle itself. The premier production in 1981 at London's Royal National Theatre featured Felicity Kendal in the role. Many other productions, including some in Austria, have used the same cross-casting. Perhaps it should always be thus.
On The Razzle is also graced by a splendid physical production. The nimble sets by Christina Poddubiuk, backed by clever projections by Jamie Nesbitt, are spot on. The same can be said for her witty costumes. Lighting by Kimberly Purtell, original music by Alessandro Juliani, and sound design by Mike Rinaldi all do their jobs quite nicely.
It's early days yet, but On The Razzle may well emerge as the comic hit of Shaw's season. Those who hold Season Passes to the Shaw Festival are able to return to see favorite shows, on a space-available basis, for no extra charge. I predict that they will find On The Razzle a tough ticket to come by.
On The Razzle continues at the Royal George Theatre through October 8, 2023. For more information and to purchase tickets, visit the Shaw Festival website.
(Image: Shaw Festival)
Don't miss another review. Follow OntarioStage on Twitter.
For a complete Index of Reviews, CLICK HERE