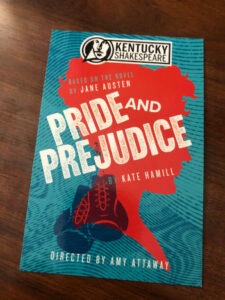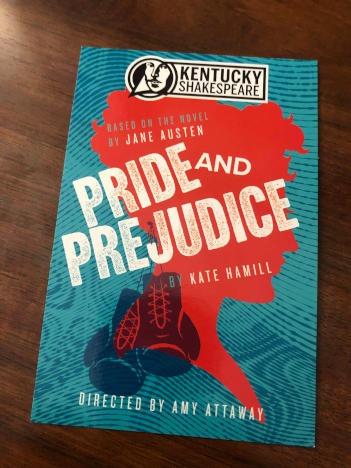 Pride And Prejudice At Kentucky Shakespeare
Jane Austen purists may be horrified by Kate Hamill's rollicking, anything-for-a-laugh 2017 adaptation of Pride and Prejudice. They would be well advised to put their high standards aside for an evening and enjoy the often hilarious romp being presented by Kentucky Shakespeare in the commodious Bombard Theater in downtown Louisville.
It is a truth universally acknowledged that everyone is so familiar with the plot of Austen's Pride and Prejudice that a reviewer scarcely needs to summarize it. And while Hamill's play may seem to take diabolical liberties with the piece, it actually hews remarkably close to the the original story. I checked.
What Hamill has added is a very modern sensibility, exemplified by an Elizabeth (Lizzie in Hamill's version) who displays a jaundiced view of marriage and a lot more feminist "agency" than you'll find in those worshipful BBC adaptations. Hamill looks for – and finds – the often unintentional humor hidden in Austen's characters, giving us a contemporary gloss on the original text. She has also specified that several female roles by played by men.
The sense of the costumes (Donna Lawrence-Downs) and sets (Eric Allgeier) may reflect Austin's era, but the sensibility of the performance reflects our own. Director Amy Attaway has taken Hamill's cues and run with them, assembling a talented company and encouraging them to play to their strengths and give it all they've got.
The result is something of a mixed bag giving the production a sort of lumpy quality. Some performances are spot on while others merely seem overwrought.
In perhaps the best performance of the evening, Neill Robinson camps it up shamelessly – and quite brilliantly – as both the snobbish Miss Bingley and the flamboyantly creepy clergyman Mr. Collins, while playing it straight as the cad Wickham.
Justin Jackson is perfectly acceptable as Jane's awkward suitor, Mr. Bingley, and then hysterically funny (and utterly unrecognizable) as mistreated sister Mary. Similarly, Gregory Maupin scores as a deadpanning Mr. Bennet, while making us understand why the Bennet sisters' friend Charlotte is still unmarried at the advanced age of 27.
The central characters of Lizzy (Mollie Murk), Jane (Brittany "BeeBee" Patillo), and Mr. Darcy (Zachary Burrell) are well cast and come across as less cartoonish under Attaway's direction, which was a wise choice I thought. Murk has the juiciest role and she does well by it.
Kentucky Shakespeare is a non-Equity company but a thoroughly professional one. A close reading of the playbill (alas, only available online) reveals that some of the more experienced performers must have an Equity card among their souvenirs. I suspect that in a market like Louisville there are so few actual Equity jobs that the union looks the other way when its members take advantage of the opportunities available to them.
In any event, as someone passing through town, I was glad to have the chance to see this talented bunch of actors at work.
Pride and Prejudice only plays through January 8, 2023, a mere six performances.
For more information and to purchase tickets, which are a real bargain at $27, visit the Kentucky Shakespeare site.
Footnote: The Bombard Theatre is part of the Kentucky Center. The lobby contains a smashing Louise Nevelson, the largest I have ever seen. Nevelson fans take note.
Don't miss another review. Follow OntarioStage on Twitter.
For a complete Index of Reviews, CLICK HERE
---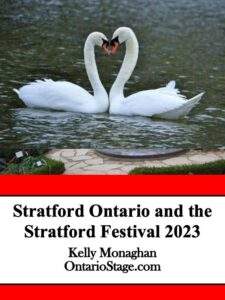 ---