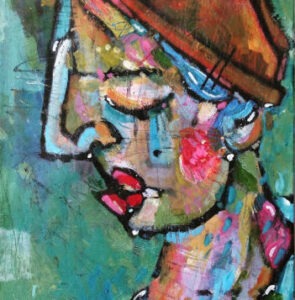 Queen Maeve At Here For Now Theatre
Judith Thompson's Queen Maeve, now receiving its world premiere at Stratford's Here For Now Theatre, is a bleak but powerful portrait of a demented nursing home resident, one Mrs. Nurmi. The staff calls her "your Majesty" because she is convinced that in addition to being an 88-year-old "ordinary person" in Cornwall, Ontario, she is also the 3,000-year-old warrior Queen Maeve (or Méabh in Irish) of Connacht.
Even if your family has been spared the scourge of dementia you will almost certainly find this searing hour and a quarter play profoundly moving. If you are lucky enough to be Irish, Queen Maeve may leave you gutted.
As she attempts to come to grips with her memories of a family history replete with depression and drug addiction, Queen Maeve does battle, both literally and figuratively, with her dead grandson Jake and her deeply troubled daughter Georgia.
Thompson's previous work is unfamiliar to me, but she is regarded as a major Canadian playwright and based on Queen Maeve it's easy to see why. Director Murdoch Schon, who teaches directing at the National Theatre School of Canada, has assembled a sterling cast and seems to have guided them with a light yet firm hand.
As Queen Maeve, Claire Coulter, herself in her eighties and something of a Canadian theatre legend, gives a masterful performance. She is on stage throughout the play, speaking almost constantly, now raging in Gaelic while wielding a broadsword, now spitting vitriol at her daughter, now cajoling, now meek and submissive.
Allegra Fulton, who was a splendid Amanda in Glass Menagerie at the Shaw Festival a few seasons ago, is equally compelling as Maeve's conflicted daughter. Relative newcomer Michael Neale shows he is ready to stake his own claim on the stage; his portrait of the drug-addled Jake in a variety of moods is scarily compelling.
Finally, Caroline Gillis, as the no-nonsense and compassionate staffer who tends lovingly to the demented Maeve as she approaches death, is perfection. We should all be so lucky as to have a caretaker like that when it's our turn to enter "the home." Cait Watson, who sits quietly at one side of the stage in what appears to be ancient Irish garb and provides occasional musical passages and sound effects, adds a subtle but telling touch.
Queen Maeve continues Here For Now's tradition of giving voice to new Canadian plays by and about women, interpreted by superb actors working with accomplished directors.
While it has welcome flashes of humour, Queen Maeve is not easy to sit through. It is challenging, emotionally draining theatre that serves to reconcile us with our own mortality.
Queen Maeve continues at Here For Now Theatre's tent theatre behind the Stratford-Perth Museum through September 23, 2023. For more information and to purchase tickets, visit the Here For Now Theatre website.
For a complete list of reviews, CLICK HERE.
(image: Mark Uhre, Here For Now Theatre)