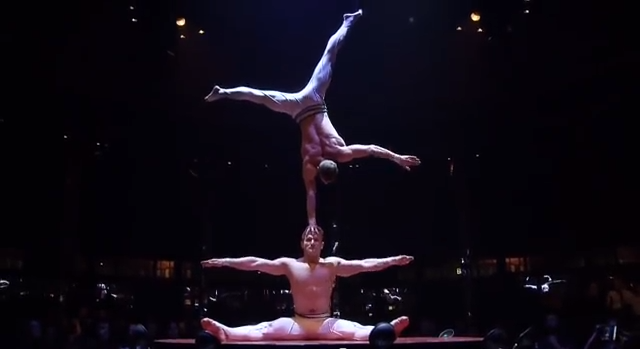 Absinthe in Las Vegas
LAS VEGAS, NV – Everyone loves acrobats but not everyone will have a tolerance for the non-stop, filthy, vile, obscene, and often very funny patter that accompanies them in this sui generis offering on the Vegas Strip.
Absinthe is housed in what looks like a temporary storage shed in a courtyard at Caesar's Palace. The interior looks every bit as ephemeral, with simple folding chairs packed around a stage (and I use the term loosely) that looks to be about the size of the average kitchen table.
In this postage stamp space, Absinthe showcases acrobatic acts from around the world and some of them are doozies. Acts change from time to time, but among recent acts four Russian guys, a speed skating duo from Germany, and two Amazonian aerialists from the Netherlands were especially gasp-worthy.
Check out this video clip:
The spectacle is intensified by your proximity to the action and the fact that these artistes work without nets or safety wires. If they fall, they fall on you.
Adding a bit of spice is a strip teasing chantoozie, the delightfully de-lovely Melody Sweets. But what has made Absinthe a Vegas sensation, I think, is its arch framing device.
The show is ostensibly being produced and emceed by "The Gazillionaire," a snaggle-toothed, brilliantined sleazeball played with great relish by Voki Kalfayan, a former Cirque du Soleil clown. His opening line is "If you are offended by words like f**k and s**t, you're at the wrong f**king show." Don't say you weren't warned.
What follows is a constant stream of vulgarity and sexual innuendo as The Gazillionaire seems to bend over backwards to offend everyone in the audience. And it works. The night I caught the show an older couple (she never cracked a smile) were driven out, an event that The Gazillionaire took as a personal triumph.
Assisting the emcee is one Penny Pibbets (Anais Thomassian) who vies with the host in the vulgarity sweepstakes. At one point, she performs a crazed sock puppet routine that is breathtaking in its obscenity.
The saving grace in all this is that the repartee is often hilarious and most folks in the audience get with the program and thoroughly enjoy themselves. As did I.
By the way, the title is apparently derived from the absinthe-drinking acrobat whose chair balancing act opens the show.
Absinthe at Caesar's Palace
Flamingo Road and Las Vegas Boulevard
Las Vegas
(800) 745-3000
Tickets run from $99 to $134 plus tax and are available here.
More Reviews
To access the complete archive of reviews listed alphabetically CLICK HERE.