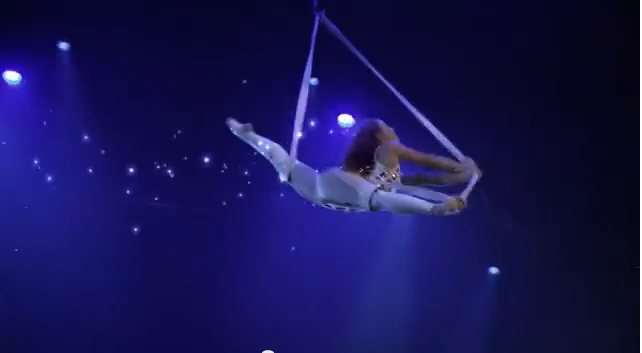 'Love,' Cirque du Soleil's Beatles Show
LAS VEGAS, NV – I entered with high expectations but, alas, I found myself merely in like with Love, Cirque du Soleil's Beatles show.
Cirque du Soleil's high-powered homage to the Fab Four is chock full of Cirque's trademark glitz and over-the-top surreal creativity but oddly lacking in the circus style acts that make most Cirque shows such crowd pleasers. It's a lot of Soleil with little Cirque.
What we get instead can best be labeled interpretive dance. Unfortunately, while it is performed with Cirque's customary excellence, the choreography has an unfortunate tendency to lapse into the overwrought and pretentious.
The creators have peopled the ingenious and hyperactive set at the Mirage Resort and Casino with the usual array of post-modern oddities, many of whom seem to bear little relation to the Beatles canon. Yes, there is a briefly glimpsed Father McKenzie, but what's with the little fat guy, or the tall bald guy in the white frock coat, or the muscular dude in the Michelin-Man rubber pants?
Like the intense intellectual artistes one imagines the Cirque creative team to be, they have placed heavy emphasis on the darker and more "poetic" pieces in the Beatles' songbook. I, for one, would have liked to have seen and heard more of their earlier, bouncier, subtextless songs. The later, more surreal songs gain little from having their bizarre imagery translated into concrete form.
On the other hand, this approach gave the costume designers an opportunity to showcase their considerable skills. I thought at more than one point that they had more fun creating the show than I was having watching it.
The result is a musical mish-mosh that jumps backwards and forwards in time accompanied by a swirling blur of seemingly unrelated characters and imagery. More than once I was reminded of Shakespeare's line about sound and fury signifying nothing – although to give the artists their due, I am sure a great deal of effort went into imagining every little thing that goes on during the show.
Still, the show has its moments. There is a bewitching dance featuring a lone male dancer and four white-clad women swirling about him on wires. The best numbers were the most circus-like, including an act featuring four furry-booted roller skaters and two half pipes, and a trampoline free for all reminiscent of a similar bit in the now-closed La Nouba in Orlando.
Fortunately, the show closes on a high note with energetic renditions of Hey, Jude and All You Need Is Love. Which reminds me, did I mention the music? There's lots of it, projected on a sound system to die for, and it was all written by perhaps the most talented pop group of the twentieth century. If the production fails to captivate you, you can always just close your eyes and let that magnificent music wash over you.
Tip: Those who didn't damage their hearing during the Beatles' heyday will be well advised to bring earplugs.
Cirque du Soleil – The Beatles LOVE
The Mirage Hotel & Casino
3400 Las Vegas Boulevard S
Las Vegas
(866) 963-9634
Tickets for the show range from $86.90 to $198.
More Reviews
To access the complete archive of reviews listed alphabetically CLICK HERE.