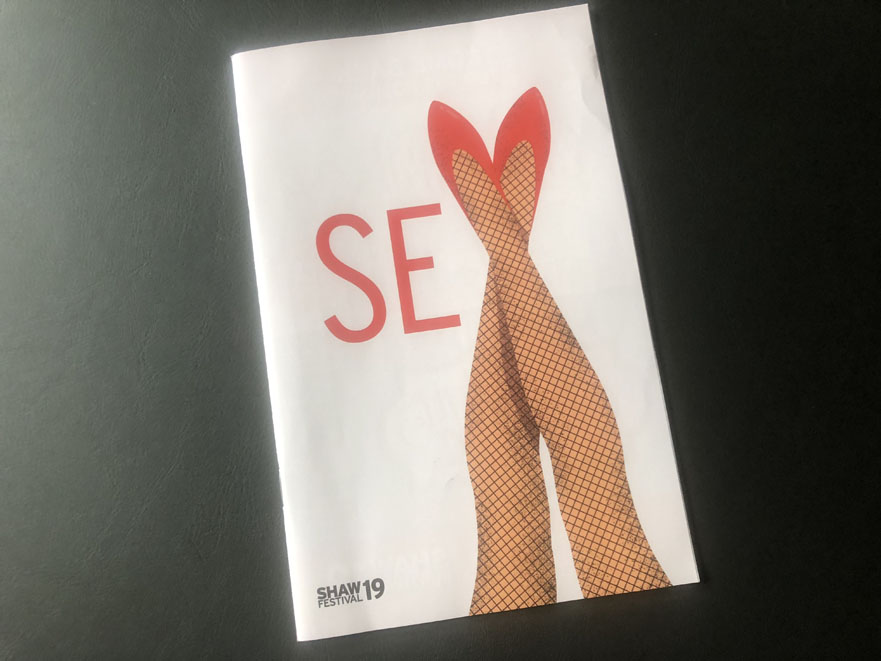 Sex at The Shaw Festival
I have wanted to see the 1926 play Sex ever since, as a Mae West-besotted undergraduate, I first became aware of its existence. Mae wrote, produced, directed, and starred in it and went to the slammer because of it. Who wouldn't want to see it? Thanks to Peter Hinton-Davis and The Shaw Festival my curiosity is finally satisfied.
Sex wasn't what I expected. Is it ever? (Sorry, couldn't resist.) I mean the play, of course. Rather than a comedy romp like her later films, the play is an old-fashioned melodrama, filled with all the hoary conventions of the genre, and yet it holds up remarkably well. Very well, in fact. So much so that it's surprising that it is only now getting its Canadian premiere.
The story behind the play is almost as delicious as the play itself. Sex was roundly denounced by critics and assorted bluestockings when it debuted in New York, yet it ran for almost a year before the forces of decency managed to get it shut down and have the entire cast and production team dragged into court. Surprisingly, they were convicted (although most of the cast were given suspended sentences). Mae went to prison – on what is now Roosevelt Island, not Jefferson Market as the program would have you believe – where she was wined and dined by the warden. She was sentenced to ten days and served eight thanks to good behavior. It was a publicity gold mine. As West herself remarked, "I believe in censorship. I made a fortune out of it."
The play tells the lurid tale of Margy LaMont (Diana Donnelly), a "woman of easy virtue" who is not only inured to the marginal life she leads but who takes a distinct pride in being so good at it. She shares digs in Montreal – Sin City in the Prohibition era – with Rocky Waldron (a perfectly cast Kristopher Bowman), a petty criminal who specializes in seducing wealthy American women who have come north for a walk on the wild side, drugging them, and robbing them blind.
Margy returns one night with her friend and frequent customer, Lieutenant Gregg (André Sills), an English naval officer, only to discover Rocky's latest victim passed out and near death. They revive her, but when the police arrive she accuses Margy of being the perpetrator and pays off the cop to get her out of her predicament. Margy finds it wise to skip town.
In Trinidad she meets – and enchants – young Jimmy Stanton (Julia Course), the innocent scion of an immensely wealthy Connecticut family. Jimmy proposes marriage. Lieutenant Gregg has also sailed into port and he, too, has a marriage proposal, one tied to a new and respectable life in Australia. Margy chooses Jimmy and returns to his palatial family home to meet his parents. I won't give away the payoff to the plot, but it's a doozy.
Sex is a fascinating companion piece to other, more polite plays of the period that have survived the test of time and are regularly revived. Her portrayal of the underworld, the existence of which polite society of the day refused to recognize, is unvarnished but sympathetic. In this world, sex is currency, power, and social mobility all rolled into one. And women control most of the supply, a supply for which there is an ample demand. In this respect, the play is strikingly up to date and has a great deal to say to the twenty-first century audience.
Hinton-Davis has given the piece a sturdy if perhaps not definitive production in the intimate Jackie Maxwell Studio Theatre. As a director, he likes to add … let's call them grace notes … between scenes. Some work better than others but all slow down the pace. In the current fashion, he gender-swaps a few roles and, in a surprising break with current orthodoxy, he actually lets men play women's roles. Jonathan Tan makes a perfectly believable, waif-like street-walker, while the excellent Julia Course makes a perfectly unbelievable young man.
One of Hinton-Davis' best conceits is the music that accompanies the play from well before the opening scene until well after the final curtain. It is eclectic and not always of the period, but it is seldom less than apt. Most of it is recorded but there are live renditions of songs by several cast members, including most memorably Katherine Gautier, Monice Peter, and Allegra Fulton. Kurt Weill's "Pirate Jenny" song serves as an envoi as the audience leaves the theatre and it is just perfect. Ryan deSouza is the music director.
The cast is universally excellent with outstanding contributions from Ric Reid as both a corrupt Montreal cop and Jimmy's father; Fiona Byrne as Jimmy's mother, who has a dark secret; and Allegra Fulton (who is a smashing Amanda in The Glass Menagerie) doing a Carmen Miranda-esque rendition of "Rum and Coca-Cola" in the Trinidad sequence.
In the Mae West role, Diana Donnelly faces the challenge of replacing the irreplaceable. Both she and the director wisely avoid the trap of trying to make her a Mae West impersonator. Her Margy is slender and slutty with a voice that could cut glass. She acquits herself admirably, but I kept wishing the role was filled (if that's the right word) by someone a bit more zaftig and blowsy with more of the take no prisoners swagger that was Mae West's trademark.
But why am I looking this gift horse in the mouth? Sex is a theatrical rarity and this revival long overdue. Who knows when you'll have a chance to see another production? Come up and see it sometime!
Sex runs through October 13, 2019.
The Shaw Festival
(800) 511-7429
(905) 468-2172
More Reviews
To access the complete archive of reviews listed alphabetically CLICK HERE.