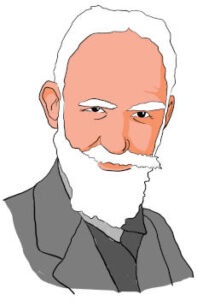 The Shaw Festival Is Canada's Great Theatre Bargain
After sharpening my pencil and doing some calculations, I have decided that the Shaw Festival, in drop-dead-gorgeous Niagara-on-the-Lake, Ontario, is the greatest theatre bargain in Canada.
I have booked tickets for the missus and myself for the entire 2023 season at the Shaw Festival – a mere $1,728.90 CDN ($1,281.81 USD) for two tickets to 15 plays plus a vegetarian Indian meal between Mahabharata Parts 1 and 2.  That works out to roughly $40 USD per ticket, with a free backstage tour thrown in for lagniappe.
AND we have great seats, 5th row center in most cases.
As a point of comparison, we have also booked the entire 2023 season at the Stratford Festival, using all the cost saving tricks my wife (a.k.a. "the brains of the operation") devised. A total of 13 shows for $2,430.75 CDN ($1,799.89 USD). That's roughly $69 USD per ticket!
Here's how it works: We got the Shaw Season Pass Plus (Platinum) for $650 CDN each giving us tickets to 12 shows (we had to pay for a few others). The "Platinum" refers to the level of seating, hence those 5th row center seats.
But it gets better. The Shaw Season Pass lets you book seats for every show before the season starts. After that, you can book any show again, on a space-available basis, starting 60 days out. At no extra charge!
Depending on how often we take advantage of this perk, the per-ticket cost at Shaw will drop again and again. Last season, when we had the same pass, we got, between us, seven additional tickets.
It's the best theatre bargain in Canada, maybe the world (although the $1.25 opera tickets I got in Tashkent back in the 90s were pretty sweet).
Now it's true that to qualify for the Season Pass Plus deal you must first be a Shaw Festival contributor at a sufficiently high level and I haven't taken that expenditure into account in the above reckoning. But we all contribute heavily to support theatre anyway, don't we?
Don't we?
I'll wait.