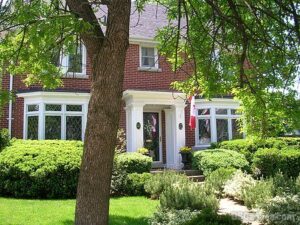 Ship To Shaw – Robinsong B&B
It was no big secret that prices in the hospitality industry were on the rise after two and a half years of pandemic. Even so, the cost of lodging in Niagara-on-the-Lake's posh bed and breakfast establishments came as something of a shock. Even nearby motels boasted Ritz-like price tags. So, rather than forgo a few days at the Shaw Festival, I went in search of more affordable accommodations.
My search led to Robinsong, a nicely-appointed but below the radar B&B in the little town of Thorold, just south of NOTL, operated by Dale and Terry Ohm. It is thankfully devoid of the most frequent excesses of today's B&Bs. There are no over-decorated rooms or beds hidden beneath mountains of pillows and no four-course "gourmet" breakfasts. That's not to say that the two-course breakfasts on offer are lacking in any degree (the fruit platters are a highlight). Indeed, I was unable to finish any of them.
The setting is suburban delightful, with a backyard given over almost entirely to a pool (open in the warmer months) and a small tiki bar.
Thorold is by no means a tourism Mecca, but it has its attractions. Just a short stroll from Robinsong is a viewing area where you can sit and watch massive commercial ships negotiate a lock on the Welland Canal that links Lakes Ontario and Erie. The canal is part of the St. Lawrence Seaway and accommodates some 3,000 ships and 40 million tonnes of cargo each year.
We watched the John D. Leitch, a "self-unloading bulk carrier," and the oldest vessel in the Algoma Central Corporation's fleet, squeeze through. As the water rose in the lock the vessel's true size became apparent. What we first thought was a second ship in the lock turned out the be the John D's rear end, nearly two football field's away from the bow. When it was ready to depart the lock, the wheelhouse towered, by our rough estimate, ten stories above water level.
A stay at Robinsong would be poorer if you skip this experience. Every Friday during the warmer months, the main downtown street is given over to an old car show, which will be catnip for devotees of vintage cars and hot rods.
Robinsong is about a 35-minute drive to the Shaw Festival's Festival Theatre parking lot. I'd recommend driving there via the Welland Canal Parkway, that starts just a block or so away from the B&B. Just be aware that at some point you will have to cross the canal to reach Niagara-on-the-Lake, so make sure you have enough time to spare if ship traffic does not cooperate.
One caveat: Robinsong does not accept credit cards (Canadians can use etransfer) so make sure you arrive with sufficient cash or be prepared to seek out a nearby ATM. They will also convert U.S. dollars at the current rate with no fees!