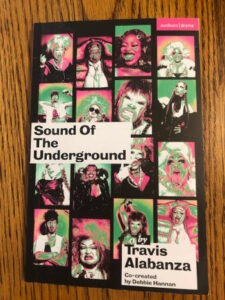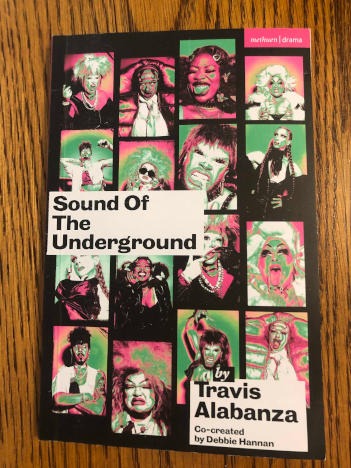 Sound Of The Underground at The Royal Court
Those coming to Travis Alabanza's Sound of the Underground at London's Royal Court Theatre expecting the sort of cheerful, glamorous drag show popularized by La Cage Aux Folles and Ru Paul's Drag Race will likely be disappointed. Those who can handle some in-your-face and occasionally angry social commentary will find much to ponder.
That's because the drag queens (and one drag king) in Sound of the Underground have an axe to grind, several in fact.
Before we go any further, let's deal with the whole pronouns thing. Most of the performers and other creative artists involved in Sound of the Underground seem to prefer the they/them/their option, although others still use their cis-gender pronouns and the preferences of others are hard to suss out from the evidence of the programme. That programme, by the way, will set you back five quid but it comes with the entire script making it, in my opinion, a good investment and a fine souvenir of a walk on the wild side.
As a card-carrying member of the cis-hetero patriarchy, I sometimes experience some difficulty in assigning le pronom juste. Since I was raised to be polite in mixed company, I have endeavored to use the preferred pronoun when I have needed to use one. In case of doubt, I have opted to use the they/them form in the expectation that the person involved will not take offense even if I have guessed wrong.
Now where was I? Oh, yes. Axes to grind.
One of their major gripes (a concatenation of them actually) concerns Ru Paul and his eponymous Drag Race television show, which has managed to run an astonishing fourteen seasons without my having seen a single episode. The performers in Sound of the Underground seem to resent Ru Paul's popularity and his "mainstreaming" of drag. More tellingly, they resent what they see as his definition of drag as involving only cis-gender men. (In fairness to Mr. Paul, trans performers have gradually infiltrated the ranks over the years and are now welcomed.)
A crude effigy of Ru Paul is roundly pummeled during the proceedings although the sentiment hardly needed any underlining.
In contrast to what they see as Ru Paul's somewhat limited definition of drag, the performers in Sound of the Underground represent a rainbow of queer culture. In addition to drag queens and a king, there are two, possibly three cis-gender females, one of whom identifies as non-binary.
All the performers in Sound of the Underground position themselves as denizens of an archipelago of quasi-hidden (hence the "underground") queer nightclubs. The number of these venues in London is shrinking rapidly, another gripe they have.
While they seem to resent their marginalization and the way they are looked down upon by the larger (read straight) society, they seem to romanticize the club scene as a wonderland of filth and degradation. Hey, whatever rings your chimes.
Another bone of contention is how little they get paid. The point is made that their weekly salary at the Royal Court amounts to roughly £75 per show, hardly enough to compensate for the money they spend on makeup, costumes, and so forth.
I couldn't help thinking, "Honey, have you met any actors recently?" Still, the woeful economics of the performing arts industry in general and the difficulty of earning a decent living as a performer are topics well worth raising again and again until, maybe, against all odds something will be done about it. This was one of the more compelling portions of the litany of complaints and resentments that took up the entire first act.
One of the most praise-worthy aspects of Sound of the Underground is the conscious way in which it attempts to address and remedy some of the injustices that seem hard-wired into the way theatre of any sexual orientation is created these days.
Director Debbie Hannan, noting the collaborative relationship that exists between playwright and director, has chosen to bill herself as co-creator. A spirit of collaboration, we are told, prevailed during the creation of the show, with everyone's opinions respected. An extensive and admirable effort has been made in the programme/playscript to acknowledge (and compensate?) the various artists who designed costumes for the performers and created the recorded tracks to which they strut their stuff.
The cast is not too proud to pass a bucket for audience contributions.
All the performers lend the first act a great deal of panache and, as actors, give good account of themselves. But it is in the second act that – finally – we get to see just what talents they bring to the club scene.
All of them sport noms de drag and even when they use their real (?) names they append an alter ego. In their cast bios they identify themselves, variously, as "Prinx of Provocation," "a nice c**t in a hat," "a gender-f**king cabaret creature," and "a robust liability," among other sobriquets
The second act of Sound of the Underground is structured more or less as a "traditional" (if I dare use that word) drag show. The master (or should that be mistress?) of ceremonies is the wonderfully named Sue Gives A F**k. Sue, resplendent in a rose-colored gown that shows off a great set of gams, is glamorous and statuesque without having to resort to the cliche of fake boobs. They describe themself in the programme as "a failed actor" but I think they are selling themself short. Sue is a master of the sly, arch wit and slightly naughty double entendre that is the stock in trade of drag comperes. Frankly, Sue is the best thing in the show.
The rest of the lot are a mixed bag.
Lilly SnatchDragon, who is Asian, and Mwice Kavindele as Sadie Sinner the Songbird, who is Black, performed traditional and surprisingly modest striptease routines, although it must be said that they strike a blow against sizeism.
Better was Wet Mess, whose partially shaved pate, swirl of green face paint, and black lipstick made them look like a demented clown, showed some real dance chops.
Missing from the lineup the night I caught the show was Tammy Reynolds as Midgitte Bardot and she was indeed missed, at least by me, since she was slated to perform a song called "Hot Piss" in an act that promised "a spray of (fake) piss … hopefully creating a rainbow effect." The cardboard cutout that was trotted on stage a few times was hardly a suitable substitute.
The most arresting turn of the evening was saved for last. CHIYO (yes, all caps) is a trans male who has made a most convincing transition. (Since he describes himself in the programme as "the first Trans Man to compete for Mr. Gay UK," I feel comfortable using the male pronoun.)
Slender and chiseled, he sings about the difficulties encountered as a trans male artist as he performs a strip routine that grows intentionally uncomfortable as the recorded music cuts out.
Eventually, in a sort of reprise of the cris de coeur that characterized the first act, he addresses the audience directly. He bemoans the violence he has experienced for being who he is and the lack of support – simple caring even – that he feels from the world at large.
It's powerful stuff and his final gesture of baring his genitals drives it home.
Sound of the Underground has been given a robust production by the Royal Court. The sets by Rosie Elnile and Max Johns, lights by Simisola Majekodunmi, sound design by Alexandra Faye Braithwaite (also credited as composer), and musical supervision by Martin Lowe (also credited as composer and arranger), all presumably a cut or two above what the cast is used to in the clubs, were all exemplary.
While I admired the earnestness of the production and its thoroughly laudable social commentary, I was less taken with the drag itself. But then I saw Ethyl Eichelberger in his prime, Harvey Fierstein in his pre-Broadway incarnation as a drag performer in New York's far East Village, and the gender-bending genius of Charles Ludlam's Ridiculous Theatrical Company.
Like any self-respecting old fart I can state with confidence, "These kids don't know what they're missing."
Sound of the Underground runs through February 25, 2023 at the Royal Court Theatre, Sloane Square, London. For more information and to buy tickets, visit their website.
Don't miss another review. Follow OntarioStage on Twitter.
For a complete Index of Reviews, CLICK HERE