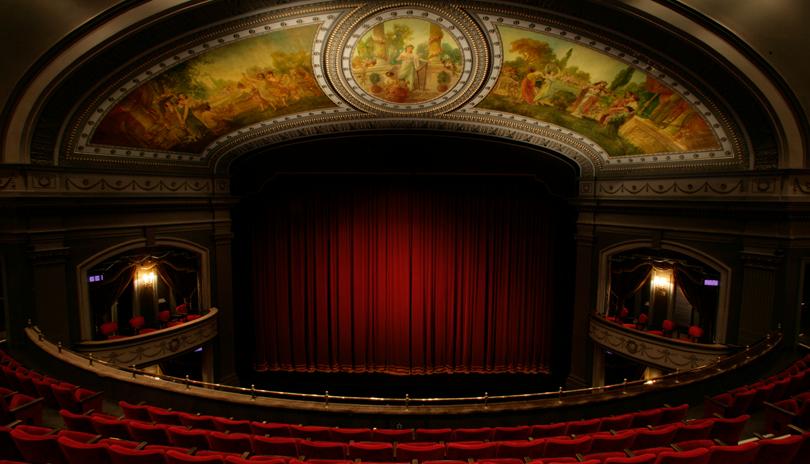 The Penelopiad at the Grand Theatre
Blame The Handmaid's Tale.
With the popularity of Margaret Atwood's dystopian tale of a toxic patriarchy there is a temptation to view all her work as feminist screed. Never mind that Atwood herself rejects that label, the zeitgeist will not be denied.
It is to director Megan Follows' credit that she only occasionally succumbs to that temptation in her earnest and uneven production of Ms. Atwood's The Penelopiad at the Grand Theatre in London, Ontario.
The Penelopiad, which began life as a novella, retells the final events of Homer's Odyssey. Narrated conversationally by Penelope from her eternal home in Hades it uses her twelve maids as a sort of Greek chorus to comment on the tale using a variety of poetic and prose forms. It's easy to see why someone thought this Canadian best-seller lent itself to the stage. The theatrical version, produced under the aegis of the Canadian National Theatre, and featuring an all-female cast, premiered in 2007 and was revived in a critically acclaimed production, starring Ms. Follows as Penelope, in 2012.
The current incarnation, which breaks with tradition by casting a man as Odysseus, employs a great deal of theatrical imagination yet remains stubbornly bound to the page, perhaps not surprising since the text is lifted directly from the novella.
In crafting her version, Ms. Atwood was puzzled by the killing of Penelope's maids in the original myth. Telemachus, told by his loyal nursemaid Eurycleia that they had dishonored the house by consorting with the suitors, unceremoniously strings them up to avenge the family honor. That may have been par for the course in ancient Greece but it seems a bit excessive to modern eyes. After all, weren't the maids victims of those nasty suitors?
In creating her own alternative myth (to borrow a turn of phrase from Kellyanne Conway), Ms. Atwood is too great an artist to fall back on an evil-patriarchy-oppressed-women cliche. While not as flawed as Odysseus – in the flaw department Odysseus is a hard act to follow – Penelope is no feminist poster child. For starters, she is gnawed by jealousy over Helen's much greater beauty and the incessant male attention it brings her. So much for sisterhood. Far from rebelling against her inferior position in the Ithacan hierarchy, she is by her own account a loyal and devoted wife who manages the household as best she can given the restraints imposed upon her. The only other major female character is no paragon of virtue either; the slave Eurycleia pointedly usurps Penelope's role as mother to raise and pamper Telemachus and she is instrumental in getting him to hang the maids.
Most interestingly, Ms. Atwood invents a backstory for the maids' involvement with the suitors. Penelope enlists them as a sort of KGB-style dirty tricks brigade, encouraging them to consort with the suitors and badmouth her to them so as to gather valuable intelligence. In this she mirrors Odysseus' reputation as a cunning trickster and she's quite pleased with herself. For their parts, the maids seem to relish their role, at least initially. Of course, as we know, it all comes a cropper. When Penelope wakes from a drugged sleep (courtesy of the duplicitous Eurycleia) to discover her maids have been hanged she is devastated. Penelope is her own Greek tragedy, a heroine whose hubris, though well-intentioned, brings on unforeseen and hideous consequences.
The production works best visually and some of the stage pictures are stunning. Set designer Charlotte Dean and lighting designer Bonnie Beecher have created an evocative vision of Hades, looking something like a sub-basement of a destroyed high rise, a drab and somber place with no torture but no creature comforts either. Jamie Nesbitt's projections add eerie touches and Deanna H. Choi's incidental music is evocative. Dana Osborne's costumes have their moments but she was unable to solve the problem of having Penelope's maids take on a kaleidoscopic array of other roles.
Penelope's tale is told quite well, as you would expect with the protean Seana McKenna in the role, but seldom truly dramatized. As Penelope tells us her story, Ms. Follows uses her game cast to illustrate and occasionally act out events. The results vary widely. Some scenes and moments are quite arresting: the rape of the maids by the suitors and their ensuing hanging, Penelope's never-ending grey wedding dress that becomes both a shroud and a tablecloth, the industrial platform that becomes the wedding bed.
Too often, though, the choices are banal or just plain silly: Odysseus going off to Troy in a football helmet, Telemachus toting a skateboard. Some choices are odd. Why is Helen depicted as an Odissi dancer (aside from the fact that the actress does it very well)? I was reminded of the Kama Sutra sculptures from the Khajuraho Temples of India.
Most problematical are the musical numbers that feature the maids' commentary. Atwood wrote them in a variety of verse forms that Ms. Choi's music and Philippa Domville's choreography attempt to bring to life. Unfortunately, the effect is to transport us to the high school musical rather than ancient Greece. These interludes are often crowd pleasers but they obscure rather than illuminate the effect they had on the page.
There are some standouts in the cast. Ellora Patnaik makes an arresting Helen and Praneet Akilla is a sprightly Odysseus although he is too often called upon to play the fool. And Tess Benger is wonderfully effective as a spoiled teenage boy as Telemachus, however you might quibble with that choice.
This is something of a farewell performance for Ms. McKenna, who has announced a one-year sabbatical in which she will travel the world. She commands the stage but I couldn't help feeling that Ms. Follows failed to challenge her star to find more in the character. Perhaps there are no greater depths to be plumbed; Ms. Atwood's Penelope is resolutely non-heroic. Still, for Seana McKenna it seemed a bit like she was phoning it in.
More Reviews
To access the complete archive of reviews listed alphabetically CLICK HERE.
A Restaurant Tip
Garlic's of London is just a few steps from the Grand Theatre and has been my go-to choice for pre-theater dinner. The garlic-accented menu is terrific, with the garlic fettuccine a standout. There is a sensible wine list with more than the usual number of wines by the glass; I have learned to trust the server's suggestion.
481 Richmond Street
London, ON
519-432-4092
A Parking Tip
By all means avoid the Precise ParkLink lot on Dufferin Avenue. Their insane automated payment system, which many people find impossible to decipher, means it can take more than 45 minutes to get out of the lot.
The Penelopiad
Running time: 2 hours, 15 minutes with one intermission
through February 9, 2019
Tickets $30 – $86
The Grand Theatre
471 Richmond Street
London, ON
519-672-8800