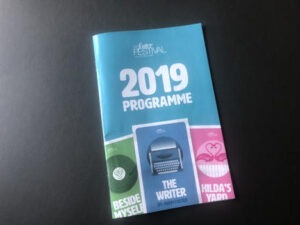 The Writer At The Foster Festival
Norm Foster, Canada's most prolific and most produced playwright, is known primarily for light comedies that often have a tinge of sadness running just beneath the surface, as was the case with Jonas and Barry In The Home, which I saw last year.
The Writer, his latest play now having its world premiere at the FirstOntario Performing Arts Centre in St. Catherines, reverses that formula. It's a nicely observed character study of a father-son relationship with occasional flashes of humor. It also contains a clever plot twist that makes it something of a mystery play.
Donald Wellner (Guy Bannerman) is living in a barely furnished bachelor flat. His wife has turned him out and his daughter has turned her back on him because it has come to light that he has been paying the rent of an English actress for 33 years, seemingly prima facie evidence of an illicit affair. His son Blake (Jamie Williams) arrives to check up on his father and try to understand the mystery behind the breakup. It's a tough knot to unravel.
The senior Wellner, we learn, is the author of the Pulitzer Prize-winning play, A Kind Heart, which has made him very wealthy, despite the fact that he has never had another play produced in the 35 years since its premiere. When the play was running in the West End, he became close to a beautiful actress in the cast, but he insists that nothing untoward happened, just a deep and abiding friendship. Why then has he been paying her rent all these years? "It's complicated" is the best he can manage.
It soon becomes apparent that a marital blowup is not Donald's only problem. He is becoming forgetful. In fact, he is slowly, inexorably declining into dementia. Dead center stage, serving as a metaphor for the creative void in Donald's life since the success of A Kind Heart, is a manual typewriter with a single piece of paper on which he is writing his latest play. He never gets past page 10.
In eight scenes, over the course of eight years, Foster masterfully details the ravages and cruel ironies of the disease. As he becomes increasingly disoriented, for example, Donald's Scrabble skills remain razor sharp while his memory of what happened this morning has vanished.
His son Blake is a model of the devoted child who perseveres with kindness in the face of his father's casual micro-aggressions. Blake is a travel writer, a successful one apparently, but his father can never bring himself to admit that his son is a writer at all. Blake is single and therefore must be gay, despite his claims to the contrary.
Throughout the play the question of the English actress and the "complicated" relationship resurfaces. In the final scenes, as dementia chips away at Donald's normal reticence, the truth comes out and helps explain Donald's 35 years of non-productivity. Foster's dialog is lean and muscular, devoid of ornament. This can give the illusion that he is merely sketching in his characters, but the economy works wonders in propelling the piece to its conclusion.
Bannerman, a 30-year veteran of the Shaw Festival, is quite brilliant in delineating the small steps that take Donald from gruff old man to a blank state. Williams is equally impressive as his long-suffering son. Director Patricia Vanstone has done a lovely job of orchestrating these performances into a moving duet. The Writer is Foster's sixtieth play and he makes it seem like he's just hitting his stride. Peter Hartwell, who also did costumes, has contributed an elegantly simple set that moves from bachelor pad to nursing home seamlessly. Chris Malkowski has lit it with discretion.
This production is part of The Foster Festival, now in its fourth season, and devoted exclusively to the work of Canada's greatest comic playwright. The Writer has closed but the Festival continues with Hilda's Yard (July 10 – 26, 2019), and Beside Myself, a musical (July 31 – August 17, 2019).
The Festival's home, at least for now, is an ultra-modern performance space, one of several in the FirstOntario Performing Arts Centre. The seats are super-comfortable and the sightlines excellent. I hope the Festival continues to prosper. It would be wonderful if it blossomed into a multi-venue event that would showcase not just Foster's work but that of other Canadian playwrights. From what I've been able to sample, there seems to be a treasure trove of impressive Canadian work going back decades.
The Foster Festival
FirstOntario Performing Arts Centre
250 St. Paul Street
St. Catherines, ON L2R 3M2
(855) 515-0722
(905) 688-0722
www.fosterfestival.com
More Reviews
To access the complete archive of reviews listed alphabetically CLICK HERE.