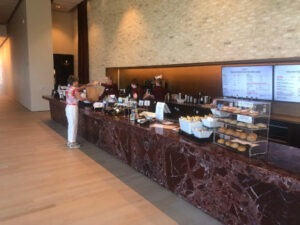 Is This The Stratford Festival's Best Kept Secret?
Looking for a nice quiet light lunch or dinner before the show? Or maybe you'd just like to have lunch in a quiet environment in which you can actually hear your companion.
Let me introduce you to the Tom Pat cafe, located in the spectacular new Tom Patterson Theatre.
Every day there's a matinee at the Tom Pat, the theatre opens at 11:00am and so does the Tom Pat cafe, which most people who attend shows there only know as a place to grab a glass of wine at intermission.
Tucked away through a door at the end of that stunning marble counter is a full kitchen where hot meals are prepared daily and served until about 20 minutes before curtain time. (They don't want people to think they can take their food into the theatre, it was explained to me.)
You place your order at the counter and take your drinks to a table along with a number on a metal stand that allows a server to locate you when your meal is ready.
The meals are light and surprisingly good. I have sampled the pesto gnocci and the mushroom lasagna, both delicious. There is also a daily special. Recently it was a bacon cheeseburger which I didn't sample but which looked yummy as it passed my table.
When there is both a matinee and an evening performance, meal service resumes shortly after the matinee intermission.
But you don't have to be seeing a show to take advantage of this amenity! I recently arrived about ten minutes before curtain time for a matinee. Meal service had been suspended but when I told them I was not seeing the show, they checked with the kitchen and my wife and I were able to enjoy a very nice lunch in blissfully peaceful surroundings.
The Tom Pat cafe with its floor to ceiling windows that look out over Lake Victoria is one on Stratford's best lunch options. Do take advantage.