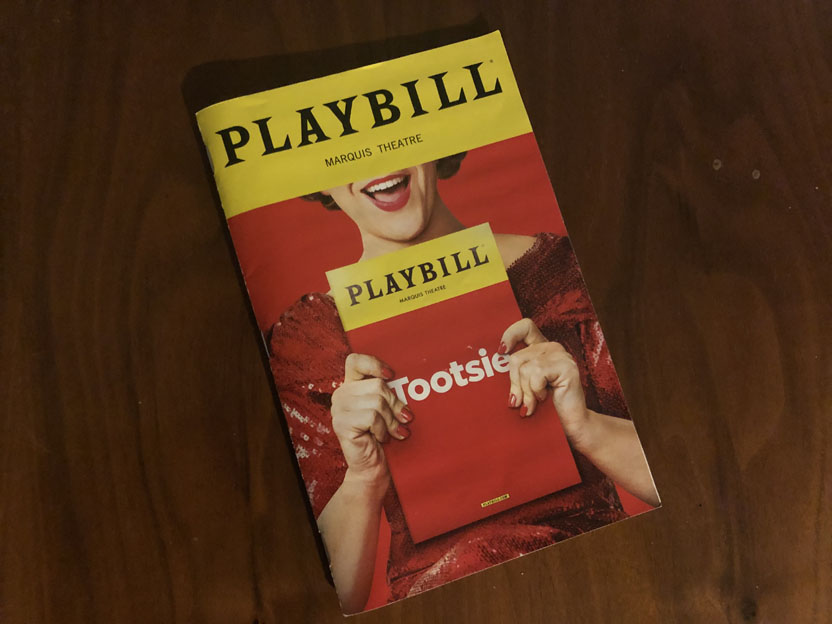 Tootsie on Broadway
Tootsie, currently playing at Broadway's Marquis Theatre, is a musical comedy that's strong on the comedy and surprisingly weak on the musical side of the equation.
Based on the 1982 film starring Dustin Hoffman, Tootsie tells the tale of Michael Dorsey (Santino Fontana), a forty-ish actor who, secure in his superior artistic instincts, has rendered himself unemployable by trying to re-direct everything he gets cast in. He shares hardscrabble digs and restaurant employment with Jeff (Andy Grotelueschen), an aspiring playwright who has yet to write a play. When his long-suffering agent (Michael McGrath) tells him he's washed up, he decides to don drag and audition for a part his neurotic sometime girlfriend Sandy (Sarah Stiles) is up for.
Here the show's creators (David Yazbek, music and lyrics, and Robert Horn, book) wisely part ways with the film and sends Michael off to audition as Dorothy Michaels not for a soap opera but for a tacky musical, Juliet's Curse, helmed by the sociopathic Ron Carlisle (Reg Rogers) with whom Michael has some unpleasant history. Surprise, surprise (and cue the willing suspension of disbelief) he wins the part, largely through the intercession of the uber-rich producer Rita Marshall (Julie Halston) and becomes an overnight sensation, so much so that he is the toast of Broadway before the show (now renamed Juliet's Nurse) even opens.
This Tootsie does a number of things right. The book cleverly updates the story to fit neatly into today's #MeToo sensibilities without being overly strident. Ron Carlisle is appropriately loathsome, but he does seem to know that "no" means "no". Julie Nichols (Lilli Cooper), the leading lady of Juliet's Nurse, is a thoroughly independent woman who is completely in charge of where lines are to be drawn, and Julie Halston provides an amusing portrait of a slightly ditzy woman who is not afraid to throw her weight around. All this helps keep the fun of the show front and center; only at the end of the show is a message with a capital "M" trumpeted: "Being a woman is no job for a man." It gets a big round of applause.
The creators don't fall into the trap of giving the show a totally happy ending, with Michael finding redemption and forgiveness and riding off into the sunset with his true love. On the other hand, they don't consign him to eternal Al Franken-like non-personhood, which given his transgressions would be a completely reasonable choice.
Perhaps the best part of the show is Robert Horn's book, which is packed with genuine laughs, and the cast delivers them well. Fontana and Grotelueschen deserve special mention in this regard, although their slick delivery sometimes sounds like they are performing for four cameras and a live studio audience. Yazbek deserves honorable mention for some of his lyrics, especially in the annoyingly strident pattern song "What's Gonna Happen" sung by the neurotic Sandy and reprised too often.
Otherwise, Yazbek's music is forgettable. Of course, this isn't the first successful musical to have a less than stellar score, so perhaps that can be forgiven. What's unforgiveable on Broadway, however, is Denis Jones' pedestrian choreography. The first big number is lackluster, but when I realized that it was supposedly part of a lackluster musical under Ron Carlisle's direction I thought it would improve. I was wrong. Jones' choreography too often devolves into hopping in place or wandering about aimlessly.
Thankfully, the cast, under Scott Ellis' direction, is terrific and works full out even when some of the characters are one-note. As Max Van Horn, the dumb as dirt hunk who has the male lead in Juliet's Nurse, John Behlmann has the show's best number, "This Thing," in which he expresses his totally improbable love for the much older Dorothy and knocks it out of the ballpark.
Santino Fontana tackles the impossible role of Michael/Dorothy and comes out a winner. For me, he lacked the intensity of Dustin Hoffman in the movie or the matinee idol charm of the likes of Kevin Kline that might have made his performance the stuff of Broadway legend. On the other hand, he won the Tony, so what do I know?
In sum, Tootsie makes for an enjoyable enough evening in the theatre thanks to a stellar cast and some truly funny laugh lines, but devotees of the Broadway musical will be underwhelmed. The show wouldn't seem to have what it takes to become a classic; nonetheless, I suspect that it will be revived from time to time whenever some "name" actor thinks he's Man enough (you should excuse the expression) to take on Dorothy.
Tootsie continues at the Marquis Theatre through january 5, 2020.
More Reviews
To access the complete archive of reviews listed alphabetically CLICK HERE.