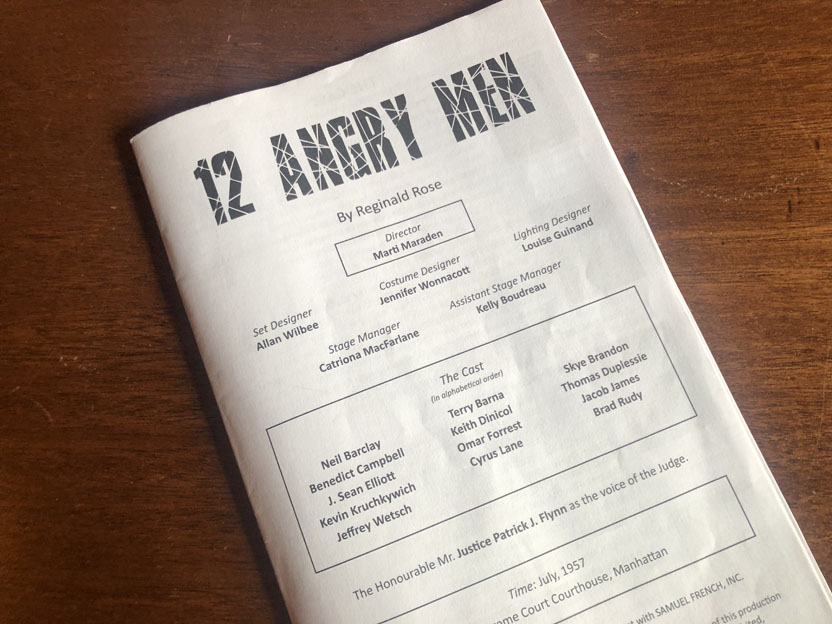 Twelve Angry Men at Drayton Entertainment
Reginald Rose's reliable workhorse, Twelve Angry Men, is receiving a stunning, Broadway-quality production from Drayton Entertainment, whose repertory typically leans more to Disney musicals and British farces than to searing drama. Seeing a dramatic piece of this quality in the modest but comfortable confines of Drayton's Huron Country Playhouse II near the shores of Lake Huron just outside Grand Bend, Ontario, simply proves that great theatre is everywhere if we only seek it out.
Twelve Angry Men began life in 1954 as a live television drama (boy, those were the days!), which became a hit Broadway show a year later. The 1957 film version became a classic. It tells the story of a New York jury deciding the fate of a 16-year-old minority kid (the play never specifies his ethnicity) accused of the first-degree murder of his father. The jurors, cannily identified by Rose only by their jury numbers, are a cross-section of white, male New York. In the initial vote, eleven are in favor of finding the defendant guilty. Only Juror #8 has "reasonable doubt."
As their deliberations continue, tempers flare, lines are drawn, and prejudices revealed in sometimes ugly ways as the men's true natures are inexorably laid bare. Rose handles all this beautifully, making it all the more startling for a present-day audience to believe that this was the sort of thing people could once see on the "idiot box." Despite its 1950s setting, nothing in it seems dated. The only "updating" I detected was that no one smokes.
This is a production that would be the critical success of the season at the Shaw or Stratford Festival. That's probably not too surprising considering that many in the superb cast are veterans of those august institutions. The director, Marti Maraden, has acted and directed at Stratford, and for a brief time shared artistic director responsibilities with Des McAnuff and Don Shipley. She has assembled a flawless ensemble cast and directed them with a sure hand.
The play has a few "star" roles. As Juror #8, Skye Brandon does a masterful job of chipping away at the certainty of his fellow jurors. Brad Rudy, Juror #10, is positively volcanic as perhaps the angriest of the bunch; his extended racist rant is harrowing and, alas, just as timely today as it was in the mid-50s. And Benedict Campbell, Juror #3, is absolutely shattering as his real motivation to see this kid "fry" is made painfully clear.
But there is literally not a weak link in the entire cast. Even those who have the fewest lines illustrate the timeless axiom that there are no small parts. So I will simply list the rest of the company in their Juror Number order: Jacob James, Cyrus Lane, Jeffrey Wetsch, Thomas Duplessie, Terry Barna, Kevin Kruchkywich, Keith Dinicol, Neil Barclay, and J. Sean Elliott. All of them are excellent and, as a native New Yorker, I was also impressed by the perfect New York accents.
Allan Wilbee's clever set perfectly captures the drabness of New York's halls of justice and Jennifer Wonnacott has provided spot-on costumes.
It also occurred to me that, while a production of this quality might deserve to grace the better-known stages of Stratford and Shaw, it simply could not be mounted at either. The multicultural, gender-balanced nature of their ensembles would make it virtually impossible to field an all-white cast of this size and this is a play that is very much about lily-white 1950s America. Then, too, there would almost certainly be institutional pressure to cast some of the roles (maybe fifty percent?) with women, despite the fact that the toxic masculinity of most of the jurors is very much the point. These days it is becoming increasingly difficult to see a production of a "classic" play that hasn't undergone at least some revisions dictated by the socio-political winds blowing through the theatre world. Maraden's reading of Twelve Angry Men is that rarest of theatrical treats, a classic play that hews closely to the original vision of the playwright.
Twelve Angry Men plays at the Huron Country Playhouse II through August 3, 2019. It then moves to the Hamilton Family Theatre in Cambridge from August 7 through August 24, 2019.
Drayton Entertainment
(855) 372-9866
www.draytonentertainment.com
More Reviews
To access the complete archive of reviews listed alphabetically CLICK HERE.