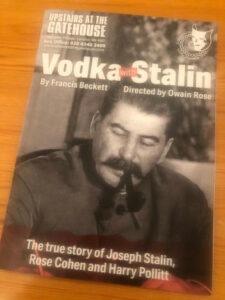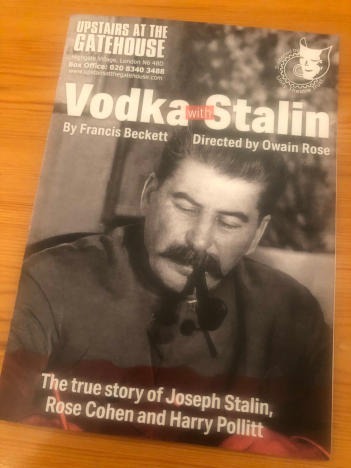 Vodka With Stalin
[Full Disclosure: I am a long-time friend of the playwright.]
Francis Beckett is a prominent English historian of twentieth century left-wing British politics who writes the occasional play. In Vodka With Stalin, now enjoying a brief run at Upstairs at the Gatehouse, in Highgate, London, he has turned for inspiration to one of his bleaker works, Stalin's British Victims .
The deliciously titled Vodka With Stalin spins a tale of doomed love amongst the true believers of England's nascent communist party. In the process Beckett may have reinvigorated serious political theatre in London, which these days seems to prefer a steady diet of lavish musicals, feel-good revivals, and gender-bending "adaptations" of the Bard.
Harry Pollitt (David Malcolm), whose communist ardor was born of a childhood of ghastly Dickensian poverty, grew up with a passionate desire to change the world. During the 1920s, his natural gift for oratory made him a rising star in what would become the English Communist Party and eventually its leader. He fell in love with Rose Cohen (Miranda Colmans), the daughter of Polish Jews living in the squalor of London's East End, who shared his deep commitment to the cause.
Harry was deeply in love with Rose and, by his own account, proposed to her fourteen times without success. Instead, Rose lost her heart to Max Petrovsky (Luke McArthur), a Ukrainian Jew who functioned as a liaison with Britain's communists. She returned with him to Moscow. It was the 30s, the height of Stalin's purges of suspected Trotskyites. It's not giving too much away to reveal that for Jews like Max and Rose, things didn't end well.
Harry Pollitt was one of the few people who had entrée to Stalin (Jonathan Hansler). Indeed they became drinking buddies and when Harry learned that Max had been shot and Rose imprisoned, her son Alyosha torn from her arms, he pleaded with Stalin to release her, to no avail.
Beckett uses this story to riff on the growing bankruptcy of the communist ideal and he uses the steady repetition of Lenin's famous dictum — "If you want to make an omelet, you have to break a few eggs" — to underline the faithfuls' willful denial of the horrors Stalin was unleashing. Another frequently invoked trope — "mistakes were made" — seems eerily, disturbingly contemporary.
Most importantly, in Vodka With Stalin Beckett uses Pollitt to explore the possibly unanswerable question of what drives a man to remain true to a system that has abandoned simply human decency, even after it has destroyed the woman he loves.
It's a difficult arc for an actor to follow, from ardent young enthusiast in the 1920s to a sick and wasted alcoholic in the 1950s clinging desperately to a false god. David Malcolm, while perhaps not ideally cast, rises to the challenge. His is a powerful performance. The final hallucinatory scene in which Harry confronts the accusing specter of Rose Cohen is heartrending with Colmans contributing an equally impressive performance.
Beckett has created an intriguing vision of Stalin and Jonathan Hansler makes the most of the opportunity afforded him. He can seem simultaneously a figure of ridicule and yet truly terrifying. Silas Hawkins distinguishes himself in a trio of smaller roles.
Vodka With Stalin cries out for a more fulsome production but director Owain Rose has done a good job of working within the limitations of the stage at Upstairs at the Gatehouse. Frank Turnbull and Tim Solomons have made a major contribution with their sound and lighting design; projected titles and Russian music aid the segues from scene to scene in Beckett's almost cinematic script. A list of the songs used would make a welcome addition to the programme.
The audience for Vodka With Stalin may be small, but for those who like their theatre like Stalin liked his vodka — straight, no chaser — it's just the ticket.
Vodka With Stalin was originally slated for the briefest of runs, but Upstairs at the Gatehouse has announced that, due to popular demand, it will return for an additional week, from March 29 to April 2, 2023.
More information can be found at the Upstairs at the Gatehouse website.
Don't miss another review. Follow OntarioStage on Twitter.
For a complete Index of Reviews, CLICK HERE