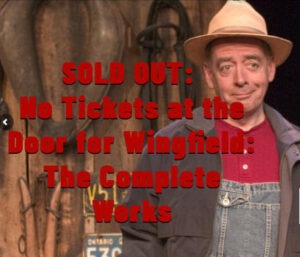 (Image: Huron Perth Museum)
Wingfield's Inferno At Huron Perth Museum
Read and weep. The entire run of Wingfield Farms: The Complete Works starring Rod Beattie is sold out (deservedly so) and has been for quite some time.
I was fortunate enough to catch Wingfield's Inferno, the penultimate installment of the seven play series that has been playing on successive Sundays at the Stratford Perth Museum's "Players Backstage," a vest-pocket al fresco performance space tucked behind the museum's main building.
Wingfield Farms and Rod Beattie require no introduction to any sentient Canadian. Since I am American, however, and feel a special obligation to my American readers (all three of them) some explanation is required.
Where better to turn for enlightenment than the font from whence all wisdom flows, Wikipedia:
"The Wingfield Cycle is a Canadian series of seven one-man plays – Letter from Wingfield Farm, Wingfield's Progress, Wingfield's Folly, Wingfield Unbound, Wingfield on Ice, Wingfield's Inferno and Wingfield Lost and Found – written by Dan Needles, directed by Douglas Beattie and performed by Rod Beattie. They tell the story of Walt Wingfield, a stockbroker-turned-farmer living near the fictional small town Larkspur, Ontario in Persephone Township and his various misadventures while trying to make a living in the agriculture business. The plays progress as a series of letters written by Walt to his friend the editor of the Larkspur newspaper."
The Wingfield plays bear some resemblance to Peter Mayle's A Year in Provence, in that they both recount the travails of a relatively sophisticated urban dweller grappling with the quirks of rural life and the colourful folks who live it. The Wingfield plays, though, are pure fiction – at least I think they are – and much more broadly comedic than Mayle's memoir. The humour of Wingfield is, for me, more reminiscent of the Bert and I stories of "Down East" Maine, by Marshall Dodge and Bob Bryan. But their old vinyl recordings have receded so far into the mists of time that few people remember them now.
Perhaps it is most accurate to describe the Wingfield series as sui generis and as purely Canadian as poutine, Nanaimo bars, and sugar tarts, just more nourishing.
In the capable hands of Rod Beattie they are comedic tours de force. He plays not just Walt Wingfield and Ed, the aptly named editor of the local paper, but an entire panoply of characters from Larkspur and elsewhere, old and young, male and female, and even a dog. And he plays them with amazing verisimilitude, switching voices and registers in a nanosecond and creating, not caricatures, but wholly fleshed out individuals who become so real we feel we have met them all in person.
In performance, it's easy to think that this is all Beattie's doing, but he is not a stand-up comic and he did not make all this up. The world of Wingfield is the creation of playwright Dan Needles, and the writing is every bit as brilliant as the performance. Credit is due, too, to Douglas Beattie, Rod's brother, who directed all the plays and whose hand, I can only assume, is still visible in the performance I saw.
Like all the plays in the series, Wingfield's Inferno weaves together several story lines, but the highlight is the total destruction by fire of Orange Hall, the hub of Larkspur's community. The story of how the wily townsfolk pull off a scheme ("Fraud is a harsh word, Walt.") to get government funding to rebuild it is high comedy that brought tears of laughter to my eyes.
Rod Beattie is getting on in years; he uses a walker to get about now. But time has not withered nor, for his audience, has custom staled the infinite variety of his performance. His timing, his precision, and his vocal technique are all unscathed by the toll of advancing age. It is only a slight exaggeration to call him and the Wingfield plays a Canadian national treasure. The unmistakeable sense that this may be the last time he performs them live lent a poignancy to the proceedings.
I generally look askance at the now inevitable standing ovations that end seemingly every play, but I leapt to my feet along with everyone else, if only to say farewell to this very special cultural treasure.
If it has been your misfortune to have missed out on seeing any of the Wingfield plays, I would suggest contacting Fanfare Books in Stratford. Through them, you can order the entire series, or selections therefrom, in both video (DVD) and audio (CD) form.
Americans can only order the plays in written form, Wingfield's World: The Complete Letters From Wingfield Farms from Amazon. Yet another example of the Poutine Curtain at work.
Pro Tip: If the final performance on Sunday the 14th should be rained out, it will be rescheduled and, since some ticket holders will not be free on the rescheduled date, you may be able to snag a ticket. Contact the Stratford Perth Museum.
Don't miss another review. Follow OntarioStage on Twitter.