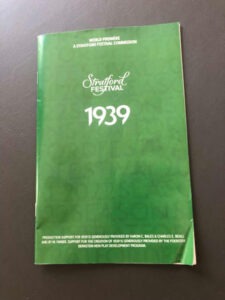 1939 at The Stratford Festival
In a canny bit of programming at the Studio Theatre, the Stratford Festival has paired its production of Shakespeare's All's Well That Ends Well with 1939, a masterful and moving play about Canada's residential schools, by Jani Lauzon and Kaitlyn Riordan.
The residential school system was created to turn the youngest generation of Indigenous children into "good little Canadians." Torn from their families, forced to adopt an alien religion, and forbidden to use their given names and languages, these children experienced unimaginable trauma. Many died and were buried in unmarked graves, their deaths never acknowledged.
The horrors of the system were only fully revealed in the surprisingly recent past. These revelations were crucial to the creation of the Truth and Reconciliation Commission and were the genesis of the "land acknowledgements" that have become de rigeur at the start of every theatrical presentation you will see in Canada.
In Lauzon and Riordan's play it is 1939. Europe is at war and England's King George VI is touring Canada and slated to visit a residential school in northern Ontario. For the King's amusement, the school's Welsh English teacher, Sian Ap Dafydd (Sarah Dodd), has undertaken to mount a production of All's Well, featuring her best students, under the watchful eye of Father Callum Williams (Mike Shara).
The teenaged cast members of 1939 represent a cross-section of the victims of the residential school system. There are a brother and sister (Richard Commeau and Tara Sky) who have not been able to see one another due to the rigid gender segregation enforced by the school and its policy of keeping siblings apart. Evelyne Rice (Wahsonti:io Kirby) is a proud Mohawk who retains some knowledge of Indigenous healing arts passed on to her by her grandfather. Susan Blackbird (Kathleen MacLean) was separated from her family at such a young age that she has no idea who she really is. And Jean Delorme (John Wamsley) is from the Métis community, a mixed race people who developed their own distinct but still marginalized culture and were derided as "half breeds" by both white and Indigenous communities.
In addition to the heretofore forbidden pleasure of meeting contemporaries of the opposite sex, rehearsals for All's Well offer the kids a welcome respite from the drudgery and regimentation of the school; they seem to welcome the opportunity. Of course, mounting All's Well with a cast of five presents challenges so Father Williams is coaxed into portraying the King of France.
Miss Ap Dafydd insists that there is one way of presenting Shakespeare, with rounded tones, which she demonstrates with a scratchy recording of Ellen Terry declaiming Juliet. The kids do their best to oblige to predictably amusing effect. One of the most difficult assignments for talented, well-trained actors is to portray amateurs acting badly and this cast meets the challenge beautifully.
As the rehearsals in 1939 progress, the students, who are having various levels of success in becoming good little Canadians, prove themselves to be darned good dramaturges. They very quickly cotton to the universality of Shakespeare and begin not only to see themselves in the characters but identify ways in which Shakespeare can be interpreted through an Indigenous lens.
As 1939 progresses the students' awkward speechifying amateurishness gives way to polished performances that could very well grace any Shakespeare play presented on the Stratford Festival's main stage. In fact, I'm going to predict that we will see some of these fine, young Indigenous actors taking on some of those roles in future seasons.
The premise of 1939 could have been used to present the manifold abuses of the residential school system in graphic and horrifying ways, but Lauzon and Riordan are too canny to fall into that trap. The horrors are there, but we learn of them almost incidentally in offhand comments and brief scenes between the kids. They are all the more chilling when we realize that these kids, who have been deprived of all knowledge of what normality looks like, see these abuses simply as the way things are. The depiction of the heroic resilience of these young people is one of the playwrights' most powerful achievements.
Likewise, Ap Dafydd and Father Williams as not depicted as monsters. They come across as well-intentioned if totally oblivious to the atrocities they are inflicting. Ap Dafydd tells her young charges of coming of age in Wales at a time when the English were attempting to stamp out the Welsh language and culture and seeing her father descend into alcoholism and penury as a result. The lesson she learned was that embracing the culture of the conqueror was the only route to a decent life.
Given the grim setting of 1939, there's a good deal of humor in the play. Shakespeare buffs will find much to chuckle at as the students grapple with All's Well. Father Williams is pure comic relief and if any pre-teens are dragged to the show they will enjoy the fart jokes.
One of the unspoken ironies of the play is the fact that for all the abuses heaped on these innocents by the conquering culture, it has also – unwittingly perhaps – given them a great and abiding gift. Shakespeare.
The performances are all sterling. Sarah Dodd makes a terrific Ap Dafydd and Mike Shara is always a joy whenever he gets an opportunity to show off his goofy, comedic side. The highest praise, however, most be reserved for the students. Tara Sky is poignant as the only student who truly sees Miss Ap Dafydd's vision of assimilation as the road to take. As her brother, who longs for home, Richard Comeau is equally touching. As the feisty Mohawk proto-medicine woman Wahsonti:io Kirby is a tower of strength. Kathleen MacLean bears the beatings she seems to receive with some regularity with stoic grace. The handsome John Wamsley lets us see every humiliation he suffers; when he struggled through the broken English of the only letter he has ever received from his mother he tore my heart out.
Jani Lauzon has directed 1939 efficiently and sensitively. The only time I felt her hand slip from the directorial tiller was during the impressionistic sequence in which we see the chaos backstage during the performance of the play within the play. On the other hand, she has handled the many scene changes cleverly, with ample help from composer and sound designer Wayne Kelso and set designer Joanna Yu. As the furniture is rearranged for each new scene, the students scrawl messages on blackboard-covered walls which the adults promptly erase. The device pays off when at play's end graffiti appears that defies erasure.
I'm willing to hazard that 1939 will leave indelible impressions on you, as it did on me. If at all possible, try to see All's Well That Ends Well over at the Tom Patterson Theatre before you take in 1939. It will add a great deal to your enjoyment of the play.
Footnote: There are ironies surrounding this production. I give Lauzon and Riordan a great deal of credit for not resorting to angry agit-prop even though, heaven knows, the material seems to cry out for that kind of treatment. Assistant director desirée leverenz (sic) takes a different tack in her programme note in which she vents her anger (I almost said hatred) towards "this nation, that some people call canada."
In a "Reflection Room" just outside the Studio Theatre exit, audience members can view an art installation by Tom Wilson (Fading Memories of Home) and share their thoughts in conversation with an "Indigenous consultant." It was bracing to hear her agree with one audience member who felt that land acknowledgements are hypocritical. The consultant called them "a slap in the face" to Indigenous peoples. She told someone else that she is not Canadian; she prefers to identify with her tribe and believes that "genocide" against Indigenous people continues to this day.
Clearly, the Truth and Reconciliation Commission has its work cut out for it.
Don't miss another review. Follow OntarioStage on Twitter.
For a complete Index of Reviews, CLICK HERE.