A Huron County Christmas Carol at the Blyth Festival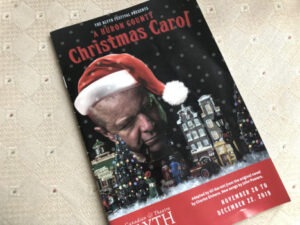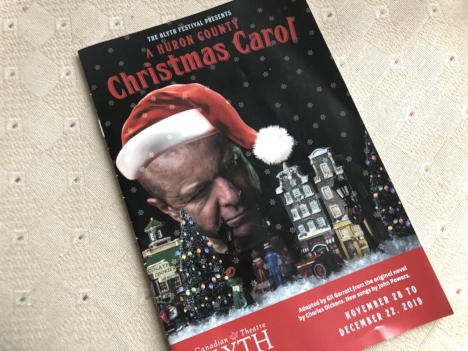 The Blyth Festival has mounted its first ever wintertime show and it's a winner. A Huron County Christmas Carol is yet another adaptation of the Charles Dickens' story that has become a sort of secular religion for most folks ­– the basic teachings of Christianity with no inconvenient deities in sight.
Artistic Director Gil Garrett has transposed the tale to present day Huron County, Ontario, where Ebenezer Scrooge and his deceased partner Jacob Marley have pretty much cornered the market in grain mills. Scrooge wields his monopoly power with villainous fervor.
The production is blessed with the presence of Stratford Festival veteran Randy Hughson, who creates one of the most memorable Scrooges I have ever seen. In one delicious scene he berates a tardy farmer over the phone, telling him that if he doesn't bend to the Scrooge way of doing business he can take a hair blower and an extension cord into his fields and dry his own corn, one handful at a time. Hughson's inimitable delivery lets each word land like a hammer blow on an anvil.
Garratt's script hews closely to the original plot, which hardly bears repeating here, with the addition of plenty of music and the kind of local references that make the Blyth Festival such an Ontario treasure. One segment pays homage to "Doc" Cruickshank and his CKNX radio station and its roster of country-western singers; CKNX may not be familiar to out-of-towners, but it resonates strongly with the local and loyal audience. Cruickshank is beautifully played by Marek Norman, who is also exceptional as Marley's ghost. On top of that, he serves as pianist throughout.
In fact, everyone in the small cast of seven is impressively multi-talented. Greg Gale and Alicia Toner are not only nigh perfect as the Crachits (and in other roles as well), but they play a dizzying array of musical instruments, including trumpet and trombone.
Getting Hughson for the lead might have been casting coup enough, but it is Jonah Aaron Manley who wins the audience's heart. Manley is just twelve and almost totally blind. He plays Tiny Tim as a kid with an unspecified illness that requires portable oxygen. During the Christmas festivities (such as they are) at the Crachit home, the penniless Tim announces that he has written a song as a present for his parents. He accompanies himself on the piano and sings with such touching simplicity that … well, let me just say, bring tissues.
He may be just a beginner, but young Manley has the makings of a show biz pro. A news article reported that when the director (Garratt again) suggested he use a cane in the show, Manley waved him off. No self-respecting blind person needs a cane to navigate his own home!
As good as Hughson is as the villain, he is even better as the reformed Scrooge at play's end. Most Scrooges content themselves with over-the-top joviality, but in Hughson's performance you see every ounce of his heartfelt remorse at the monster he had allowed himself to become. In another typical Blyth touch, Scrooge loosens his purse and bestows his largess on actual Huron County charities called out by name.
This production has closed, but there is a very good chance it will be revived in 2020. If it is, book early; the word is out.
More Reviews
To access the complete archive of reviews listed alphabetically CLICK HERE.