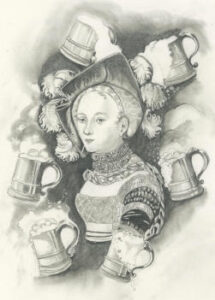 (Image: Here For Now Theatre)
Ale Wives At Here For Now Theatre
Ale Wives, by Mark Weatherley, from the newish Here For Now Theatre company, is playing in a tiny space at the Falstaff Family Center in Stratford. It's an amiable bit of theatrical fluff that plays fast and loose with time and history to occasionally amusing effect. Think of it as a sort of palate cleanser for the weightier fare being presented at the Tom Patterson Theatre just across the William Hutt Bridge.
Ostensibly set in the fourteenth century, Ale Wives tells the story of Margaret (Lauren Bowler) and her apprentice Agnes (Daniela Vlaskalic) who run a small brewery. At that time, and apparently since time immemorial, brewing was woman's work. And important work it was! Because the water was undrinkable, people turned to ale for both hydration and sustenance. The work was arduous, the living precarious, and the challenges many. Their small business becomes the takeover target of a corrupt "ale taster" (Mark Weatherley) – an actual official position at the time – and their fight to stay afloat occupies the one hour running time of the show. All this is historically accurate as I can attest, having completed a rigorous course of study at the University of Wikipedia.
Playwright Weatherley, a home brewer himself, is not primarily interested in historical accuracy in Ale Wives. He uses this factual nugget as a kicking off point for a zany, wildly anachronistic, and occasionally polemical exegesis on the plight of women throughout the centuries. He helps the educational medicine go down with heaping spoonfuls of humorous sugar.
Most of the laughs in Ale Wives are generated by Agnes, who seems to have an uncanny knack for inventing business models and marketing strategies that hadn't been invented in the Middle Ages. Of course, she's picked up tips from Sir Elon of Musk, the Earl of Tesla. She also has the savvy to pay off debts in "bitpence" and harness the money-raising magic of IUDs … er, IPOs.
The humor is . . . well, let me give you a sample:
Agnes (who has studied painting with Giotto in Florence): Giotto wanted to try a triptych. I said I'm not that kind of girl.
At its best, the jokes in Ale Wives rise to the level of a pretty good Saturday Night Live sketch, and from time to time Weatherley hits pay dirt and produces some genuine laughter. Weatherley also contributes a drunken dance that's a vast improvement on the dancing in Little Women down at the Avon Theatre!
That Ale Wives succeeds as well as it does is a testament to its game cast and director Sara-Jeanne Hosie and designers Bonnie Deakin (sets and costumes) and Stephen Degenstein (lights and sound) who make ingenious use of a small space and what I can only imagine was an even smaller budget.
Ale Wives may not be must-see theatre, but the plucky Here For Now Theatre company deserves support so it can be here tomorrow and for many seasons to come. For more information, visit the Here For Now website.
Don't miss another review. Follow OntarioStage on Twitter.