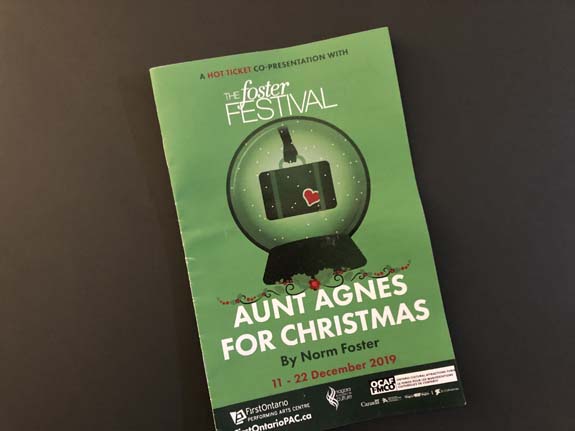 Aunt Agnes For Christmas at The Foster Festival
The Foster Festival in St. Catherines is prospering and, in a first, Norm Foster, the Festival's eponymous and prolific playwright, has offered up the celebratory Aunt Agnes For Christmas to mark the holiday season.
Aunt Agnes For Christmas is probably not destined to rank among the best of Foster's work. It is as airy and insubstantial as spun cotton candy and every bit as sweet, which makes it ideal for a family outing to the theatre, especially if there's a tween girl in your clan.
Aunt Agnes (Nora McLellan), let's not mince words, is a witch who arrives at the Trimble house on December 23rd and convinces Sally and George Trimble (Cosette Derome and Kelly Wong, who are married in real life) that she is a long-lost or rather totally unknown aunt on George's side of the family. Rounding out this seemingly happy family are 14-year-old Melissa (Kate Peters) and the nearly silent 8-year-old Brian (Hayden Neufeld) who, in one of Foster's odder conceits, fashions himself after Frank Sinatra and later Elvis, complete with period-appropriate costumes.
Agnes pretty quickly tips her supernatural hand to Melissa, but her parents are completely won over and decide that Agnes can be trusted to mind the kids while Sally, the mayor of the small town of Whitehaven, heads to the office and George heads to the RV dealership where he works expecting to collect a juicy Christmas bonus.
Melissa pegs Agnes as "a Mary Poppins from the dark side," but her real mission is to do good things for the Trimble family, especially the precocious Melissa who sees no future for herself in this provincial backwater and dreams of the day she can escape. Agnes conjures up breakfasts and dinners for which Melissa gets the credit. All the while she teaches the kid new life lessons. Agnes can't do everything though; she's of little help when George gets a pink slip instead of his expected bonus. Through it all, however, Melissa learns the importance of family and by play's end has resolved to build her future in little Whitehaven. Aunt Agnes really is a Mary Poppins figure.
More Reviews
To access the complete archive of reviews listed alphabetically CLICK HERE.
The humor is vintage Foster, gentle and character-driven and he and director Patricia Vanstone are well served by the cast, all with roots in Niagara-on-the-Lake. Shaw veteran  Nora McLellan has precisely the right tone for Agnes, often saying one thing to the family and something else entirely to the audience. When she compliments George on his facility with English accents, he proudly explains that he has had years of experience with the local amateur theater troupe. McLellan wrings every delicious drop of irony from the response, "And it shows!"
Kelly Wong, who was admirably sinister in Rope last season at Shaw, veers to the nearly opposite end of the performing spectrum as the insanely, one might almost say inanely, cheerful and optimistic George. It's tough to make this kind of character remotely believable, but Wong pulls it off with aplomb.
Cosette Derome has a delicious moment as a clueless parent, when she explains Brian's silence.
Sally: He doesn't say much. He only speaks when he has something important to say.
Brian: Mom?
Sally: Not now, dear.
As good as the adults are, I was most impressed by Kate Peters' preternaturally poised and professional performance as Melissa. She spends most of the play on stage with McLellan, the consummate old pro, and more than holds her own. This kid has a future.
Aunt Agnes For Christmas continues through December 22, 2019.
The Foster Festival
FirstOntario Performing Arts Centre
250 St. Paul Street
St. Catherines, ON L2R 3M2
(855) 515-0722
(905) 688-0722
www.fosterfestival.com
More Reviews
To access the complete archive of reviews listed alphabetically CLICK HERE.