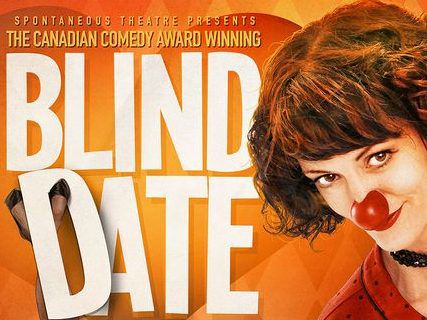 " A French clown on a blind date."
From this seemingly inane premise Rebecca Northan, improviser extraordinaire, has crafted a ninety-minute show that has had audiences across Canada (with detours to New York and London) rolling in the aisles for more than ten years. I had been hearing good things about this show for a while, so I was pleased to get a chance to see Blind Date when it had a three-night stand at a new Stratford restaurant, The Red Lion Room.
The premise is simple, a guy in the audience is chosen (with his permission; a sign on the stage assures us "we value consent") to come on stage and have a blind date with Mimi (Ms. Northan). The "clown" part of the premise extends no further than the petite red clown nose she wears. The rest of Ms. Northan is, I can report with some assurance, all woman, and her French accent ("I am from Avignon. You know, wiz ze bridge") adds a certain je ne sais quoi to the proceedings. Do all men find a French accent sexy, or is it just us guys in the Anglophone world?
In her Mimi persona, which she never drops, Ms. Northan mingles with the audience before the show while deciding whom she will invite on stage. While all potential dates agree to be called upon, the lucky guy doesn't know he's the one until Mimi calls his name from the stage. In an amusing prologue, Mimi explains the rules of engagement, which included a provision called Time Out. If at any time, the guy feels uncomfortable or simply has a question, he can call Time Out and he and Mimi move to a separate space outside the "set" to hash things out. The Time out privilege also extends to any wife or significant other who may be in the audience and, tellingly, to Mimi herself.
There is obviously a structure to the "play," as Mimi calls it, but how it proceeds exactly changes from night to night depending on the date. The night I caught the show, Mimi had to call a Time Out when her bashful date politely declined an invitation to go to her place. She had to gently explain to him, without using these exact words, that in the world of improv you never say "no" but always "yes, and…" Once the "play" was back on track it went its zany way.
More Reviews
To access the complete archive of reviews listed in alphabetical order,
click here.
I am loath to say more about what transpires so as not to spoil the show for those who might eventually get a chance to see it. Suffice it to say that those with weak bladders should wear Depends when they go see it.
I might also mention that, in an era when relations between men and women are increasingly fraught, it was refreshing to see a show that celebrated with such warmth and good humor the eternal urge to merge. As Mimi from Avignon might say, "Vive la difference."
Apparently, this show was a bit of an experiment for The Red Lion Room. They have built a postage-stamp-sized stage at one end of the dining area, which works quite well. Indeed, the place seems ideally suited to this sort of cabaret entertainment. Since the three-night run sold out, I trust the experiment has been deemed a success and Red Lion will host more small-scale shows in the future. The food ­– New Orleans and Cajun fare – is quite good, too. It was possible to dine before the show or show up at about eight for the nine o'clock show only.
Ms. Northan has wisely built on her success and has trained other improvisers to play Mimi. There are editions in other countries and other languages; there is even a Queer Blind Date version. Still, it's hard to imagine anyone being better than the original.
Ms. Northan will be appearing with her improv group (two of whom play minor roles in Blind Date) in An Undiscovered Shakespeare at the Stratford Festival in the summer. I'm looking forward to it. No future performances of Blind Date have been announced as I write this, but you can check in to the Blind Date Facebook page to see what the future holds.