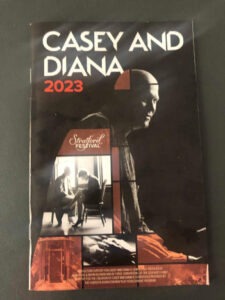 Casey And Diana At The Stratford Festival
A small miracle is unfolding at the Stratford Festival's Studio Theatre where the world premiere of Casey and Diana by Nick Green is receiving a splendid – and far too brief – production under the assured direction of Andrew Kushnir.
Casey and Diana weaves a tale of courage, caring, and redemption based on the 1991 visit of Princess Diana to Toronto's Casey House, Canada's first free-standing AIDS hospice. It is blissfully free of the sort of maudlin sentimentality, stagey heroics, or doctrinaire preaching that too often mar attempts to dramatize this subject matter.
As the play opens, Thomas (Sean Arbuckle), Casey's longest term resident, learns from his nurse Vera (Sophia Walker) that Princess Diana (Krystin Pellerin) will be visiting Casey in just seven days. He is ecstatic, but the lesions of Kaposi's sarcoma clearly visible on his face and feet suggest that his illness is so far advanced that a week might be a bridge too far.
The arrival of a new roommate, Andre (Davinder Malhi), a young man who has lost the ability to walk and whose family has cut all ties with him, and the effusive ministrations of volunteer Marjorie (Linda Kash) interrupt his reveries.
As the day of Diana's visit draws near, Thomas continues to exhort his fellow residents to hang in there to survive long enough to bask in the glow of royalty. Then his estranged sister shows up.
Sister Pauline (Laura Condlln) is quite the drama queen and her angry insistence that she must repair the damage done to their relationship unsettles Thomas so much that his very survival seems at risk.
Casey and Diana artfully blends the interactions between and among its characters as Green explores what it means to face not only death at the hands of an implacable disease but the social, emotional, and psychological exile borne of fear and ignorance.
And how do the selfless women, whose goal is to "help men with AIDS" weather the emotional strain of ministering to men who often lash out at them in their pain and despair? How does a sister, traumatized by the cascading deaths in the gay milieu surrounding her brother, manage to repair their relationship?
Green handles all this beautifully and, when the Princess finally appears, Casey and Diana ends on a note of transcendence that, thanks to Kushnir's inspired direction, is quite literally breathtaking.
Casey and Diana boasts the kind of dialog and powerful emotion-packed speeches that actors dream of. Kushnir's superb cast rises to the occasion.
Sean Arbuckle may be giving the best performance of his 21-year tenure at the Stratford Festival. He is mesmerizing.
Laura Condlln brilliantly navigates her transition from hysterical anger to rapprochement with her dying brother. Linda Kash is delightful as the perhaps too enthusiastic volunteer who ministers to Andre, sweetly brought to life by Davinder Malhi. Kash and Malhi, by the way, are making their Festival debuts.
Sophia Walker as Vera, a caring nurse but a bit of a martinet when it comes to "policy" and "procedures," has a scene in which she reveals what makes her tick – and it is heart-rending.
Krystin Pellerin has less to do as Princess Diana, but she does it beautifully. For most of the play she is an idealized figment of Thomas's imagination, but when she appears as the real Diana at play's end she is the prefect "people's princess."
Joshua Quinlan has provided a simple but effective set and lighting designer Louise Guinand and composer/sound designer Debashis Sinha have created ingenious ways to illustrate the play's metaphor that life is breath.
Anyone who cares about good acting (not to mention good direction) should make a beeline to this production. I find it almost criminal that by the time what I can only imagine will be the glowing reviews for Casey and Diana reach the theatergoing public this stellar production will have less than two weeks left in its run.
Casey and Diana continues at the Studio Theatre through June 17, 2023. For more information and to purchase tickets visit the Stratford Festival website.
Don't miss another review. Follow OntarioStage on Twitter.
For a complete Index of Reviews, CLICK HERE