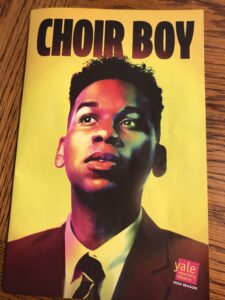 March 31 – April 23, 2022
Yale University has a long and distinguished vocal tradition. There are the undergraduate Whiffenpoofs, of course, and the School of Music confers advanced degrees in choral conducting. So it's perhaps not too surprising to find that Choir Boy features one of the greatest small male choral groups you've ever heard wowing audiences at the University Theatre.
Under the inspired musical direction of Allen René Louis, who crafted their terrific vocal arrangements, this crew of young men sing African-American spirituals like heaven's own choristers. At full throttle they can rip your heart out. And they dance beautifully, too. Amy Hall Garner's choreography is by turns mesmerizing and explosively ecstatic.
On top of that, when they strip down to nothing but towels, they are splendid physical specimens.
Wait! What? A chorus that gets undressed? What's up with that? Well, you see, the Yale Rep's "Choir Boy" isn't an actual choral recital but an intermission-less two-hour play set in the Charles R. Drew Preparatory School, an elite black Christian high school molding tomorrow's black leaders. The singing and dancing are just one element in playwright Terrell Alvin McCraney's coming of age play that interweaves examinations of the myth and majesty of African-American spirituals, societal acceptance and the lack thereof, and of love in its many manifestations — Christian love, brotherly love, and the love that dare not speak its name.
Pharus Young (a charismatic Israel Erron Ford) is a scholarship student and a gifted tenor, the best singer the school has. He is also quite unabashedly effeminate and the subject of homophobic taunts from Bobby (Anthony Holiday) an overweight mama's boy and legacy student who enjoys a certain amount of prestige as the headmaster's nephew.
Although the other boys, including his hunky straight roommate, seem to accept him, the friction between Pharus and Bobby sets in motion a series of incidents that end tragically. Tales of the first stirrings of gay sexuality have become commonplace in contemporary plays and films, but they still have the power to unsettle.
"Choir Boy" premiered in England and opened in New York in 2013 in a limited run that garnered middling reviews. McCraney, who later won an Academy Award as co-writer of the film "Moonlight," has been making tweaks to the play ever since, and is now Playwright in Residence at the Geffen School of Drama at Yale (formerly known as the Yale School of Drama). That may be the proximate reason for the current revival. Perhaps he wanted one more try at getting it right. He still has work to do.
While the dialog can crackle and some of the set pieces, like an extended speech by Pharus on the myths that have grown up around the role of spirituals in the lives of enslaved people, are quite effective, there are structural problems. It seems unlikely, for example, that in such a strict Christian environment, with all its doctrinal taboos against homosexuality, that Pharus would be so "swish" (his own word, not mine). Pharus confides to his roommate that he resents being called something his isn't, since in his mind you are gay only if you have gay sex and he is still a virgin. Even so, he seems oddly oblivious to the way he "presents himself" (the headmaster's words, not mine). McCraney also introduces a caricature of a doddering retired white professor to teach a course on critical thinking; the device goes nowhere and simply doesn't work.
Some of these blemishes might have been smoothed over had not Christopher D. Betts directed the play as though it was a master class in indicating. Nearly everyone in the cast is guilty of overacting at some point. The old prof, who is on the Drama School's acting faculty no less, is particularly culpable in this regard. I also assume it was the director's choice to have the entire play miked. The singers certainly needed no help — the Yale theatre has excellent acoustics — and the miking lends a certain artificiality to their lovely voices. The amplification also made some strident performances seem even more over-emphatic.
Still, good actors can survive poor direction and provide depth of character when there is little in the script. While Israel Erron Ford can evoke memories of "Boys In The Band" from time to time, he is a fine actor who invests Pharus with real humanity making his fall from grace heartrending. Malik James scores as Pharus' straight roomie; he makes their relationship both real and ultimately quite touching. Aaron James McKenzie, who has a powerful baritone, brings a quiet intensity to the role of David, a young man with a fatal secret who wants to become a preacher. Anna Grigo has contributed a versatile set with some beautiful artwork that, to his credit, director Betts makes good use of.
But in the end it is the singing and the choreography I will remember and I suspect the same can be said for many other audience members. If Allen René Louis and Amy Hall Garner could corral this cast and come up with an evening devoted to the African-American gospel tradition they might have a show that could succeed on Broadway where "Choir Boy" failed.
---
Want to learn more? Read the script:
More Reviews
To access the complete archive of reviews listed alphabetically CLICK HERE.