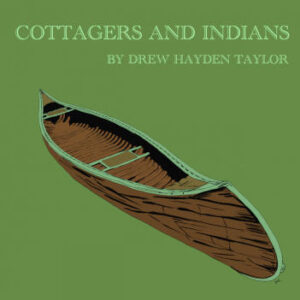 (Image: Bruce Horak)
Cottagers And Indians At The Blyth Festival
If you've ever sat through a land acknowledgment at the beginning of a play and thought "What a load of happy horses**t this is," boy do I have a play for you! It's Drew Hayden Taylor's 2018 Cottagers and Indians, now being revived at the Blyth Festival in a suitably minimalist production under the light touch of director Deneh'Cho Thompson.
Land acknowledgments began in Australia in the 70s and became ubiquitous in Canada in 2015, following the Truth and Reconciliation Commission report that labeled Canada's system of residential schools "cultural genocide." They soon became fashionable in the United States, perhaps one of the rare instances in which a bit of Canadian culture managed to penetrate the Poutine Curtain.
But I digress.
The 80-minute, one act Cottagers and Indians is framed as a conversation of sorts between Maureen Poole (Kelly McIntosh) and Arthur Copper (James Dallas Smith), sometimes with each other and sometimes with us, the audience. It is based on an actual incident that took place in "cottage country" a few years ago, when well-to-do and, need I say white, cottagers took exception to the efforts of a First Nations man to restore manoomin (also known by the misnomer "wild rice") to Pigeon Lake. The wild rice that had once been endemic to the lakes of cottage country and was a staple of the Anishinaabe diet had been destroyed by the flooding that took place due to the construction of the Trent-Severn Waterway (1833-1920)
For the benefit of my American readers, most of whom remain blissfully ignorant of the riches to their North, here is some background. "Cottage country" is a Canadian term for rural areas where mostly upper-middle-class folks from the Big City, driven by what Copper calls a "bizarre need for driving hundreds of kilometers from their home in a city, bordering on a huge lake, to spend time and money on another home, bordering on a smaller lake" have established their "cottages." Some actually are cottages, in the usual sense of the term. Others could rightly be called mansions. The most prominent areas for cottagers are Muskoka, almost directly north of Toronto and the Kawartha Lakes region northeast of Toronto. Both areas are blessed with a plethora of idyllic lakes.
But again, I digress.
The bone of contention in Cottagers and Indians is that a lush crop of manoomin in a lake renders it aesthetically displeasing to the cottagers who presumably and erroneously believe that the lakes have been "weed-free" since time immemorial. On top of that menoomin makes swimming and boating problematical. Not to mention what it does to the all-important property values! (A photograph in the news article linked above shows what a lake with menoomin looks like.)
The back and forth between Ms. Poole and Mr. Copper allows Taylor to sketch in the history of the contretemps and lay out the arguments on both sides of the issue with a fair amount of dispassion. In addition, the uninitiated will learn about manoomin, its nutritional value, its harvesting, and processing.
The argument that inspired Cottagers and Indians continues, by the way, and this being the twenty-first century both pro menoomin and anti menoomin factions press their case on the Internet.
Taylor, half Ojibway and half Caucasian, refers to himself as an Occasion, so clearly this is a guy with a sense of humor. It's a quality he puts to good use in Cottagers and Indians, which otherwise might have degenerated into tedious agit prop. While it is pretty clear that Ms. Poole is the villain in the piece, Taylor never makes her villainous. Ludicrous perhaps, blinkered for sure, but never villainous.
Taylor has great fun with Poole's penchant for chilled – and "well oaked" – chardonnay. She may be white, but as she says, she has a kick. When she accuses Copper of imbibing himself, he admits it but notes that, like his dating preferences, he prefers his wine "warm and red, not cold and white."
As Copper, James Dallas Smith makes a wonderful spokesman for the First Nations position. Witty and self-deprecating, he never descends into vitriolic anger. Only occasionally does his bitterness show through. There is an inspired bit when he produces the Blyth Festival's actual land acknowledgement and reads it aloud. His voice drips with barely concealed disdain. The moment drew a smattering of applause the night I saw the show.
Kelly McIntosh resists the trap of playing Ms. Poole as a caricature and gives us a rounded portrait of a woman, convinced of the merits of her position, wrestling with a changing world that she cannot quite understand. McIntosh, it is worth noting, is the co-author of In The Wake of Wettlaufer, another ripped-from-the-headlines play presented by Blyth a few seasons back.
In another deft touch, playwright Taylor has given each character a bitter personal loss. Poole has lost her husband to illness, Copper his daughter to diabetes, brought on by the cheap fast-food diet that plagues economically depressed First Nations communities. It is an opportunity for the characters to reach out to one another and affirm their shared humanity.
Cottagers and Indians is a great choice for Blyth at a time when Canada is going through a time of reckoning occasioned by the revelations of the hideous abuses wreaked on its indigenous population by the so-called "residential schools," abuses that only ended within living memory. During the play's run, the pope is coming to Canada to apologize for the Church's role in that abuse.
So that is why you hear land acknowledgements at Canadian theatres. Cottagers and Indians is a sort of land acknowledgement itself, and quite an eloquent one.
As time has progressed and the revelations of the Truth and Reconciliation Commission continue to sink in, land acknowledgements have evolved from performative exercises into something deeper and more genuine. At the Stratford Festival, for example, their land acknowledgements are specifically linked to the Truth and Reconciliation Commission and the Calls To Action it produced.
It's a painful but necessary process and we Americans should respect it. Lord knows we white folk never enjoy being disabused of our firm conviction that God's in His heaven and all's right with the world, but I am finding the experience salutary. If you still find land acknowledgements annoying . . . well, as Arthur Copper would say, "Jiindan Ndanishnaabenbag diyaash!" (For a translation, go see the show.)
Cottagers and Indians plays at the Blyth Festival through August 6, 2022. For more information visit the Blyth Festival website.
Don't miss another review. Follow OntarioStage on Twitter.