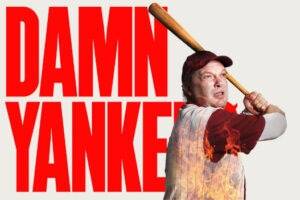 (Image: Shaw Festival)
Damn Yankees at The Shaw Festival
Two hits, no runs, and plenty of errors pretty much sums up my reaction to the mainstage revival of Richard Adler and Jerry Ross's 1955 musical Damn Yankees that swings and misses at the Shaw Festival.
A riff on the Faust legend, Damn Yankees tells the tale of Joe Boyd (Shane Carty), a middle-aged schlub and die-hard fan of the cellar-dwelling Washington Senators who cries out that he'd sell his soul to the devil if only the Senators could whip the Yankees. Enter Mr. Applegate, the Mephistopheles figure, who arranges not only to help the Senators prevail but transforms Joe Boyd into Joe Hardy, a young baseball phenom who can hit any pitch out of the park.
So Joe impetuously leaves his wife a note but no explanation and goes on to lead the Senators to an unlikely pennant race with those damn Yankees. But the devil has made a mistake. For the first time ever he has allowed a victim an escape clause. Will Joe take it and return to his wife? Or achieve baseball immortality and go to hell? I guess that's what counted as unbearable tension in the fifties.
Like the game it celebrates, this Damn Yankees features long stretches of tedium punctuated by the occasional moment of excitement.
So let's cut directly to the Damn Yankees highlights reel. Mike Nadajewski as Mr. Applegate turns in a performance that is, well, heavenly. Not only does he know how to sell a song and get an audience eating out of his hand, but he executes a string of magic tricks (created by Skylar Fox) as if he's been prestidigitating all his life. His rendition of "Those Were The Good Old Days" comes close to stopping the show, despite the bowdlerized lyrics (credited to Neil Bartram). What does it say about our culture that the spectacle of a man selling his immortal soul to Satan is considered family entertainment while a passing reference to missionary-munching cannibals is beyond the pale?
The other bit of excitement is provided by Drew Plummer as the out-of-nowhere baseball whiz Joe Hardy. One of the great joys of live theatre is seeing an understudy step into a leading role and, yes, knock it out of the park, which pretty much sums up Plummer's accomplishment. He also has the advantage of bearing a resemblance to the middle-aged nonentity he replaces and he actually looks like a fifties baseball player, big and beefy with the map of the Midwest in his face. I was left wondering why he didn't get the part to begin with. (James Daly, the original Joe Hardy, is on the disabled list after sustaining an injury and will rejoin the cast later in the run.)
As for the rest, this Damn Yankees is a bit like the musical's Washington Senators. It's got heart, you want to love it, but it's just not major league. Director Brian Hill has done the best with what he has. Unfortunately, what he doesn't have is dancers. These are actors who can sing and, to use a back-handed show biz compliment, "move well." What Damn Yankees desperately needs is razzle-dazzle dance numbers to make us overlook the deficiencies of the book and music.
Allison Plamondon has provided choreography that looks old-fashioned. That may have been intentional (let's face it, the show is resolutely old-fashioned), but I suspect the real reason was that she was crafting choreography for non-dancers. Sometimes it works, as in the "Ya Gotta Have Heart" number led by a forceful Jay Turvey. More often it doesn't, as in a tap number that is almost embarrassingly basic.
I suspect that Damn Yankees has had the afterlife it's enjoyed largely due to memories of Gwen Verdon executing Bob Fosse's choreography. As Lola, the otherworldly temptress summoned up by Applegate to make Joe forget the wife he so desperately misses, Kimberley Rampersad, Shaw's Associate Artistic Director, is appropriately voluptuous and a dynamite singer, but alas she's not a dancer. When your Applegate moves better than your Lola you have a problem.
The relationship between Joe Boyd and his "old girl" Meg (Patty Jamieson, who also co-wrote this season's Gaslight) is one of the more old-fashioned elements of the book. She is the unfailingly loyal woman who stands by her man when he abandons her without a word of explanation and then takes him back, no questions asked, when he just as mysteriously returns. I wonder how many women in the audience were silently screaming "DUMP HIM!"? Jamieson, Plummer, and even Carty make their relationship not only touching but believable. Ah, the good old days.
Cory Sincennes has provided witty mid-century modern sets and costumes. Especially fun is a wall of blown up magazine ads from the fifties that you can peruse when your attention wanders. Of the subsidiary cast, Olivia Sinclair-Brisbane scores as Gloria Thorpe, the newspaper reporter who first makes Joe a household name and then relentlessly picks away at the holes in his backstory.
I wasn't bowled over by Damn Yankees but I had to admit, this genial production has heart.
Don't miss another review. Follow OntarioStage on Twitter.