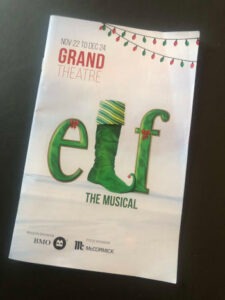 Elf, The Musical at the Grand Theatre
I kinda liked Elf, the 2003 film starring Will Ferrell, but I absolutely loved Elf, the Musical, now receiving a perfectly delightful production at the Grand Theatre in London, Ontario, under the masterful direction of artistic director Dennis Garnhum.
Elf, for those who don't know, tells the tale of a human baby named Buddy who thirty years ago crawled into Santa's bag during one of his annual nocturnal visits and wound up back at the North Pole where he was raised by Santa's elves.
After Buddy discovers that he's not really an elf, Santa reveals his history. Turns out he's an orphan whose mother died without telling the father that Buddy existed. His father is now a high-powered publisher of children's books based in Manhattan, in the Empire State Building no less. So off Buddy goes, abashed at losing his status as an elf but ecstatic that he has a family.
It doesn't go well. In Manhattan, it turns out that Buddy's dad, Walter Hobbs, is not such a nice guy (he's on Santa's naughty list). When Buddy arrives in his office in his cute little green elf outfit, Walter summons security and tells the guard to send the "elf" to the North Pole.
So Buddy is dutifully delivered to Macy's Santaland, where he is instantly smitten with Jovie, one of those sad, lonely young single women that popular fiction would have us believe make up a major portion of the population of Manhattan.
Fired by Macy's for pointing out that their Santa Claus is a fraud, he wanders the streets until a kindly policeman delivers him to Walter's apartment where his wife and daughter take a shine to him.
Back at the Empire State Building, Walter's career is in dire straits due to a ghastly printing error that he signed off on. Mr. Greenway, the even more despicable magnate who owns Walter's publishing house, threatens to fire him unless he can come up with a sure-fire hit in the few days remaining before Christmas.
Material like this lives or dies by the performance of the central character. As Buddy, Izad Etemadi, a short, bearded dumpling of a man, imbues the character with so much charisma that I found it hard to believe that he could play any other part, despite the fact that he has a long list of credits to his name.
Etemadi brings to the role of Buddy the Elf something that Ferrell couldn't muster – a vivid sense of childlike innocence that veers toward the cartoonish but that never loses touch with a deep-seated reality that every parent will recognize. It's a star making performance and, if he's not careful, he could become to Buddy what William Gillette was to Sherlock Holmes.
While no one else in the Elf company rises to the same stratospheric heights – Etemadi is a tough act to follow – the other performers are nonetheless uniformly solid. Among them are Shane Carty as the stolid Walter, who at times seems to be channeling Ted Dykstra; Michelle Bardach, who hails from the Skwxwú7mesh Úxwumixw Nation, as Jovie, Buddy's enamorata; Meg Buchanan-Lunn, stepping in for Ma-Ann Dionisio, as Walter's wife Emily at the performance I saw; and the willowy Riley Deluca, as his 15-year-old daughter Michelle.
Elf the Musical uses a framing device in which Santa (the real one) tells us a story. I especially enjoyed Aadin Church, who doubles wonderfully as Old Saint Nick and the nasty Mr. Greenway. He has a commanding voice and has mastered some of James Brown's signature moves.
For their part, the adaptors – Thomas Meehan and Bob Martin (book), Matthew Sklar (music), and Chad Beguelin (lyrics) – have done a commendable job of translating the film to the stage, including getting rid of the film's unpleasant "dwarf humour." As might be expected from writers whose credits include Slings and Arrows (Martin) and the musical version of The Producers (Meehan), Elf has its fair share of clever lines, including some naughty bits designed to sail over the kids' head while drawing laughs from their elders. I especially liked the barbs tossed at PETA for sending Santa's reindeer into retirement.
Director Garnhum has a penchant for using every square inch of the Grand's commodious stage and using that real estate extremely well, as he demonstrated in 2017's A Christmas Carol and 2018's Chariots of Fire (which, alas, I didn't review). This time around, designer Scott Penner has created a set of frosted ice and candy-cane colors that provides Garnhum and choreographer Lisa Stevens plenty of room to maneuver, with set pieces sliding in from the wings when needed.
For her part, choreographer Stevens has done a commendable job of creating razzle-dazzle using the combined forces of trained dancers and game actors. Lighting by Kimberly Purtell and costumes by Dana Osborne add to the fun. And a hat tip to sound designer Brian Kenny for keeping the amplification reasonable.
Oh, about those elves in Santa's North Pole sweatshop … I mean workshop. Garnhum has enlisted a troupe of ten kids, listed in the programme as the Children's Chorus. They add a delightfully family-friendly touch to the proceedings. While they all seemed to be perfectly well behaved, I noted that the programme credits four "child supervisors."
Late in the proceedings, Santa's sleigh, which is now powered by the magic of Christmas spirit rather than reindeer, is grounded because not enough people believe he is real. I expected Buddy to turn to the audience and urge us all to attest to our deep-seated belief in the jolly old fellow. But I guess that ploy has been ruined forever by Tinkerbell. Oh well. Buddy the Elf is nothing if not resourceful, so all ends well.
Elf the Musical is perfect family entertainment for the holiday season. I once held out hope that the Grand's production of A Christmas Carol would become an annual tradition, as it has at so many theatres across North America. Now I find myself wondering if perhaps it could alternate with Elf the Musical.
If you have kids, by all means bring them to see this show. If you have grown kids and have forgotten how much fun they were when they were little, you should come, too. Even if you have no kids and never plan to have any, Elf the Musical will put you in touch with your inner child, a consummation devoutly to be wished as someone once said.
Elf the Musical runs through December 31, 2022. For more information and to order tickets, visit the Grand's website.
Don't miss another review. Follow OntarioStage on Twitter.
For a complete Index of Reviews, CLICK HERE
---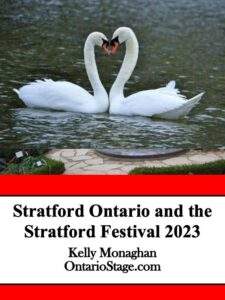 ---