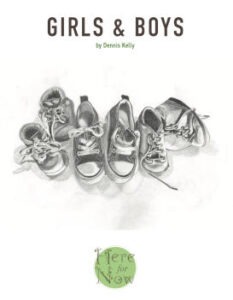 (Image: Here For Now Theatre)
Girls & Boys At Here For Now Theatre
Girls & Boys is the deceptively benign title of the most powerful play you are likely to see this season, or any other season for that matter. What's more, this solo piece is graced with one of the most deeply moving performances I have ever been privileged to witness in Stratford. That this experience is being offered not at the august Stratford Festival but at the modest Here For Now Theatre merely adds to the magnitude of the achievement.
Girls & Boys is a beautifully crafted monologue by British playwright Dennis Kelly, that premiered in 2018 at London's Royal Court Theatre starring film star Carey Mulligan. Here, in the play's Canadian premiere, the part of "Woman," as she is identified in the script, is played by Here For Now Artistic Director Fiona Mongillo. She is, not to put too fine a point on it, brilliant.
If you know Kelly's work at all it's probably as the book writer of Matilda, The Musical . Girls & Boys is a world away from musical comedy froth.
In Girls & Boys, Woman tells us the story of her marriage. Two people, whose names we never learn, meet cute in an airport queue in Naples, get married, have seemingly successful careers and two children, a girl and a boy. As she tells her tale, Mongillo speaks directly to the audience, making contact with one person after another. Her gaze is direct, intimate, unflinching. We are in her confidence, eventually in her thrall.
I don't want to reveal much more should you be fortunate enough to see this production. Suffice it to say that this 90-minute experience is quietly devastating. Coming to it fresh will only heighten your appreciation for what Here For Now and Ms. Mongillo have accomplished.
Ms. Mongillo and her director, Lucy Jane Atkinson, both studied at London's legendary LAMDA  theatre school. They obviously learned their lessons well. Not only is Mongillo's down market English accent flawless, but she is an artist in superb control of her instrument. The role carries her to extremes of emotion, which she conveys magnificently. And yet she never loses control. For her part, director Atkinson has orchestrated the beats of the piece flawlessly.
Alas, I came to this production late in its all-too-brief run and it is most likely that you will read this after the show's August 7, 2022, closing date. Is it too much to hope that the Stratford Festival will pick up this production of Girls & Boys and put it in the Studio Theatre for a few weeks at the end of the season, after fluff like Every Little Nookie has run its course? It would require virtually no set, just one brilliant actress. Her name is Fiona Mongillo.
Note: If you are an actress in your late 30s or early 40s and you think you have the requisite talent, you should grab a copy of the script.
If you are curious how Carey Mulligan handled the role, there is an audio version.
Don't miss another review. Follow OntarioStage on Twitter.