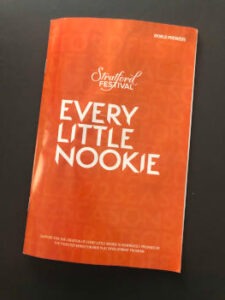 Sunny Drake's Every Little Nookie, enjoying its world premiere at the Stratford Festival's Studio Theatre, is nowhere near as bad as the programme might lead you to believe. In fact, it is quite amusing and rather enjoyable if not ultimately successful.
Every Little Nookie tells the complex tale of Annabel (Rose Tuong), an artist (vulvas are a primary motif) and the adopted daughter of well-to-do suburbanites Margaret and Kenneth (Marion Adler and John Koensgen), whose marriage seems to have lost its luster. Annabel lives in a polyamorous menage with lesbian Grace (Khadijah Roberts-Abdullah) and non-binary Smash (Stephen Jackman-Torkoff) in a shabby downtown rental they share with the non-polyamorous Crystal (Verónica Hortigüela), an academic who moonlights as a sex-worker. I think I have all that straight (you should excuse the term).
To make money this group stages swingers' parties and they are always on the prowl for their next venue. When Annabel's parents head to their cottage, the solution seems obvious, although Annabel needs some gentle persuasion. Their supposedly comfortable relationship is disrupted when Annabel's head is turned by Matt (Richard Lam), a divorced tech entrepreneur with a bratty (and never seen) child. According to the rules of polyamorous relationships, she's free to indulge her passion. Of course, Grace has no problem with this. Yeah, right.
Every Little Nookie's plot thickens considerably when Annabel's parents return unexpectedly and find an orgy well under way in their comfortable home. They are horrified, but Margaret is strangely aroused by the goings on and the possibilities they present.
It's an amusing set up and, by and large, Drake and his game cast keep the proceedings percolating along with a fair amount of humour. Alas, the second act begins to meander as the menage faces the realities of a crushing real estate market, not to mention an unplanned pregnancy, and begin plotting the purchase of a house. "First the vision! Then the details."
Ultimately, Every Little Nookie has some difficulty deciding what it wants to be about. A frothy sex comedy? An exploration of the kaleidoscopic nature of human sexuality? The struggle for social justice? The meaning of the word "family"? The cruelties of capitalism and an unforgiving real estate market? The journey of a middle aged couple to understanding and reconciliation? Indeed, it has many themes, any one of which would be worthy of deeper exploration.
Most of the enjoyment in Every Little Nookie comes from the performances. There's a fair amount of overlap with the cast of Little Women and I was pleased to see that Richard Lam and Stephen Jackman-Torkoff are shown to much better advantage here than in the Alcott adaptation. Best of all are Annabel's parents. Marion Adler and John Koensgen are old pros with considerable comedic chops and their experience shows. In Adler's case it shows a lot!
The director ted witzel (who for some reason has adopted the orthography of e e cummings) finds some ingenious ways to handle a multiplicity of scenes in widely differing locales, some of which last mere seconds. Michelle Tracey has contributed a minimalist set that looks a bit like the slide in the old Coney Island Fun House and adds a great deal to the fun. Joshua Quinlan seems to have had as much fun designing the costumes as the flamboyant Jackman-Torkoff has wearing them.
Two seemingly minor points stood out for me. In far too many plays, "equity, diversity, and inclusion" is something that's sprinkled on willy-nilly during the casting process. Drake, on the other hand, has written specific parts for actors of specific ethnic backgrounds. He has created a world that represents of the multi-ethnic reality of our contemporary culture. I hope more playwrights will follow his example.
In a prologue, two actors come out to introduce themselves and speak about their own ethnic heritage before segueing into a more nuanced discussion of Canada's problematic relationship with its indigenous communities. I found it a much better approach to the now ubiquitous "land acknowledgements," which have always struck me as performative exercises in white guilt that produce the right sounds but signify not very much.
Oh, about that programme, which I first read online before seeing the show. The Director's Notes, headlined "queerness on the horizon" (sic), and the interview with a Black activist who extols the virtues of the QTBIPOC (cutie-bye-pock?) community, led me to believe that Every Little Nookie would be all about proselytizing for the "queer agenda" (witzel's words, not mine), whatever that might be.
Fortunately, Sunny Drake's play has no such narrow focus and deals with human beings in all their wondrous variety. So my advice would be to toss the programme. Simply sit back an enjoy the play.
Don't miss another review. Follow OntarioStage on Twitter.