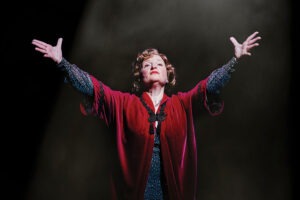 Gypsy at the Shaw Festival
The Shaw Festival has seemingly always played second fiddle to the Stratford Festival when it comes to musicals. No longer. Their current production of Gypsy, the legendary 1959 Arthur Laurents, Jule Styne musical with lyrics by Stephen Sondheim, is an unalloyed triumph.
Much of the credit for that goes to the towering performance of Kate Hennig as Rose, although director Jay Turvey, choreographer Genny Sermonia, and a solid supporting cast make major contributions.
Gypsy is based on the autobiography of Gypsy Rose Lee, by all accounts a stunning striptease artist – or ecdysiast in H. L. Mencken's wonderful coinage – who cut quite a swath in mid-twentieth century America.
Gypsy, neé Louise in 1911, had a hardscrabble upbringing. She and her more talented sister June were under the oppressive thumb of their mother, Rose, who sublimated her unrequited dream of showbiz glory by hounding her daughters onto the vaudeville stage.
The ghastly, amateurish acts their mother concocted for them won the family a precarious and unremunerative perch on the vaudeville circuits that spanned the continent in the 1920s. Baby June, as the star of the act was billed, given a chance to become a real actor, bolted from the act and is known to showbiz history as June Havoc.
Rose turns to the untalented and hitherto neglected Louise, who longs for nothing more than stability and a home. She proves a poor successor to June. As vaudeville wanes in the face of talking pictures in the 1930s, Rose's's latest and perhaps most pathetic act finds itself booked into a burlesque house.
Rose is horrified—at first. But when the burlesque house finds itself short of the stripper who was to be the night's headliner, Rose pushes her daughter to grab the spot and the ever-loyal Louise accepts. When she proves modestly (you should excuse the term) successful, her mother seizes the opportunity to ride the rising star that the newly christened Gypsy Rose Lee becomes.
Gypsy obviously tells that story, but it focuses, not on the future Gypsy Rose Lee, but on her hard-driving stage mother Rose.
Rose, not to put too fine a point on it, is not a particularly likable person to be cast in the central role of a "musical comedy." Seen through a contemporary lens, her monomaniacal drive to make her daughters "stars" looks an awful lot like child abuse.
Yet Gypsy is widely hailed as the greatest musical of all time. Powered by a terrific score (and those Sondheim lyrics), many of its songs have become classics. If you've never seen Gypsy, songs like "Small World," "Let Me Entertain You," and "Everything's Coming Up Roses" will be instantly recognizable.
Rose has frequently been described as a monster and there is a great temptation to play her that way. Hennig and director Turvey do not fall into that trap. Hennig lets us see Rose's pathology; her twisted love for her daughters is love nonetheless.
We also see Rose the seductress, whose feminine wiles keep the girls' agent, the devoted and sympathetic Herbie (a velvet voiced Jason Cadieux), waiting patiently for her to marry him. Only when Rose surrenders the newly christened Gypsy Rose Lee to the "filth" of burlesque does he tear himself away.
The Shaw Festival, as I have noted before, does not have a highly trained and dedicated dance corps as does the Stratford Festival. When Shaw mounts a musical it must rely on what is known in the trade as "actors who move well."
Director Turvey and choreographer Sermonia have turned this seeming handicap to their advantage in telling this "Musical Fable," which is the subtitle given to Gypsy by its creators. No attempt is made in the depictions of their vaudeville acts to make Louise and June look like anything other than the semi-talented kids they were, although Madelyn Kriese as the teenage June deftly shows the promise that her mother's acts stifle.
When Tulsa (Drew Plummer) reveals to Louise his plan to quit Rose's troupe he sings "All I Need Is The Girl" as he previews the dance routine he has been working up. In this rendition of what in other productions can be a stunning Astaire-like tour de force, we see Tulsa's limitations. Plummer, fine actor though he is, is not blessed with a dancer's body. We know instinctively that Tulsa will never "make it."
Adding to the pathos, we clearly see that Louise carries a bit of a torch for Tulsa. In real life he eloped with June, who also saw no future with her mother's troupe.
At the nadir of their failed vaudeville career when Rose and Louise wind up in the cheap "burleykew" dump, we are treated to another display of women scratching out a living amid the tawdriness of show biz.
Three abundantly untalented strippers (Jennie Burke, Krystle Chance, and Élodie Gillett), in the terrific number "You Gotta Get A Gimmick," give Louise an education in what it takes to get ahead in burlesque. The casting of Burke, a "woman of size" as we say these days, in the role of Mazeppa was a stroke of genius. She and her trumpet steal the scene.
As Louise, later Gypsy Rose Lee, Julie Lumsden sings beautifully. She does a masterful job of delineating every stage of Louise's evolution from the shy girl who yearns for stability and a home to the supremely self-confident, world-renowned stripper.
Lumsden pulls off the impressive acting trick of letting us see that, as Louise herself admits, she is untalented. It makes her transformation from ugly duckling to elegant swan seem very much like a fairy tale.
In these performances, paired with Hennig's blistering portrayal, the fable Turvey seems to want to tell is that show business is a cruel, heartless, soul-crushing affair. Of the tens of thousands who set off to climb that ladder to the stars, working hard, honing their craft, taking whatever chance they can to get in front of an audience, only a handful will reach the heights.
The ultimate irony, of course, is that some of those stars really have only vestigial talent and owe their prominence to luck, looks, and a "gimmick." In Gypsy Rose Lee's case her gimmick turned out to be "presence," the ineffable quality that made audiences want to look at her.
The socko final number, "Rose's Turn," fairly cries out to be delivered with all the over-the-top razzle-dazzle the actor and director can muster. Hennig and Turvey instead give us a finely modulated portrait of a woman coming to grips with her own, none too pleasant reality. It's heart rending and serves to make Rose a fully rounded human being rather than a cardboard villain.
There are other themes that can come to the fore in a production Gypsy, but this one seems ideally suited to Rose's arc.
Special praise must go to Sermonia. Her choreography shows us that the vaudeville routines Rose created for her girls were truly awful while making them truly entertaining for us.
Set designer Cory Sincennes brings immense creativity to creating the multiple locations the story demands. The scene in which a twenties-era roadster drives on stage and then spins around on a central revolve was a delightful touch. His costume design, drawing on five credited costume shops, is equally deft.
Those who come to Gypsy hoping for some cheap thrills in the burlesque sequences should know that the liberal use of body stockings not only protects the modesty of the actors but also makes quick changes possible. It is also historically accurate. Many of Gypsy Rose Lee's routines made ingenious use of body stockings, although I suspect they were less obvious that the ones used in this production.
Shaw may not have a Broadway-ready dance corps but it has given this Gypsy a fifteen piece orchestra, more musicians than grace some Broadway musicals. It helps you appreciate why the overture is so highly regarded by musical comedy aficionados. Paul Sportelli is the conductor and John Lott is credited for sound design.
There are many virtues in Gypsy at Shaw, but Kate Hennig's performance towers above them all. Singer, actor, playwright, director, there is seemingly nothing this woman cannot do and do well. I wouldn't bet against her in a snooker tournament.
If you are anywhere within striking distance of Niagara-on-the-Lake, by all means make the journey to see this show. It will almost certainly be talked about for years.
Gypsy continues at the Shaw Festival's Festival Theatre through October 7, 2023. For more information and to purchase tickets visit the Shaw Festival website.
Footnote: This is not the first time Kate Hennig has played Rose. In 2005, Gypsy was the first musical the Shaw Festival mounted. That production, directed by Jackie Maxwell and starring Nora McLellan, was highly regarded. Hennig played a small role in that show and played Rose for "certain designated performances."
To listen to Keith Tomasek's interview with Nora McLellan on Performers Podcast:

By the way, as bad as Mother Rose may seem in Gypsy, the real Rose was a lot worse. The morbidly curious can consult "Mama Rose's Turn: The True Story of America's Most Notorious Stage Mother" by Carolyn Quinn.
Finally, if you are really curious you can read a review of another production of Gypsy here.
(image: Kate Hennig as Rose, the Shaw Festival)
Don't miss another review. Follow OntarioStage on Twitter.
For a complete Index of Reviews, CLICK HERE