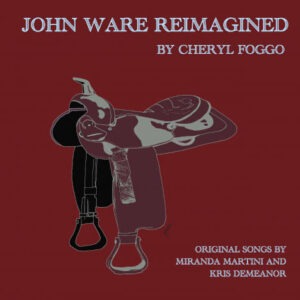 (Image: Blyth Festival)
John Ware Reimagined at the Blyth Festival
Something remarkable is happening on the bucolic, outdoor Harvest Stage at The Blyth Festival. What could have been a disaster — the last-minute illness of a lead performer — has become the occasion for a remarkable tour de force for Janelle Cooper, director, music director, and now star of John Ware Reimagined by Cheryl Foggo.
John Ware was a Black cowboy, born into slavery (no one knows when or where), who came to Alberta, then not yet a province, in 1882, on a cattle drive from Texas. When a blizzard hit, most of the men abandoned their cattle and sought shelter. Not Ware. When the storm abated and the others went searching for his body they found him and his charges alive and well. It was just the first of many feats, some more believable than others, that were to make him a legend.
Ware went on to marry a woman from Toronto, whose ancestors had fled North a few generations earlier and formed the nucleus of a prosperous, if never fully accepted, Black community. Over the years Ware became a respected member of the frontier community and when he died in 1902 his funeral was a major event. Then he was forgotten and the myth of an all-white frontier that I grew up with took over.
John Ware Reimagined is something of a follow up to the film John Ware Reclaimed (2020), which author and filmmaker Foggo created for the National Film Board of Canada and which can be streamed free of charge online.
In John Ware Reclaimed, Foggo tells us who John Ware was. In her masterful John Ware Reimagined, she tells us what he meant to her and, by extension, what he continues to represent for all Black Canadians.
In John Ware Reimagined, Joni (Warona Setshwaelo), a clear stand-in for the playwright and our narrator for the evening, is the descendant of American Blacks who migrated to Canada in 1910, fleeing the barbarous violence perpetrated on their community in Oklahoma. She tells us of growing up near Calgary, home of the annual eponymous Stampede, in thrall to tales of cowboys and the Old West. She wears a cowgirl outfit and watches every episode of Roy Rogers and Dale Evans.
Things change as she grows a bit older and comes to understand, often in hurtful and hateful ways, that this is a world in which girls with her skin color and her hair don't belong. Later, when her brother stumbles on the story of John Ware in a museum exhibit, a lifelong obsession is born for Joni.
Joni's mastery of Alberta's Black history is hard won. We witness her humiliation when she defies her teacher's assignment to do a report on "Huckleberry Finn" in favour of her own report on her recent discovery of John Ware. The teacher snipes at her omissions and inaccuracies. Whether this was meant to be interpreted as racism or a stern teacher holding a student to higher standards was unclear to me. The effect was to turn Joni/Foggo into a rigorous scholar
Joni becomes our guide in her "reimagination" of the John Ware myth, one rooted in reality and one that, more importantly, can serve both as a historical corrective and a source of inspiration for young Black kids, who will be able to look at Canada's history and realize that, yes, I belong here.
One thing that struck me about Foggo's depiction of the lives of John (Twaine Ward) and Mildred (Jonelle Cooper) was that the picture presented is virtually identical to the tales that generations of white kids have grown up with. The Wares emerge as decent, hard-working, God-fearing folk in a committed and loving relationship, who possess the courage and grit to face and overcome incredible hardships to carve a new world out of a wilderness.
Another, not inconsiderable achievement of Foggo's script and Cooper's production is the way Joni's story of growing up and coming of age and the stirring tale of John and Mildred Ware combined to make me (and I would like to think everyone in the audience) understand the importance of teaching history in a way that does not erase the contributions, the very existence, of the peoples and communities who contributed to making our modern world. I left the theatre with a much deeper appreciation of this seemingly self-evident truth than I had gleaned from years of earnest articles and outraged op-eds.
Foggo likes to mix mediums and modalities in her work. Her film about Ware uses animation, historical recreations, expert talking heads, and interviews with those who assisted Foggo in her search for the real John Ware. Similarly, John Ware Reimagined uses to-the-audience, confessional, first-person narration, dramatic recreations, and music, all to excellent effect.
The stagecraft is exemplary. The depiction of John's struggle through a howling blizzard on a fractious steed to fetch medicine for his ailing wife is every bit as suspenseful as the means are modest. Beth Kates has contributed a colourful lighting design that is the highlight of the season.
While the play is not strictly speaking a musical many important scenes are sung, with accompaniment by a small group in Western garb (George Meanwell on strings, Graham Hargrove on percussion, with Madeleine Eddy contributing vocal backup). The songs are a mix of old standards and new work by Kris Demeanor and Miranda Martini.
Ultimately it is the acting that makes John Ware Reimagined such a special night under the stars. As John, Twaine Ward is nigh-on perfect – tall, good-looking, rock solid. But it is the women who form the heart and soul of the play. Warona Setshwaelo provides a compelling portrait of Joni at every age, from confused child to confident adult. Stepping into the role of John Ware's wife, Mildred, Cooper gives a performance of such assurance that is difficult to believe that any other actor could have done it as well. She is blessed with a sweet face and a fine voice, both of which she uses beautifully to create a touching portrait of a strong frontier woman.
There is an effective and affecting moment towards the end of the play when John looks out across the audience and, as if seeing other Black cowboys he knows, calls out their names. Robert McQueen uses a similar technique in his AIDS memoir, The Real Poems, at Here For Now Theatre. Somehow simply reciting the names of those lost to time and memory reminds us of our own evanescence and, as Matthew Arnold put it, brings the eternal note of sadness in. Perfect.
This season, other, much larger, much better funded theatre companies have mounted plays by much better known Black playwrights, presumably to further their stated goals to promote "equity, diversity, and inclusion," as the currently fashionable mantra has it. But are these efforts intended to create a greater awareness of our shared humanity in the communities these theatre organizations serve? Or is the goal to change the makeup of these organizations' employee rosters in response to the increasingly strident demands of various interest groups?
Call me Pollyanna, but I'd like to think that the goal of equity, diversity, and inclusion is the former. And if that is the case, then for my money that laudable goal is better served by Blyth's John Ware Reimagined.
John Ware Reimagined runs through September 24, 2022. For more information, visit the Blyth Festival website.
Don't miss another review. Follow OntarioStage on Twitter.
For a complete Index of Reviews, CLICK HERE.