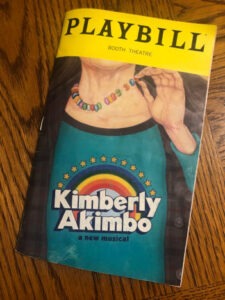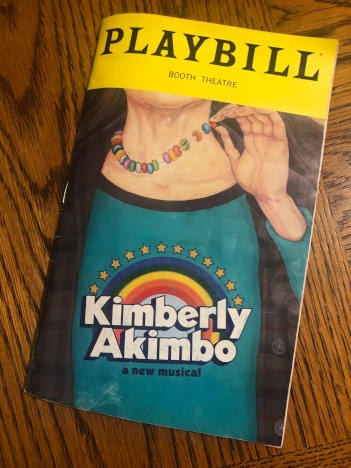 Kimberly Akimbo on Broadway
Kimberly Akimbo may be the weirdest show to ever worm its way into the hearts of a Broadway audience. But that is precisely what this musical by David Lindsay-Abaire (book and lyrics) and Jeanine Tesori (music) is doing at New York's Booth Theatre.
Kimberly is a high school student of fifteen, turning sixteen who, because she suffers from a rare (but never specified) genetic disorder that ages its victims rapidly, looks to be in her late sixties. Her disease, we learn, kills its victims, on average at – you guessed it – sixteen. Needless to say she faces challenges and her dysfunctional family is not much help. Dad is an alcoholic and mom is a self-dramatizing klutz with a knack for being casually cruel to her daughter. Worst of all is aunt Debra, a cheerful and unrepentant serial criminal.
The one bright spot in Kimberly's life is Seth, a nerdy, probably autistic classmate with a fondness for anagrams, who looks past Kimberly's affliction and offers real friendship. The plot thickens when Debra enlists the high school kids in a scheme to cash bad checks, a wildly improbable crime that ironically offers Kimberly an escape hatch from what's left of her gawdawful life.
It may be hard to believe, based on this brief outline, that all of this is treated as light and sometimes broad comedy.
I found myself resisting this improbable tale and the tone in which it is told, but gradually, thanks to Lindsay-Abaire's sharp dialog and clever lyrics, I fell under its spell. What really sells the show, however, are three outstanding performances.
As Kimberly, Victoria Clark, a Broadway veteran with a Tony to her credit for The Light in the Piazza, gives us an utterly believable teenager managing to hold her own in trying circumstances. She also makes every word she sings distinct and understandable, a skill not everyone in the cast possesses. As her high school buddy Seth, Justin Cooley in an impressive Broadway debut, is goofily sweet, and perfectly adorable. Bonnie Milligan, a large woman with an even bigger voice, makes the arguably sociopathic Debra almost cuddly. Depending on how the Tony Awards slice and dice the categories, all three of these performers could snag nominations.
Kimberly Akimbo is based on a 2001 play of the same name, also by Lindsay-Abaire. I did not see that show, but I have it on reliable authority that it was substantially darker than the present musical. A sort of Greek chorus of four high school misfits who haven't quite figured out the whole gay/straight thing has also been added to middling effect.
The insights the piece has to offer – we are all different, be accepting of others, we will all die so carpe diem – are, let's face it, somewhat pedestrian and what power they take on in this rendition is due largely to our realization that the sympathetic heroine is doomed.
---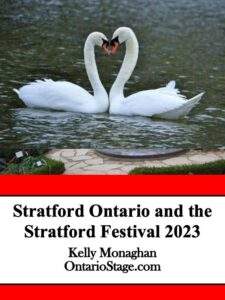 ---
Jeanine Tesori's score is not up to her efforts in Fun Home or Caroline, or Change. Many of the numbers are talk-songs but a few, like "Happy for Her," in which Kimberly's father (Steven Boyer) wrestles with his feelings about his daughter's friendship with Seth, and Debra's uproarious Act Two opener "How to Wash a Check" more than hit the mark. Credit, too, to director Jessica Stone, who never allows the energy to flag.
David Zinn has provided a serviceable, if uninspired set, that does not look out of place in the smallish Booth theatre, but then Kimberly Akimbo is a small-scale musical. The set leaves plenty of space for dancing but the choreography, what there is of it, by Danny Mefford doesn't take much advantage of the opportunities. In his defense I should note that none of the cast members show signs of being great dancers.
While I admired Kimberly Akimbo, I was underwhelmed by it as a musical. This sort of small "m" musical is becoming increasingly common. It is a trend driven, I suspect, more by economics than artistic inspiration and it is not entirely to my taste. My tepid reaction to the show was also no doubt influenced by the fact that I have only recently treated myself to seeing Donna Feore's spectacular production of Chicago at the Stratford Festival four times. That is a musical act that is hard to follow.
Don't miss another review. Follow OntarioStage on Twitter.
For a complete Index of Reviews, CLICK HERE