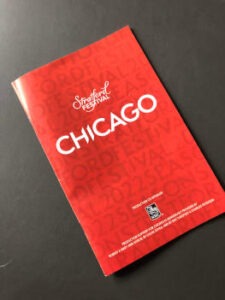 Chicago at The Stratford Festival
I've said it before and I'll say it again: Donna Feore is a genius and her production of Chicago, currently gracing the MainStage at the Stratford Festival is yet further proof of that immutable fact. Broadway doesn't know what it's missing and, for the sake of the Stratford Festival and Canada, let's hope it never finds out.
Chicago, which premiered on Broadway in 1975, has music by John Kander and lyrics by Fred Ebb, with a book by Ebb and Bob Fosse, and some additional "adaptation" by David Thompson from a 1996 Broadway revival, all of which is based on a 1926 ripped-from-the-headlines play by Maurine Dallas Watkins — whew! It tells a picaresque tale of pistol-packin' femmes fatales in the Windy City's jazz- and booze-soaked 1920s who achieve notoriety and then compete with one another with a series of increasingly lurid crimes of passion.
The original play Chicago was a satire on the newspaper culture of the era, which latched onto and hyped the latest sensational crime to grab eyeballs and sell papers. If the killer was an attractive dame, so much the better. The publicity provided by a press eager to portray these female murderers in a sympathetic light that perhaps they did not deserve typically resulted in acquittal.
The musical Chicago pays homage to that aspect of its source material but its innovative conceit is that all that publicity served as springboard to a career on the stage. Chicago's real interest is in show business, sex, slimy lawyers, corrupt jailers, sex, vaudeville, sex, and all that jazz. In the hands of director-choreographer Donna Feore it covers all those bases with seemingly endless invention and, yes, razzle-dazzle. Oh, did I mention the sex?
The story is told in almost Brechtian fashion with lots of interstitial narration that evokes the introductions of acts in a vaudeville or variety show. Characters frequently request an intro to their next bit or ask for their exit music, a self-referential awareness that seems to say that indeed the world's a stage and all life is artifice.
The plot of Chicago revolves around two sisters in sin, Velma Kelly (Jennifer Rider-Shaw) and Roxie Hart (Chelsea Preston). Velma already has a vaudeville career, an act featuring her and her sister. Alas, she's now a solo act since she killed her sister and husband after discovering them in flagrante. Roxie is a show biz wannabe who killed her lover when he told her he was dumping her and then bamboozled her schlubby and none too bright husband, Amos (Steve Ross) into taking the fall. The cops quickly see through the deception and Roxie winds up in Cook County's notorious "Murderesses Row," under the tender ministrations of Mama Morton (Sandra Caldwell), a prison matron not above taking the occasional bribe to make her wards' lives a bit easier. Once Roxie cottons to the publicity bonanza of being a celebrity killer she sets her eyes on the show biz prize and proves an adept pupil.
But beating the rap is not a sure thing. The best Get Out Of Jail Free card in Chicago comes in the person of Billy Flynn (Dan Chameroy), a flamboyant, no-nonsense lawyer who far prefers receiving his $5,000 fee to any sexual favors his clients might be willing and able to provide. Velma and Roxie become clients, and we're off on a whirlwind tour of the ethics-free environs of what passes for Chicago's criminal justice system.
Chicago is most closely associated with Bob Fosse, whose choreography and contributions to the book informed earlier incarnations of the show, including the 2002 film adaptation. But who needs Fosse when you have Feore? In her Director and Choreographer's Notes, Feore says she has "been given the rare opportunity to completely reimagine the production," much as she was able to do when hers became the first production of A Chorus Line that did not use Michael Bennett's original choreography.
And what a reimagining it is! Starting with Velma's gasp-inducing entrance at the top of the show, one astounding production number follows another, punctuated by minutely observed solo numbers, all put over by an astonishing cast. Her dance routines are a masterful and amusing pastiche of styles that gives homage to the cliches of the twenties without ever slavishly copying them. And I may be wrong here, but I think I detected some sly choreographical commentary on Fosse's signature body language.
Nor does she stint on the show's most famous numbers, always adding just a little bit more, another twist, another reprise, until when the number comes to its thrilling final note the audience feels happily drained. It's a tour de force from beginning to end.
Of course it helps to have great singer-dancers in the central roles and Feore's Chicago does not disappoint. Best of all is Jennifer Rider-Shaw as Velma. If you saw her as Peggy Sawyer in Stratford's Forty-Second Street or Janet in Rocky Horror, you would never imagine she was capable of the visceral, nonstop sexuality on display in this role. This is far and away the best thing I've ever seen her do and a total revelation. Her opening rendition of "All That Jazz" comes within a hair's breadth of stopping the show.
Almost as good is Chelsea Preston as Roxie, making her Stratford debut. Like Rider-Shaw, she executes Feore's twenties-tinged steps with unbridled energy in a number like "Me and My Baby" but is equally adept at purring through ironic ballads like "Funny Honey."
The always reliable Dan Chameroy is nigh-on perfect as Billy Flynn, the sleek and slimy lawyer, and Steve Ross is alternately hilarious and heartbreaking as the schlimazel, Amos. His rendition of "Mr. Cellophane" in a vaudeville clown costume elevates pathos to high art and when, late in the show, he calls for his exit music and gets none, I felt a lump in my throat.
One of Chicago's most intriguing characters is Mary Sunshine, a "sob sister" columnist for a daily paper who specializes in bringing the female perspective to covering the crime beat. The role is played by R. Marcus, who is possessed of a powerful and almost unbelievable soprano voice. Just how unbelievable you will discover late in Act II.
Donna Feore has, over the years, developed one of the best female chorus lines and male corps de ballet in Canada and it is gratifying to see this usually anonymous group getting named speaking roles. Devon Michael Brown, helps out Velma in "I Can't Do It Alone" by executing one of his astonishing acrobatic tumbling runs, in drag no less. Bonnie Jordan performs a stunning Cirque du Soleil aerial routine as Hunyak, the only woman on Murderesses Row who doesn't get away with murder. Feore also summons trumpeter Philip Sequin, a member of the Festival's splendid but invisible band, center stage for a solo number. It kills. In yet another generous and gracious touch, Feore has an announcer introduce every cast member during the curtain call.
Feore has elicited the best from her artistic collaborators, too. Michael Gianfrancesco's jailhouse-chic sets, Michael Walton's supple lighting, Dana Osborne's witty and ever-so-sexy costumes, and Franklin Brasz's musical direction are everything you could want and more.
There's plenty of glitz and lots of laughs in this show, but there's no escaping the fact that, when you peel away the razzle-dazzle of Feore's eye-popping choreography and constantly ingenious direction, Chicago has one of the most bone-chillingly cynical books of any so-called "musical comedy." As much as we enjoy cheering for their musical numbers, Velma and Roxie are not nice people and Billy Flynn is beneath contempt. The only truly sympathetic character is Amos and he's treated like dirt.
It's hard to avoid thinking that the amoral world portrayed in Chicago bears an uncomfortable resemblance to our own troubled times, in which propaganda masquerades as journalism and truth has become such a malleable commodity that we are left wondering if there is, in fact, any such thing.
Fortunately, I was able to set aside these morbid thoughts, sit back, and bask in the abundant joys of Donna Feore's splendiferous production.
Don't miss another review. Follow OntarioStage on Twitter.